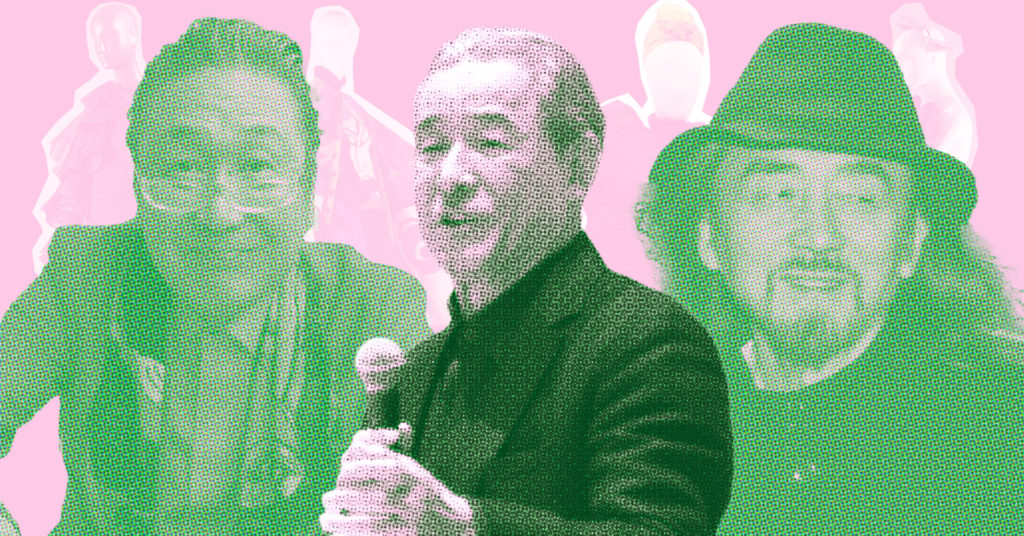 Playing with the juxtaposition of tradition and modernity, Japanese designers have steadily made a name for themselves internationally. Today, Japan's fashion scene is an eclectic, booming one, with names like Nigo making waves on the European runways. At the forefront of this boom, however, was a group of designers that pioneered a new era for Japanese creatives and revolutionized global fashion. Departing from a classic take on silhouettes and traditional craftsmanship, during the '70s and '80s, the likes of Issey Miyake, Rei Kawakubo, and Yohji Yamamoto took over the runways of the major fashion capitals. EnVi revisits the work of five essential Japanese designers who have gone down in history for changing fashion and introducing avant-garde like never seen before.
The Pioneers
Kansai Yamamoto (1944 – 2020)
Credited for bringing to life some of the most iconic stage outfits in pop culture, Kansai Yamamoto is considered to be the "Founding Father of Contemporary Japanese Fashion." Nearly a decade before Rei Kawakubo and Yohji Yamamoto made waves in Europe, Kansai Yamamoto had already become the first Japanese designer to present his work at London Fashion Week. Influenced by Japanese "Basara"—a term utilized to describe maximalist clothing aesthetics from the 14th century—the designer was the mastermind behind the style of David Bowie's Ziggy Stardust.
However, his penchant for the shocking and eclectic was not limited to his association with Bowie—which lasted till the singer's death in 2016. Throughout his trajectory, Yamamoto also designed stage costumes for the likes of Elton John, Stevie Wonder, and Lady Gaga. In 2017, the fashion designer returned to the spotlight through a collaboration with Louis Vuitton for the brand's Cruise 2018 collection. In his last collaboration with a major fashion brand before his death, Yamamoto flaunted his unique aesthetics, paying homage to Japanese art with Kabuki-inspired patterns and prints. The designer might have left the world in 2020, but his "irrepressibly optimistic" creations and his mark in the glam-rock movement have not waned over time.
Kenzo Takada (1939 – 2020)
One of the first Japanese designers to experience huge success in Paris, Kenzo Takada studied at Bunka Fashion College in Tokyo. After moving to Paris in 1965, Takada opened his first boutique in 1970 and instantly crafted unique, flamboyant aesthetics that made it to the pages of Vogue US. Takada would later recount to the New York Times that his first collection was created with $200 worth of fabrics bought in a large discount house in Marché Saint Pierre, Montmartre. However, this unusual combination of fabrics, textures, patterns, and prints, made Kenzo stand out in an era of couture-ruled fashion.
Kenzo's fashion shows were equally multifarious. From a circus tent—where he appeared riding an elephant—to Studio 54, New York's hottest spot back in the day, Takada staged the most extravagant settings to present his clothes. In 1993, after the death of his partner Xavier de Castella, Kenzo sold his eponymous brand to the French conglomerate LVMH. In 1999, he quit the label for good to work on the home design brand K-3 and other creative projects. Though Kenzo Takada died in 2020, his legacy lives on through the fashion brand he founded and is now helmed by his compatriot Nigo.
The Avant-Garde Trio
Among the wave of designers headlining Japan's international takeover, Issey Miyake, Rei Kawakubo, and Yohji Yamamoto have been dubbed the "avant-garde triumvirate." Recognized for their radical thinking and ability to "re-think old ideas and to re-configure old forms," they are credited for opening doors for Japanese designers and avant-garde creators such as the Antwerp Six. 
Issey Miyake (1938 – 2022)
Born in Hiroshima, Issey Miyake went on to become an icon of fashion design after moving to Paris in the '60s. With a background in graphic design—that he studied at Tama University in Tokyo—Miyake worked alongside legends such as Hubert de Givenchy and Guy Laroche before launching his namesake brand. Focused on architectural shapes and movement, Miyake is best known for the textile innovations he introduced in fashion. From the novel pleating technique he presented in his Spring-Summer 1994 Collection, to the A-POC—A Piece of Cloth—manufacturing system, Miyake was a pioneer of tech-infused design. 
He was also a trailblazer of change. After witnessing the May 1968 riots in France, he vowed to create garments without restrictions, clothes for "the many rather than for the few." Similarly, Miyake broke away from runway standards, choosing to show his 1995 Beautiful Ladies collection with models "aged between sixty-two and ninety-two." Additionally, the designer spearheaded the concept of showing fashion exhibitions at museums and galleries around the world, further cementing the notion of regarding fashion as a form of art. 
Issey Miyake officially retired from fashion in 1999, but he continued to oversee the brands he created under ISSEY MIYAKE INC. and collaborate on textile research projects. Despite his halt of activities as a designer, his contribution to fashion and arts was not overlooked. In 2010, he was granted Japan's Order of Culture and in 2016, the French government awarded him with the Legion of Honor. The recent news of Issey Miyake's death have shaken the fashion industry, but his vision has already left a mark in history. 
Yohji Yamamoto (1943 – Present)
Formerly a lawyer, Yohji Yamamoto enrolled in the famous Bunka Fashion College at the request of his mother—a dressmaker. Awarded a scholarship after graduation, he then moved to Paris for a year before returning to Tokyo to open Y's. Through his up-and-coming brand, Yamamoto explored alternatives to the sartorial standards prospering in the couture scene. The result was deconstructed garments, with a rough-around-the-edges flair that heralded a new style era. Favoring black color and torn, rigged textiles, the designer pushed the boundaries of what was considered the ideal for women. In an interview with The Independent, Yamamoto explained his design choices, "I was […] determined at all costs to avoid creating the cute, doll-like women that some men so adore."
With the arrival of the new century, Yohji Yamamoto continued revolutionizing fashion with a partnership with Adidas. Together, the sportswear giant and the Japanese creative launched a line titled Adidas Y-3, which has grown to become one of fashion's favorite team-ups.
Rei Kawakubo (1942 – present)
The leader of anti-fashion aesthetics, Rei Kawakubo studied fine arts at Keio University in Tokyo, before venturing into the fashion industry at age 27. Kawakubo founded her fashion brand Comme des Garçons—a reference to Françoise Hardy's song "Tous les garçons et les filles"—in Tokyo, but by the '80s she had made her debut on the Parisian catwalks. Despite the initial reticence of fashion editors and critics, Kawakubo, alongside her then romantic partner Yohji Yamamoto, broke into the international fashion sphere, becoming a torchbearer of conceptual fashion and idiosyncratic design. 
Kawakubo's nonconforming approach to creating has not distanced her from her business-savvy persona. The designer has received incessant praises for balancing her penchant for avant-garde with a commercial mindset. With the help of her husband Adrian Joffe, Rei Kawakubo developed the multi-level retail space Dover Street Market, which is acknowledged as a bastion of "cultivated cool." Additionally, Kawakubo has collaborated with brands such as Nike, Vans, Converse, and H&M, and is the owner of about "two hundred franchises" around the world.
The Lasting Legacy
Inspired by the rebellious and unconventional spirit of the first Japanese wave, new generations of creatives emerged in the years that followed. With the fashion world more acquainted with Japanese talent and ready to embrace uniqueness, designers such as Chitose Abe, Jun Takahashi, and Junya Watanabe carved a place for themselves within the fashion industry. 
Likewise, designers such the Antwerp Six, Margiela, Viktor & Rolf, and Hussein Chalayan challenged fashion's status quo and sparked recurrent comparisons to the Japanese masters. And while the extent of their influence can not be measured, it is safe to state that these five Japanese legends changed the fashion landscape forever.
Interested in more fashion coverage? Take a trip down memory lane revisiting the influence of rock music on fashion and pop culture.