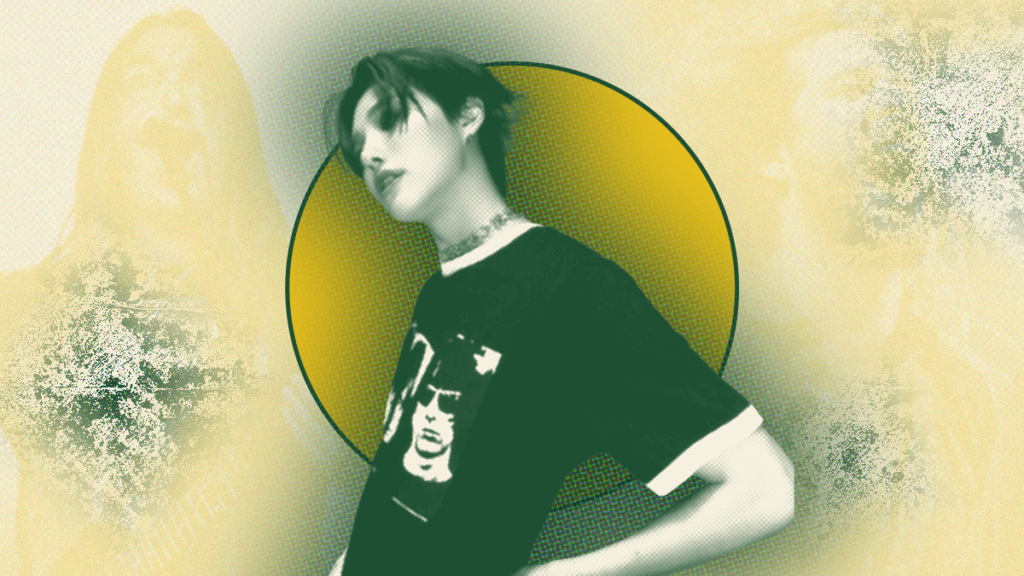 There is a galore of examples of how "routine matters" attain cultural relevance through fashion. However, the clearest representation perhaps comes courtesy of music. In contemporary times, attune with fashion experimentation, the emergence of new music genres has played an important role in shaping the style of entire generations. Orthodox critics and scholars might disagree, but rock music is probably the overarching paradigm to illustrate the relationship between music and fashion. The recent resurgence of rock and its subgenres in the mainstream has come accompanied by aesthetics to match, only to prove that despite being underpinned as "antifashion in outlook," rock has always "depended on visual images, on fashion, theatricality, and spectacle." Long Live Rock! EnVi revisits the evolution of rock music through some of its most prominent subgenres, the subcultures associated with it, and cases in point that show the influence it has exerted on contemporary fashion and pop culture.
Rock 'n' Roll and Rockabilly
Described by Professor Alfredo Stornaiolo as "the 'heiress' of blackness and The Beat Generation," rock 'n' roll surfaced as a music genre in the 1950s. With powerful cultural and aesthetic codes, stars such as Little Richard, Chuck Berry, and Elvis Prestley pioneered an era of flamboyant stage outfits, glossy hairstyles, and electrifying performances that changed the music landscape forever. Within rock 'n' roll, however, a style that mixed rock and hillbilly (country music) found great success among American youth during that decade. Named "rockabilly," the subgenre — along with movie heartthrobs like James Dean and Marlon Brando — helped to consolidate a new subculture: the greasers. Recognized for their rebellious attitude and unique fashion — pompadours, leather jackets, dark denim jeans, and winklepickers — greasers became a recurrent inspiration in fashion, music, and film, in the years to follow.
For instance, in 1978 — amid a rockabilly revival — the musical Grease would deliver what's probably the best-known portrayal of greasers in pop culture. Played by John Travolta, the character of Danny Zuko popularized the quintessential greaser look: Levi's jeans cuffed at the ankle, white T-shirt, leather jacket, and Chuck Taylor All-Stars. Fast forward to the early 2010s, the world of fashion reintroduced up-to-date silhouettes and reiterations of classic items from the '50s. Among others, Jean-Paul Gaultier, Moschino, and several of Saint Laurent's collections under the tenure of Hedi Slimane referenced rock 'n' roll. Some of these runways even paid homage to the everlasting pop culture icons: Elvis and Grease. Simultaneously, Arctic Monkeys' frontman Alex Turner went through a rockabilly fashion makeover. The result was a look that will go down in history for propelling Turner into style icon territory and immortalizing his band's AM era.
Nowadays, rockabilly is still alive and thriving in the Japanese subculture scene. With figures like 'Johnny' Daigo Yamashita at the forefront, enthusiasts of the movement continue to sport fashion staples of the greaser generation. They haven't gone unnoticed. In 2018, the Australian band 5 Seconds of Summer invited the Tokyo rockabilly stars to participate in the music video of their hit, "Youngblood." For further proof of rock 'n' roll and rockabilly's lasting legacy in fashion, the release of Baz Luhrmann's film, Elvis — with costumes co-designed by Catherine Martin and Miuccia Prada — prompted a special issue of Vogue Australia, where K-pop star Rosé became one of the main attractions.
Glam Rock
While Elvis was perhaps the most prominent music star influencing the greasers, Little Richard and Chuck Berry are considered to be the "genesis of the glam movement." Initially led by T. Rex's singer Marc Bolan, glam rock originated in the United Kingdom in the early 1970s. It drew elements from various genres including art rock, bubblegum pop, and psychedelic rock. With inspirations as varied, the equally eclectic fashion attached to the subgenre stirred discussion about identity, gender, and sexuality. From platform shoes and shiny, futuristic outfits, to bold makeup, the style staples of glam rock icons often tapped androgyny and theatricality — think of Sweet, Slade, and David Bowie's Ziggy Stardust.
Pushing the boundaries of gendered clothing, glam rock's impact in the fashion and pop culture spheres is hard to ignore. In the late '70s, glam rock crossed the pond, influencing bands such as Kiss, Van Halen, Boston, and the New York Dolls, which would later be credited as the forerunners of a new genre: glam metal. Seeing their heyday on Los Angeles' Sunset Strip, glam metal bands like Bon Jovi, Mötley Crüe, Warrant, Ratt, and Poison shifted the American rock scene toward more experimental and all-embracing fashion with their distinctive long hair and closets full of bright colors, glitter, animal prints, leather, and latex.
Needless to say, glam rock's impact has not waned with the passing of time. Across the globe, creatives continue to find style inspiration in the movement and its principal figures. David Bowie, in particular, has turned into an eternal icon, repeatedly honored by fashion houses such as Jean-Paul Gaultier, Miu Miu, and the "brand of new rockstardom," Gucci. Meanwhile, splashed over billboards and fronting fashion campaigns, stars such as Miley Cyrus, Harry Styles, and Måneskin are carrying the glam fashion torch at present time.
However, that's not to say they're the only ones spearheading this style revival. Though less apparent, the gender-bending aesthetics, flamboyant dress codes, and showmanship of glam rock have also been credited for helping to shape the sounds and style of contemporary genres like Visual Kei and K-pop. The latest one, especially, as an amalgamation of genres, fashion inspirations, and visual narratives, has built wardrobes influenced by varied fashion eras and trends. In a broad sense, stage outfits in K-pop often hint at and retain elements traditionally related to glam rock. But more specifically, the Korean mainstream music scene has offered plenty of glam-inspired fashion moments throughout the years. Take as example G-Dragon's red hair, makeup, and sequined suit in BIGBANG's "BANG BANG BANG," or EXO's music video for "Obsession," where the K-pop legends rocked latex and leather suits in contrasting colors, along with eye makeup statements.
Punk
While glam rock saw its genesis in Los Angeles; in New York, groups like The Velvet Underground, The Ramones, and The New York Dolls experimented with new sounds. Setting the foundations for what would later be recognized as punk, these groups lead a new wave of loud, blaring rock music — a countermovement of sorts. It was in the United Kingdom, however, that punk music thrived and grew into a real movement. Amidst unfavorable economic and political conditions, British youth channeled their dissatisfaction with the system through a whole anti-establishment philosophy that encompassed music and, of course, fashion.
In London, the masterminds behind punk's spring-up were Malcolm McLaren and his then-girlfriend Viviene Westwood. Located at 430 King's Road, the couple opened a boutique that would stand the test of time under different names. Let It Rock and Too Fast To Live Too Young To Die preceded the most subversive of all, SEX. Shocking British conservatives at that time, SEX became a landmark of what would be one of the greatest "stylistic revolutions" of our times: punk style. It was McLaren and Westwood's shop that gave its name to Sid Vicious' band, the Sex Pistols —universally recognized as the leaders of the punk movement.
Characterized by skinny silhouettes, bondage references, spikes, tartans, safety pins, and an inherent DIY nonchalance, Westwood designs would shape punk and turn it into one of the most influential music genres in history. The designer's revolutionary spirit has since carried its own legacy. Throughout the years, her avant-garde, rebellious collections have inspired fashion legends such as Jean-Paul Gaultier, Marc Jacobs, and Karl Lagerfeld. Likewise, Dame Viv — as Westwood is affectionately dubbed — has collaborated with the likes of Riccardo Tisci (for Burberry), ASICS, and Vans. With the current Y2K revival and considering Vans' association with the pop-punk, emo fashion popularized in the 2000s, the latest was a particularly suitable partnership for both brands. The style throwback to the early aughts has also been accompanied by a rise in popularity of Vivienne Westwood's vintage pieces — notably worn by It Girl Bella Hadid.
As a new pop-punk wave thrives around the world with stars like the "Eternal Teen" Avril Lavigne, and Blink-182's Travis Barker at the forefront, staples of punk fashion are making a quick return to the mainstream. On the runways, for example, Maria Grazia Chiuri paid homage to sisterhood through bold silhouettes, tartans, biker boots, and bondage socks in Dior's Fall 2022 collection. Meanwhile, on the music front, this new era has found its own style icons in the likes of Olivia Rodrigo and Willow Smith.
The world of K-pop has not fallen behind, with artists such as TXT, Sunmi, NCT's TEN, and WOODZ embracing pop-punk sounds and aesthetics. Just to give a few examples, in the music video of the angsty "I hate you,"  WOODZ rocks leather pants, graphic tees and combat boots as a band plays behind him, sporting red fishnets, chain-embellished jackets, and the Liberty spike hairstyle.
Meanwhile, in "0X1=LOVESONG," and "LOSER=LOVER" TXT gives a nod to the 2000s incorporating essentially pop-punk elements such as graphic T-shirts, chains, studs, fishnet sweaters, tartans, striped scarves, checkerboard motifs, and Dr. Martens shoes.
Rock Will Never Die
"Rock is dead," rock purists proclaim from time to time in a seemingly everlasting debate about the genre's transformation throughout the years. While many might argue that the original spirit propelling rock as a global force has now disappeared, the truth is — borrowing David Damiano's words — that "nobody is keeping rock 'n' roll alive — it's just impossible to kill." If it is not already evident by its deeply ingrained influence on music, its impact on the fashion industry should be enough of an indicator. Rock will never die.