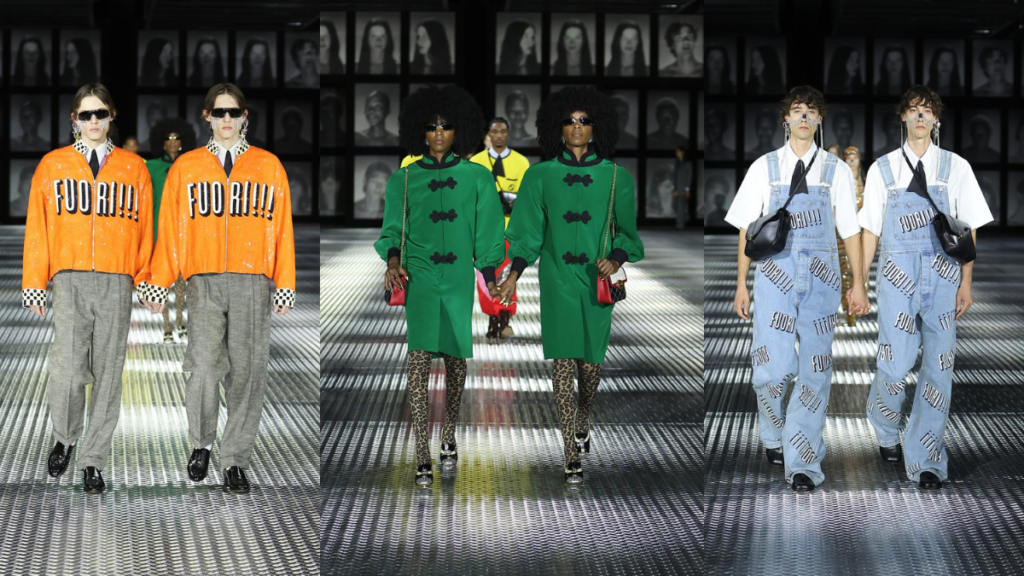 Italian fashion house Gucci presented its most recent collection during Milan Fashion Week. Titled Twinsburg, the collection continued to build creative director Alessandro Michele's world of fantasy and featured several surprises. EnVi recapped 7 things to know about Gucci's latest runway.
1. The Theme
Just like the name suggests, Gucci Twinsburg tapped on the theme of "twin nature." Creative director Alessandro Michele explored his fascination for asymmetrical reciprocity by showing a runway where identical twins, dressed in matching looks, walked together. "As if by magic, clothes duplicate. They seem to lose their status of singularity. The effect is alienating and ambiguous. Almost a rift in the idea of identity, and then, the revelation: the same clothes emanate different qualities on seemingly identical bodies. Fashion, after all, lives on serial multiplications that don't hamper the most genuine expression of every possible individuality," Michele said.
2. The Inspiration
In the show notes, Alessandro Michele also explained that the inspiration for Twinsburg came from his "twin moms." Michele shared, "I'm a boy who had two moms, because when I was born, the first seven years of life my mom had an identical twin. So I usually called them mom and mom […] it was so beautiful my life with a double love." As the designer reminisced about his childhood, he also mentioned that his unconventional family inspired him to dig deeper into themes like identity, the "deception of similitude," and the relationship between original and copy.
3. The Set
Although there's nothing dramatic about people walking down a runway in pairs—we've previously seen this at Louis Vuitton's Spring 2013 collection—when it comes to Gucci, drama is always guaranteed. For the occasion, Alessandro Michele staged a dual runway that initially saw models walk one by one. Then, the partition lifted to reveal an identical person wearing the same look. For the finale, 68 pairs of identical twins walked by the hand, sporting Alessandro Michele's creations
4. The Standout Looks
Attune with Gucci's maximalist aesthetics, Michele sent down the runway eye-catching looks that tapped on the brand's tailoring heritage, as well as the glitz and glamour Gucci is recognized for. Oversized suits, flared baggy pants, heavily embroidered dresses, and pleated maxi gowns graced the runway. As per the Italian house's tradition, lamé and sequined fabrics—alongside denim, quilted fabrics, and all sorts of prints and patterns—were a mainstay of the collection.
5. The References
Amid politically crucial times for Italy, Michele made a statement via pieces such as denim overalls and sequined jackets adorned with the word "FUORI!!!" (OUT!!! in English). The reference is a nod to Italy's first monthly magazine, Fuori! created by the Fronte Unitario Omosessuale Rivoluzionario Italiano, a Marxist association dedicated to fighting for the rights of homosexual people in the early '70s.
Additionally, Michele hinted at '80s pop culture incorporating dolls from Joe Dante and Chris Columbus's movie, Gremlins (1984). There were plushies stuffed in bags and maxi skirts printed with the face of the unforgettable mogwai Gizmo.
6. The Details
Just like in previous seasons, accessories such as sunglasses, face adornments, and equestrian-inspired leather goods were present in every look. Michele, however, took accessorizing to the next level with oversized eyewear featuring chains, tassel veil masks, and logomania jewelry. There were also fishnet gloves, tiger print stockings, and other eccentric accessories such as beaded headpieces.
7. The Audience
Considering the brand's celebrity associations, the front row of every Gucci show is a display of superstardom. As one might expect, some of the coolest celebs on the planet made an appearance for the unveiling of Gucci Twinsburg. From Elvis' actress Olivia De Jonge to Thai icon Davikah, the VIP list turned heads left and right. Most notably, South Korean Darling and Gucci's Global Ambassador, IU was under the limelight since her departure to Milan.
At the show, the "Lilac" singer turned up dressed in a gray monogrammed suit combined with a beige button down, and a black tie. IU, who is a regular at Gucci's shows, attended her first Fashion Week event since her appointment as Global Ambassador of the brand.
Needless to say, Gucci Twinsburg became one of the most talked-about shows on the fifth day of Milano Fashion Week. With unmistakable aesthetics and the ability to pull inspiration from nearly everywhere, Alessandro Michele offered his take on duality and identity. Living up to Gucci's trendsetter spirit, the runway featured some of the major trends taking over fashion, from cut-out dresses to exposed thongs. However, the real takeaway from the show was a reminder: there's uniqueness even in perfectly doubled worlds.
Looking for more fashion coverage? Check out EnVi's review of Prada's SS23 show here!