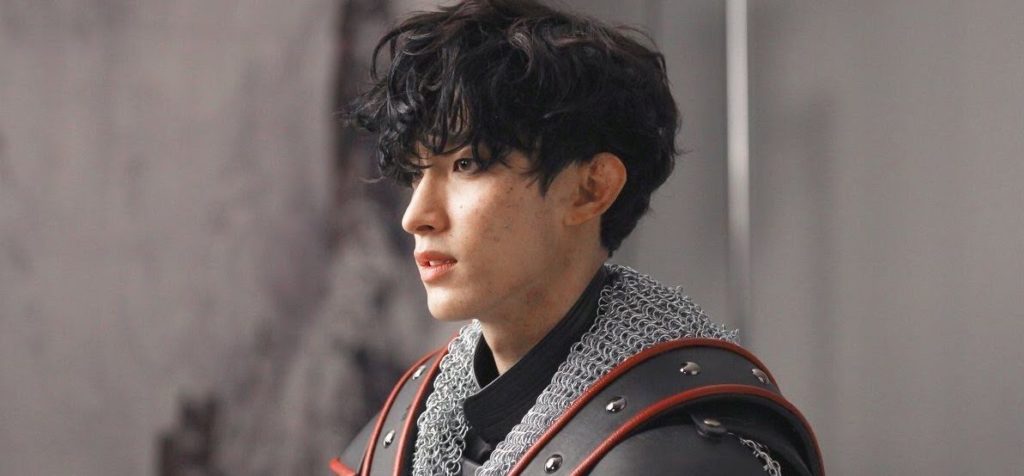 Last year, SEVENTEEN's DK made his stage debut as King Arthur in one of the most anticipated musicals of the year, Xcalibur. This summer, they resumed the play for a second running on August 17, and the few months prior to the second run were full of excitement for DK and fans alike. Witnessing the performance at the BlueSquare Shinhan Card hall in Seoul, South Korea, is truly a magical experience. Here's EnVi's review of Xcalibur.
Program book ment

Its rlly an honour and I'm thankful to be able to be a part of Xcalibur again!! Please look forward a lot to the new Xcalibur in 2021!! Always be healthy! And spend your days happily!! Thank u hehe it has been Arthur Kyeom!!#ArthurKyeomForever #아더겸_화이팅 https://t.co/3RiIZ59Qes

— 겸..🐸 (@seokedmin) August 18, 2021
The Boy Who Would Be King
The legend of King Arthur evolved over centuries – as a result, the plot and characters vary from version to version. The tale is the topic of countless movies, shows, books, plays, and even animations. In playwright Ivan Menchell's Xcalibur, "the boy who would be king," Arthur, is raised by Sir Ector, unbeknownst of his lineage as the son of Camelot's King Urthur. One day, the wizard Merlin appears and reveals to Arthur his destiny to pull the sword, Xcalibur, from the stone and become the next king Camelot. After battling with the reality of the situation, Arthur accepts his destiny and vows to become king and protect the kingdom and his loved ones. Meanwhile, ruthless pagan king and leader of the Saxon army, Wolfstan, also has his eyes set on Camelot. He raids and plunders the town, and while sacking a convent he finds Morgana – King Urther's daughter and Arthur's sister. He kidnaps her and forces her to marry him. Morgana, in reality, is also a witch and wants to take over the throne herself. And so the story unfolds. 
A Versatile Display of Performing Arts
Before the play starts, a familiar, charming voice sounds over the speakers. DK thanks fans and other spectators for coming and anticipating the performance. Before the prologue, a dancer opening the play executes a contemporary dance number flawlessly, accompanied by the music; it's almost like she's floating across the stage. The play has plenty of choreographed ensembles that serve a great expository purpose and further the plot, without dialogue. Just as the actors command the stage with their performance and voices, so do the dancers, with their vivacious choreography and strong stage presence.
Composer Frank Wildhorn created yet another masterpiece for his archival with Xcalibur. The music on its own told a story just as intense as the acting. It accompanies the cast's operatic voices, creating a performance that sends shivers down your spine. Morgana's solos were nothing short of chilling. Her "Sins of the Father" solo was indescribable– it felt as though the entire hall held its breath before erupting into deafening applause. While most of the majority-female audience were predictably there for DK, the entire cast delivered a brilliant, showstopping performance. Talent simply rippled through every note they held and every line delivery. From the actors to the dancers, there were simply no weak links in any of their performances.
A Grandiose Stage
Not only a magnificent display of acting, dance, and music, the musical also sported incredible stage design and lighting. Jeong Seungho, the designer, created a set that is a character in its own right. Projections, lights, and sets are used not only to create depth and dimension, but enhance the performance of each character, creating an environment so large within the confines of a stage. Even those seated at the far back could feel the synergy from the stage. 
View this post on Instagram
The execution and timing of projections and set placement were so precise–it indicated the work and rehearsals put into this. Rather than just being background to the characters, the set worked synchronously, and everything flowed like a well-oiled machine. 
View this post on Instagram
There was clear symbolism in the different lightings used throughout the play. Red for Wolfstan and his Saxon army, green for Morgana, blue during romantic scenes between Arthur and Guinevere. Together with the set design, it was a truly holistic experience. I'm sure I speak for many when I say I felt breathless after each musical number. 
Man of the Hour
Despite it being his debut in the theater scene, DK's incredible performance showed just how much hard work and effort he put in to prepare for this role. As anyone in the field will tell you, theater acting is by no means an easy feat. DK's ability to convey such raw, soulful emotions, from joy to disbelief to lovestruck to anger and devastation, is nothing short of impressive. The inter-character relationships felt natural and organic with all his fellow cast members. (It was entertaining watching the two girls sitting next to me pull out their binoculars and point them towards his direction whenever he was on stage, especially during Arthur's lovey-dovey scenes with Guinevere). 
View this post on Instagram
Despite being surrounded by theater veterans, he commanded the stage every time he was on. Fans who watched previous shows also noted that as performances went on, he would improvise lines, actions, and adlibs. Fans noted how during the September 3rd performance, DK changed the names of his horses to Vernon's and Seungcheol's pets names – both of the SEVENTEEN members were in attendance that day. DK made the iconic "아주 Nice" chorus point choreography part of the show during the first group number, "Rich At Heart." And while we are all familiar with his beautiful voice, DK's vocal prowess is on a whole other level in the musical. He had mentioned that he took vocal lessons in preparation for the role, and his hard work shone through.
A Lingering Sentiment
A rush rippled through the entire audience as everyone stood up for curtain call. As each actor bowed, I found myself getting emotional at the display of pure passion and talent I just witnessed. My friend and I walked out of the theater hand in hand so as to not lose each other in the crowd, and we were both buzzing from the experience. All we could say for the next 15 minutes was "that was insane. That was incredible." Witnessing such immense talent and capable storytelling mere meters away from me, in real-time, truly reminded me of just how much was put into this project. One cannot help but feel a genuine sense of gratitude for being on the receiving end of a gift such as witnessing the culmination of all these artists' efforts. 
I now understand why some members cried or got emotional while watching DK in that musical😭 it was just a glimpse of the whole show but im tearing up just watching him perform so well😭 he's really amazing❤@pledis_17

— sebongie samuel (@garats17) October 1, 2021
thinking about how dk originally auditioned for pledis with a musical piece (this is the moment) and is now the lead in a musical (for the second time) 🥺

— 君安 𓃱♡ (@falling1004yoon) October 1, 2021
As we walked out of the venue, we saw a group of people lined up in the back parking area. We decided to hang around there with the rest of the crowd, just in case. However, about 15 minutes later DK posted a story post on his Instagram from inside a car. One of the girls next to us got on the phone to tell her friend not to come, he already left. One by one the crowd dispersed. Regardless, I was glad to know he left comfortably. 
Xcalibur will continue to run through to November 7, 2021. You can stream XCalibur here.
If you want to read more articles about SEVENTEEN, check out this article about Your Choice, their 8th mini-album.
Thumbnail courtesy of EMK Musical Company & Pledis Entertainment.