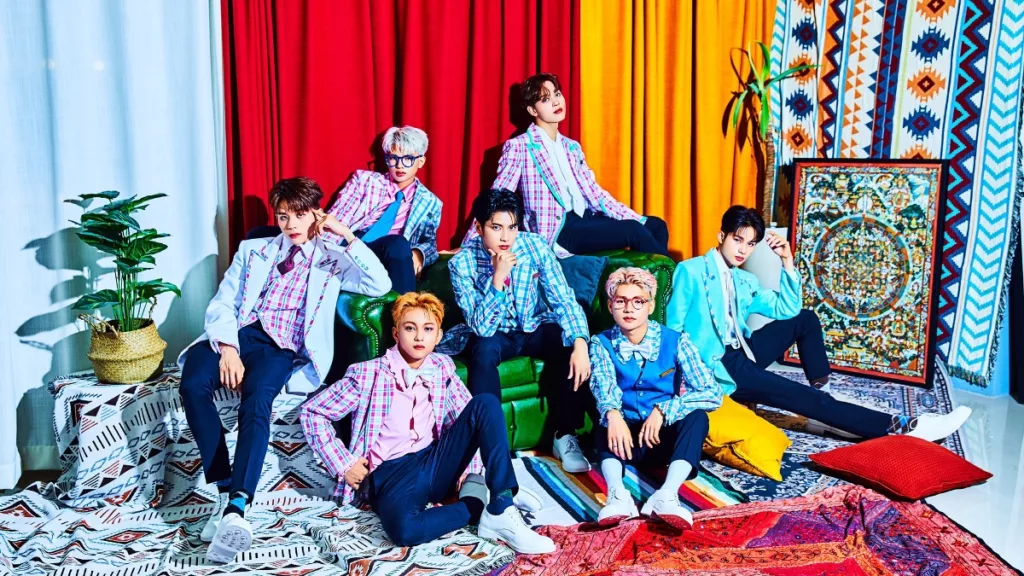 With P-pop on the rise, the Philippines has been making significant breakthroughs in mainstream media. This year, the boy group HORI7ON made strides as the first P-pop group to debut in South Korea. Members VINCI, KIM, KYLER, REYSTER, WINSTON, JEROMY and MARCUS first crossed paths on the survival program Dream Maker. The members would embark on their new journey as HORI7ON on July 24, 2023 with the title track, "SIX7EEN." Get ready to dive into the world of HORI7ON as EnVi introduces you to the seven things you need to know about the team!
Chasing the Dream
"Dream. Everything starts here," are the opening words by actress and host Kim Chiu for the survival program Dream Maker. In a global collaboration between ABS-CBN, MLD Entertainment, and Kamp Global, 62 hopefuls, dubbed as "Dream Chasers," compete for the chance to debut in South Korea. Similar to South Korean survival programs, the contestants undergo a series of performance evaluations and are eliminated by viewer's votes. To assist the "Dream Chasers" in achieving the performing standards of both South Korea and the Philippines, the mentor panel consists of esteemed industry names in both nations. Angeline Quinto, Bailey May, and Darren form the Filipino dream mentors. The Korean mentor team consists of Bae Wan-Hee, Seo Won Jin, BULL$EYE, JeA, Thunder, and even the Produce series' very own Bae Yoon Jung. 

The first episode premiered on November 19, 2022, with the show's official theme song, "Take My Hand" officially releasing six days later. Its center, VINCI, may be a familiar face, as he ranked fourth place and secured his debut in HORI7ON. HORI7ON's two youngest, MARCUS and JEROMY, battled it out for first place — with JEROMY taking the honor and becoming HORI7ON's center. KIM, KYLER, and REYSTER joined the aforementioned members on the debut seats. WINSTON earned the coveted final debut seat, and thus, completed the HORI7ON lineup.
ANCHOR of Support
To reflect the unwavering and immense support they gain from their fans, HORI7ON's fandom is endearingly named "ANCHOR." As posted on their official Twitter account, the name represents the idea that "fans will become the compass as the anchors of the boat that is HORI7ON." The fandom name reveal is all the more special considering the circumstances of the announcement. One of HORI7ON's very own fans submitted the name, alongside its touching meaning, through an official fandom name contest. On April 22, the name was also announced live to HORI7ON's fans at their first fan meeting event.
Predebut Tracks
In anticipation of their official debut, HORI7ON released three music videos to ease the waiting of ANCHORs. All three music videos would feature songs initially revealed during Dream Maker, but now re-recorded for the septet. 
The first release was the charismatic track, "DASH," a little over a month after the Dream Maker finale.
Switching gears, HORI7ON would then release 'Salamat (고마워)," an emotional ballad entirely in Tagalog.
To pick up the pace and show an image more similar to their debut track, their pre-release run concluded with the refreshing "Lovey Dovey."
Miracle in the Making
HORI7ON invite fans on their journey to their official debut with their reality program, 100 Days Miracle, airing on Mnet and M2's YouTube channel. The series features the boys in their preparation to stand onstage in South Korea. From setting foot in the Incheon Airport, to the filming site of the "Lovey Dovey" music video, viewers catch glimpses of HORI7ON's daily life as they adjust to their new schedule as promoting idols.
Each episode features a special guest panel of idol commentators, featuring members of TFN, LAPILLUS, AB6IX, and WEi. The panel empathizes with the excitement that follows the early stages of debut, and reacts to the variety segments throughout the show. CHANTY of Lapillus, who has been a recurring panel member, particularly resonates with the boys simultaneously as a company senior and a Filipino promoting in South Korea. Whether you're a dedicated ANCHOR, or just looking into checking out more about HORI7ON, be sure to tune in on Fridays for a new episode!
New Beginnings in Seoul
Fresh out of Dream Maker, HORI7ON promptly flew out to Seoul to begin preparing for their global debut. All hailing from the Philippines, the members are still adjusting to their new beginnings in a foreign country. Many of their first precious moments in South Korea are documented for ANCHORs, including their first stroll around the city as a complete unit. HORI7ON also frequently feature content revolving around the team practicing Korean culture and language. 
Afterschool HORI7ON is a YouTube mini-variety show where they practice their Korean through a series of classic broadcast games. One of the games being the staple K-pop fan-favorite, "Any Word in SIlence," where pairs must guess a list of words from a partner whilst wearing headphones. The winning individual or team receives prizes at the end of each game. But even without this incentive, the members put in their utmost effort to diligently practice their Korean.
HORI7ON's efforts are also present in their TikTok, where they practice their Korean dictation on small magnetic drawing boards. As their first promotions wrapped up, fans now eagerly await how much their Korean will improve by their next release.
Setting Sail with Friend-SHIP
HORI7ON's debut studio album, Friend-SHIP, was released on July 24 to global anticipation. Featuring twelve tracks in Korean, Tagalog, and English — HORI7ON prove to be international idols. The title track, "SIX7EEN," is a whimsical pop track perfect for the summer season. HORI7ON invites their listeners to live life in the moment: "I'm done thinking about tomorrow / You Only Live Once." The reference to the number sixteen is in regards to the peak of their youth, as they sing "I feel like 16, I want to run without hesitation" and "I wanna love somebody, follow my heart, feel like 16." The upbeat, tropical-house chorus sports with a bouncy choreography, proven to be an ideal fit for their promotional dance challenges. 
Friend-SHIP also debuts two sub-unit tracks, "How You Feel (Feat. Haeun of Lapillus)" and "Death or Paradise." The former includes the two youngest of HORI7ON, MARCUS and JEROMY, featuring labelmate Lapillus' youngest, HAEUN. The trio go full retro with a new-jack swing style song, complete with baggy outfits and groove-based choreography.
"Death or Paradise" showcases the older members' more suave image, matched with a performance video in a classic suit and tie. Starting with sentimental guitar strings, later joined by elements of electropop — VINCI, KIM, KYLER, REYSTER, and WINSTON ask themselves, "Now where am I? / Between death or paradise."
Voyage to Manila
ANCHORs have much to look forward to in the coming weeks, most notably, their first concert, "Friend-SHIP [Voyage To Manila]." ANCHORs anticipate what HORI7ON will deliver on September 9 at the Smart Araneta Coliseum, especially since the team has only hosted fan-meeting events. Fans are also hopeful that HORI7ON will voyage to other cities, or perhaps even countries, in the coming future.
Broaden Your HORI7ON
Wrapping up their promotions for "SIX7EEN" and participating in KAMP FEST CDMX 2023, HORI7ON is steadily on the rise. HORI7ON recently released their self-produced music video for "Birthday," coinciding with an accompanying episode of 100 Days Miracle where the boys set out to find popular K-Pop filming locations. Through their music, variety content, and performances, the seven boys of HORI7ON capture hearts all across the globe. This is only the beginning for the septet, leaving us wondering what new horizons they will conquer!
Can't get enough HORI7ON? Check out their official social media accounts on Instagram, Twitter, TikTok, Facebook, and YouTube!
Want more upcoming Asian groups on your radar? Check out "7 Things to Know About MXFRUIT" here!