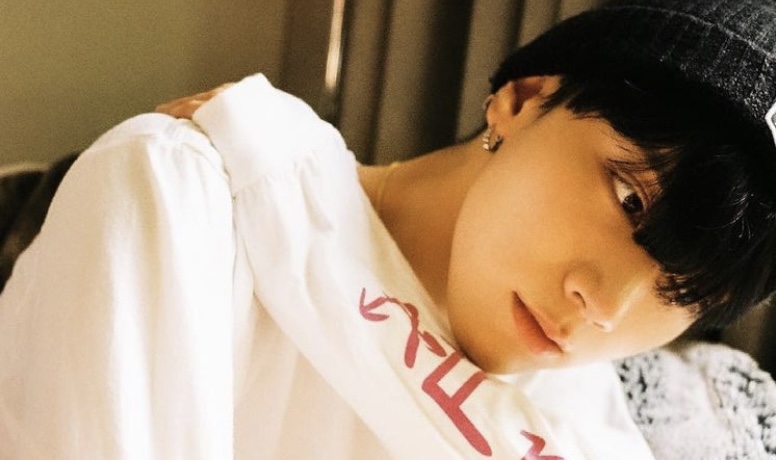 By May Peralta | @lesjoursdemay 
In a world of multi-hyphenate celebrities ruling the entertainment industry, it is not rare to find stars taking their talents into fashion or design. The latest to bring his artistic sensibilities to create beyond music is Ten—the Thai member of NCT, WayV and SuperM,—who recently revealed his collaboration with the apparel brand Represent.
View this post on Instagram
Designer Ten
A consummated artist, Ten is recognized for his smooth vocals and for being one of K-pop's best dancers. However, in addition to his on-stage abilities, the 25-year-old is also known for mastering several languages and having a set of other impressive skills that include drawing and designing. 
Through intricate artwork, usually full of symbolism and a recognizable graphic style, Ten has demonstrated to be an innate artist. On several occasions, he has shown his penchant for creating and has voiced his interest in jewelry and graphic design. When asked about what he would be doing if he didn't become an idol, he confessed that he would have pursued a career in fine arts, probably moving to London. 
Ten has previously flaunted his artistry on Instagram posts, music videos, vlogs, fansigns, and lent a hand to create WayV's merchandise, but this is his first collaboration with a clothing brand.
TENxREPRESENT
On June 14, powered by the merchandising platform, Represent, Ten launched a capsule collection. Represent is an online retailer that allows stars and influencers to sell limited-edition designs and has amassed a big number of collaborations with international celebrities. Among others, Ten has joined the likes of DAY6's Jae, GOT7's Mark, JB, BamBam, TVXQ's Changmin, and the idol group WINNER, in launching merchandise through this platform.
Titled "What is??? THE ANSWERS," Ten's line comprises 5 items: a t-shirt, a long sleeve, a hoodie, a denim jacket and a transparent phone case. All the pieces include graphics designed by Ten. From the eye-catching illustrations, the idol's own interpretation of the Chinese symbol 十 (that represents the number 10), stands out as it has become a signature of his work. 
Fan Reactions 
After Ten announced the collaboration through an Instagram post, fans shared their excitement and sent messages supporting the artist's first fashion endeavor. 
ten always finds different ways to do something new, look how he bring back 'designed by TEN' with new designs and now works with Represent
i'm so proud of him#TENxREPRESENT

— hello, Ale ?2U (@L1UDAE10) June 14, 2021
OMG!!😱 Ten x Represent clothing collection!?! Bye bye money 💸

"Designed by Ten" yeah I like the sound of this!!😍 #TEN #텐 pic.twitter.com/X9szLsfzmT

— TAETEN🌷🌿 (@BeautifulRoseTY) June 14, 2021
i'm so happy for ten launching his own design through @Represent!!!! starting with wayv group merch and now something of his own! designed by ten is so sexccccccc 🤩#TENxREPRESENT pic.twitter.com/PYcTnJ4Fjf

— ten pabo | TEN BIRTHDAY at GDC! (@tenpabo143) June 14, 2021
Leon is helping daddy promoting his new designed items, how cute is that?!??? #TEN #TENxREPRESENT #tenlee_1001 @WayV_official @Represent #DESIGNEDBYTEN pic.twitter.com/VhnvDbwuJp

— ?☀️Carolina☀️? (@CcarriestarsS) June 14, 2021
not me asking the whole family if they want any ten designed clothes 😂 listen…. they all already know and love him. may as well get them all to help support #TENxREPRESENT

— ✖️oso. (@tencultist) June 14, 2021
The hashtag #TENxREPRESENT quickly became a worldwide trending topic on Twitter. 
.@WayV_official #TENxREPRESENT is trending Worldwide at #6 pic.twitter.com/j2KQ9Rqu3B

— SMTownEngSub (@SMTownEngSub) June 14, 2021
Hashtag #TENxREPRESENT
#6 on Worldwide🌎
#1 on Thailand 🇹🇭

Tagline "DESIGNED BY TEN"
#31 on Worldwide🌎
#7 on Thailand🇹🇭

Hashtag #tenlee_1001
#17 on Thailand🇹🇭 @Represent

Keep trending for our TEN💪@SMTOWNGLOBAL @SMTrueThailand#เตนล์ #TEN #TEN𓃠 #李永钦 #텐 #テン https://t.co/r49Y4xptEw pic.twitter.com/ukjalxKzwp

— TENzenter (@TENzenter) June 14, 2021
Hashtag #TENxREPRESENT
#6 Worldwide
#1 Thailand
#4 Malaysia
#6 Philippines
#6 Indonesia

Tagline "DESIGNED BY TEN"
#31 Worldwide
#6 Thailand
#8 Indonesia
#8 Philippines

Tagline "TEN DESIGNER"
#14 Indonesia@Represent@SMTOWNGLOBAL @SMTrueThailand#เตนล์ #TEN #李永钦 #텐 #テン https://t.co/r49Y4xptEw pic.twitter.com/zKfgthfkCU

— TENzenter (@TENzenter) June 14, 2021
Gathering positive reactions across social media platforms, Ten's collaboration is surely heading to smooth sailing. You can find Ten's custom design collection on Represent's website available until July 4. 
Be sure to also check out WayV's 'Our Home' merch featuring their pets here!