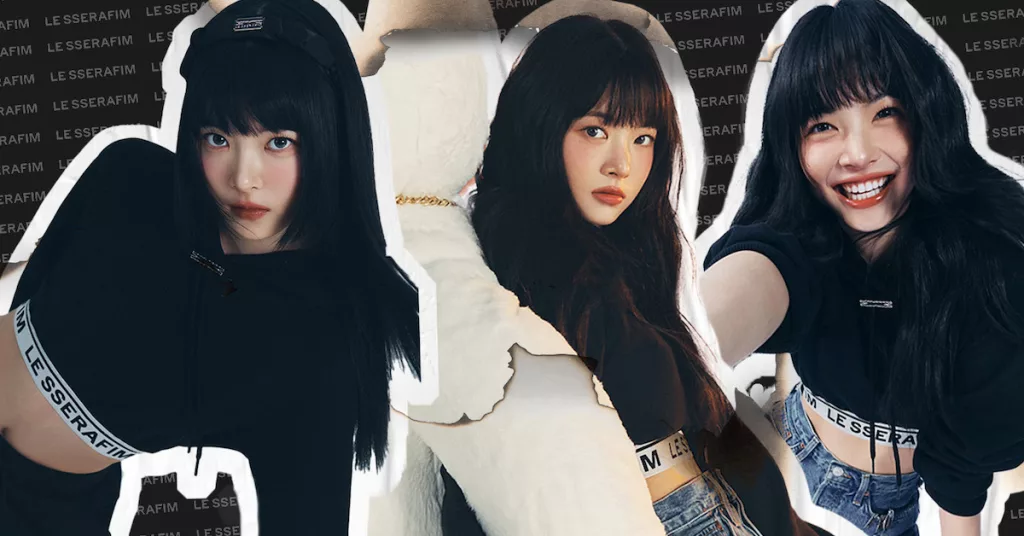 LE SSERAFIM's talented and amiable youngest member, Hong Eunchae, started dancing after becoming interested in K-pop. At only 16, she debuted as a member of one of K-pop's biggest fourth generation girl groups. With a simple love for all things sweet, appreciation for her group members, and determination to work hard, Eunchae is forging her path in the industry. EnVi dives into seven things you should know about LE SSERAFIM's Eunchae.
Dancing as a Positive Escape
Eunchae started dancing as a hobby in elementary school, just as K-pop transitioned from the 2nd to 3rd generation. The genre was popular with her friends, so she began to learn choreography in after-school classes. In a pre-debut interview with WeVerse Magazine, she shared that her passion for dancing grew, and her hobby quickly transformed into a dream.
Eunchae enrolled in DEF Dance Skool, a popular dance academy in South Korea that trains young aspiring singers, dancers, and idols when she was 12. During her time there, Eunchae's relationship with dance evolved. As an academy trainee, Eunchae studied dance techniques and filmed K-pop dance covers for DEF Dance Skool's YouTube channel. But what was previously her pastime eventually also became an escape from anything negative that happened in her daily life. "To me, DEF [Dance Skool] is an eraser," she said in a video. "Because when I'm at the academy, [DEF] erases the hard or bad things from my thoughts."
After spending some time at the academy, Eunchae's skills were honed enough to receive the approval of HYBE Entertainment through the Source Music Auditions in 2021. Her mastery of dance even impresses her group members and dance teachers. For example, Eunchae learned the entire choreography to "FEARLESS" in only two hours — anyone who dances knows that memorizing moves and executing them with energy is hard, and "FEARLESS" looks like it would be no exception.
LE SSERAFIM's Smile Potato
One of Eunchae's many nicknames is "Smile Potato." The affectionate title fittingly reflects the fact that she is constantly smiling. Eunchae so commonly shows off her lovable personality and energetic demeanor that entire YouTube compilations have been made to collect some of the best moments.
Eunchae has also described herself as the group's Happy Virus. The term is typically used among K-pop groups to denote someone with contagious happiness. Eunchae's positivity is one of her most prominent character traits — even her teasers for LE SSERAFIM's releases feature shots of her smiling, in contrast to the characteristically serious expressions frequented by her members. When she finishes shooting content that requires a stoic or confrontational look, she immediately cracks into a smile.
Additionally, the idol goes out of her way to cheer up her group members. In promotional content and behind-the-scenes footage, Eunchae can be seen cheering the rest of LE SSERAFIM up. At other times, she simply bursts into laughter or expressive cries of joy. Her energy is hard to keep up with and, at times, even harder to understand. But her relentless positivity and persistent liveliness go beyond surface-level. Eunchae approached her debut in LE SSERAFIM with internal struggles — in an interview with WeVerse Magazine, she discussed how three of the group's members (Chaewon, Sakura, and Yunjin) had established public personas, while Kazuha had years of ballet experience. Her mindset has grown over time as she has become more confident and comfortable. "It's not easy, but now I'm trying to think, This is me—I am me," she said.
Eunchae's Star Diary
In early 2023, Eunchae was selected as one of the MCs for KBS' Music Bank. Every week, she co-hosts the weekly countdown with Lee Chae Min. The role includes opening the show, transitioning between performances, engaging with idols on the show, and filming exclusive behind-the-scenes content for KBS.
Eunchae has her own series on the KBS Kpop YouTube channel titled "Eunchae's Star Diary." Each episode features Eunchae and one of the artists performing at Music Bank that week. As a young and high-energy host, Eunchae initiates engaging back-and-forth conversations with idols from various generations — like Kai of EXO, who is LE SSERAFIM's senior of nearly a decade, and NMIXX's Kyujin, who is the same age as Eunchae. The series produces enjoyable, fresh content for both fans of LE SSERAFIM and other K-pop groups, thanks to Eunchae's charm and unabashed Gen-Z quips that make for entertaining interactions with the show's guests.
One tradition for MCs is giving a special performance. For Eunchae's MC debut, she prepared a performance of PSY's 2012 hit "Entertainer." The performance was a collaboration with her Music Bank co-host Lee Chaemin, a popular young actor in South Korea. Wearing a simple white dress and gloves, Eunchae showcased her individual dance abilities.
Manchae: Representative of Youth
Eunchae's bubbly personality and infectious smile complement her position as LE SSERAFIM's maknae, the Korean term for youngest member. "Manchae," her nickname, was actually the result of Sakura accidentally combining the word maknae with Eunchae's name. In a fit of laughter caused by the verbal slip-up, a nickname that encompasses Eunchae's energy was born.
These youthful traits brought Eunchae to KIRSH, a South Korean streetwear brand that specializes in retro-inspired casual attire. Eunchae was appointed as one of KIRSH's brand ambassadors in early 2023, and has since appeared in various promotional materials — both on Instagram and on the brand's front page. KIRSH has accordingly taken to calling Eunchae "Eunchae-rry," a combination of Eunchae's name and the brand's illustrated cherry logo.
The KIRSH collections in which Eunchae has been featured allow her to embrace a style different from that of LE SSERAFIM's girl crush concept. The 16-year-old idol adopts a much softer, cute aesthetic that is on brand for South Korea's high-teen trend, which recalls the style of the late to mid-90s and early 2000s. Accessories like colorful hair clips and statement rings and pieces like varsity jackets, crew socks, and knitted vests complete Eunchae's fresh, girlish looks as KIRSH's ambassador.
Picky Eater
As per a Weekly Idol profile completed shortly after LE SSERAFIM's debut, Eunchae considers herself a picky eater. In a YouTube Short filmed for NHK Music, Eunchae revealed that prior to becoming an idol, she did not eat vegetables or salads. Only after becoming a trainee did she change her diet — specifically, she shared that she started eating salads often while preparing for the release of "FEARLESS."
Despite recently introducing a greater variety of produce into her diet, Eunchae still shows a strong preference for snacks and sweets. Multiple vlogs have revealed that Eunchae always keeps a snack on hand, be it in the LE SSERAFIM dorm or during their various schedules. Several of the group's promotional materials have given Eunchae the opportunity to indulge in her favorite bites. For example, the music video for "ANTIFRAGILE," the group's first comeback, featured a shot of Eunchae eating Earth-shaped gummies. Some of the concept photos for the same comeback featured the members of LE SSERAFIM in a grocery store, and Eunchae can once again be seen enjoying gummies.
Eunchae also seems to enjoy a range of different drinks. In an episode of her FIM-LOG series, she brought a yogurt drink to the practice rooms. When filming a post-debut mukbang with Chaewon, the two shared a soda as they ate rice cakes with rosé sauce. Even prior to meeting the girls of LE SSERAFIM, Eunchae planned on buying CapriSuns to share with her soon-to-be group members.
Loving Maknae
As LE SSERAFIM's youngest member, Eunchae is often doted on by the older girls. But oftentimes, she turns the tables on her friends and either buys or makes gifts for them. Early fans of the group will remember Eunchae doing this as early as the group's debut, with "The World Is My Oyster" showing her preparing to gift LE SSERAFIM CapriSuns.
Perhaps the most notable gift Eunchae has handed out to her group members was a set of headbands. The special accessories have made cameos in the LE SSERAFIM girls' FIM-LOG installments, while the members get ready for the day or wash their makeup off at night. But Eunchae goes the extra mile to show her group affection, even taking the time to make things for them. During preparations for "ANTIFRAGILE," Eunchae spent an evening making special, DIY Pepero snacks. She customized a small package for each group member, decorating the individual sticks with designs inspired by each girl.
In an interview with WeVerse Magazine, Eunchae revealed that she actively tries to take care of the older girls because of all they do for her. When buying gifts, she makes sure that everyone is sufficiently accounted for. She also makes an effort to use the gifts she receives from the group, like the blue resin hair clip Sakura made her.
An Outspoken Introvert
Eunchae is a proud ISFJ. As a certified member of Generation Z, the MBTI personality test is an integral part of her self-identification. Since April 2021, worldwide Google searches related to the MBTI test have increased significantly, nearly doubling compared to the period before. Particularly in South Korea, searches for MBTI peaked at two points in 2022. Unsurprisingly, fans had K-pop idols methodically completing the diagnostic exam and sharing their results.
LE SSERAFIM is no exception to this demand. While all the members have shared their results, Eunchae went viral — even members of the K-pop group THE BOYZ knew about the moment — for her reaction to Sakura's ESTJ personality type. "The fact that you're a T disappoints me," she said, to the astonishment of her group members. T, of course, refers to the Thinking type, the counterpart to Eunchae's own Feeling type. In her installment of "Eunchae's Star Diary" featuring Haknyeon, Sunwoo, and Eric of THE BOYZ, Eunchae pointed out the difference between the T and F types: F types seemingly have much more empathy than T types, especially when it comes to emotion-driven situations.
Adventurer, the title for the ISFJ personality type, includes the letter I for Introvert. Eunchae has described herself as the type to be shy and hesitant when approaching strangers in most instances. This was even the case when she first met the members of LE SSERAFIM, who had met and become close already. It took the encouragement of the group's dance instructor for Eunchae to begin opening up to the other girls. Now, the group's relationships are incredibly solid, with all of the members comfortably speaking and joking with each other.
Want to get to know the rest of LE SSERAFIM? Check out our 7 Things series and learn more about Chaewon, Sakura, Yunjin, and Kazuha.