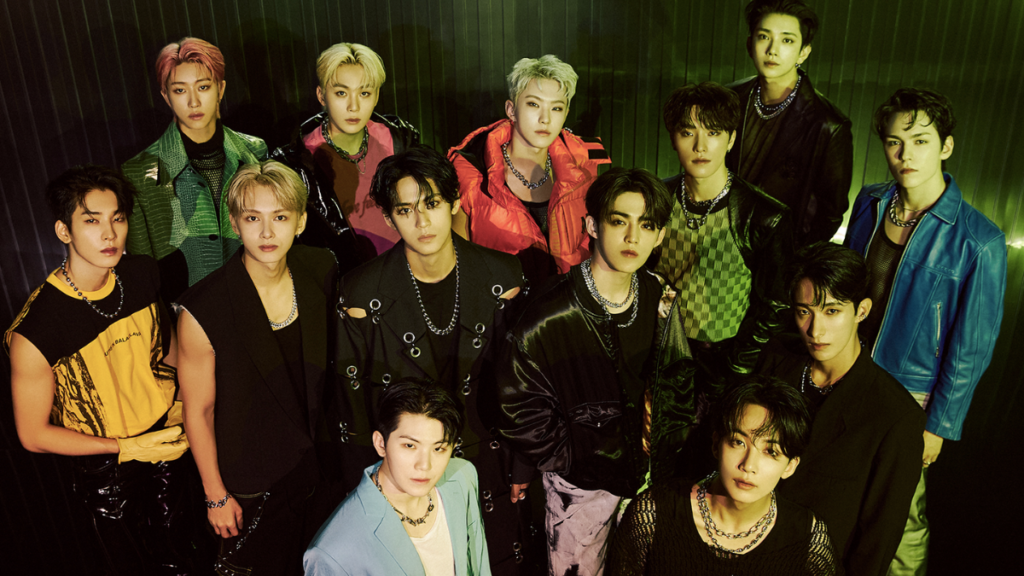 It is no secret that superstar K-pop group SEVENTEEN are taking over the world. From their classic hit "VERY NICE" to their ongoing Be The Sun world tour, the 13-member group is out stealing hearts everywhere. Interested in learning about SEVENTEEN and becoming a CARAT—the dazzling fans of SVT? EnVi has put together a list of seven things to know about SEVENTEEN to help you get started!
Say The Name!
The first question when people start looking into the phenomenal boy group may be: why are they named SEVENTEEN when there are only 13 members? Within the group are 13 members split into three sub-units–namely the hip-hop, vocal, and performance teams. Together they make one team, leaving us with the final equation: 13 + 3 + 1 = SEVENTEEN!
Sub-Unit Breakdown
With a total of three sub-units, SEVENTEEN's members break into different teams to highlight their skills. The hip-hop unit consists of S.Coups, Wonwoo, Mingyu, and Vernon and has projects that range from upbeat tracks with sick flows to introspective confessions. Vocal unit is made up of Woozi, Jeonghan, Joshua, DK, and Seungkwan, resulting in heavenly sounds when their voices are combined. The performance unit with Hoshi, Jun, THE8, and Dino utilizes a variety of genres and skillful choreography to help accentuate their artistic message.
Beyond the fixed sub-units are various collaborations between the members. S.Coups, Hoshi, and Woozi join each other on the tracks "CHANGE UP" and "CHEERS" to share about the struggles and success that come with leadership. Other combinations are the BSS unit featuring Hoshi, DK, and Seungkwan; Wonwoo and Mingyu who released "Bittersweet" featuring LeeHi; and Joshua and Vernon on the tracks "ROCKET" and "2 MINUS 1."
Personal Passion Projects
Beyond their work as a team and within their sub-units, SEVENTEEN also explore their individual limits through solo projects such as SoundCloud releases and dance series. The most recent releases include Jun's sultry single "Limbo," Hoshi's collaboration with Tiger JK in "Tiger," and Dino's upbeat "High Five." Dino's ongoing Danceology series showcases his versatility as he experiments with different genres of dance, be it contemporary or hip-hop. Meanwhile, THE8 dives deeper into a more abstract and expressive style of dance in his THE8's Contemporary Art series. These projects don't just highlight the member's strengths but also let them hone their skills and express their creativity.
The Thirteen Tapes
Last year, the group launched The Thirteen Tapes project, which highlights the members' individuality, as they release solo mixtapes and dip into new creative territory. The first installment of the series was Hoshi's sleek and elegant "Spider," followed by Woozi's venture into rock with "Ruby" in early January 2022. Through these projects, the members get the chance to try out different concepts and genres previously unexplored as a group. The release of each project comes with a unique photobook, containing a personal interview that dives into the project's creation. Although it is unknown which member will be next in line for the mysterious project, the success and quality of the previous releases have fans highly anticipating its next installment.
GOING SEVENTEEN
SEVENTEEN's YouTube variety program, GOING SEVENTEEN, is a hit amongst CARATs and even non-fans. With each episode reaching over one million views, the variety program showcases the 13 boys undergoing different challenges, playing games, having debates, and partaking in other forms of entertainment. The show helps highlight the members' positive relationships and the closeness they've developed after being together for eight years. The theme song of the show is produced by Woozi with lyrics and vocals supplied by the group. Doubling as a message to their beloved CARATs, the members sing in the sweet theme song, "How was your day everyone? / We've missed you too."
HIT THE ROAD With SEVENTEEN
SEVENTEEN : HIT THE ROAD is the group's first documentary where each member takes an episode to share their personal journey, thoughts, and reflections with viewers. The documentary gives insight into the members' appreciation for each other and gratitude toward fans. It also gives a deeper look into the members' thoughts and shows off-camera scenes from the group's Ode To You world tour and award show appearances. The epilogue of the documentary closes with the tour's conclusion and the powerful message that unites the team, "We are SEVENTEEN."
SEVENTEEN's Ring Ceremonies
In celebration of the members' special bond, SEVENTEEN share matching rings that adorn their pinkies. The special ceremonies celebrate the hard work it took to debut as a team and their growth as artists. With every new era marked by a full-length album, the group wears a new set of rings which are introduced with an emotional ceremony. In early April, the group received their fourth set prior to the release of their fourth LP, Face The Sun. The latest ring ceremony was narrated by Joshua and explains how CARATs became a beacon of hope for SEVENTEEN to push through their darkest moments. From encompassing the love they share for one another to their unwavering love for CARATs, SEVENTEEN's ring ceremonies are a sentiment worth remembering.
What Lies Ahead
After debuting in 2015, SEVENTEEN have been on the rise and are continuing upwards as they reach for the sun. With a diverse discography that features a variety of styles to solo projects and binge-worthy digital content, there is a surplus of reasons to become a CARAT. If you want to stay up-to-date with what's going on with the group, make sure to follow SEVENTEEN on Instagram, TikTok, Twitter, and YouTube!
Want more of SEVENTEEN? Check out our breakdown of Jun's "Limbo" here!