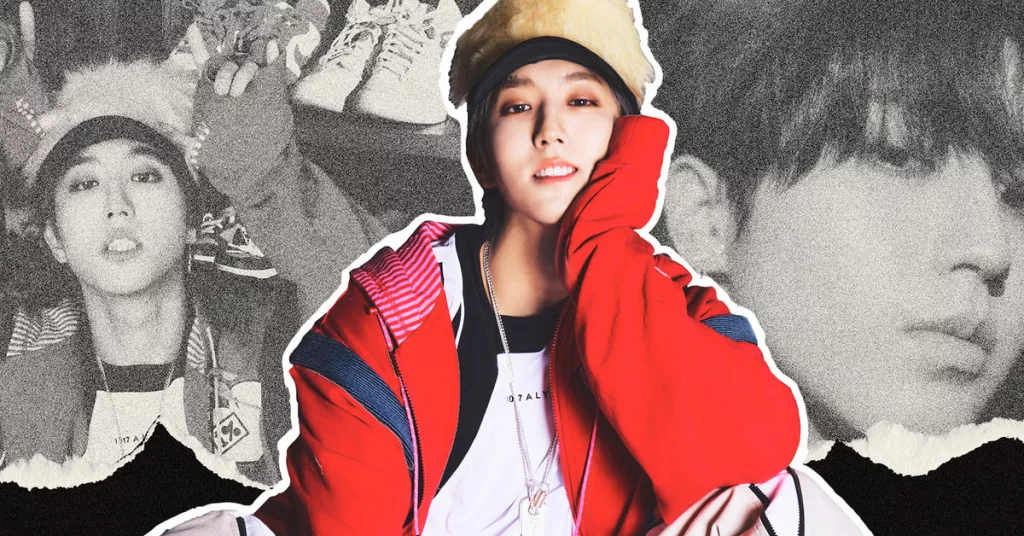 Stray Kids' Han is an artist who is full of surprises. From rising to be a vocal force within the eight-member team to spitting fire with his 3RACHA subunit, Han is a notable all-rounder in fourth generation K-pop. To celebrate his group's 5-STAR comeback, here are seven things to know about the compassionate, fearless, and versatile Han of Stray Kids.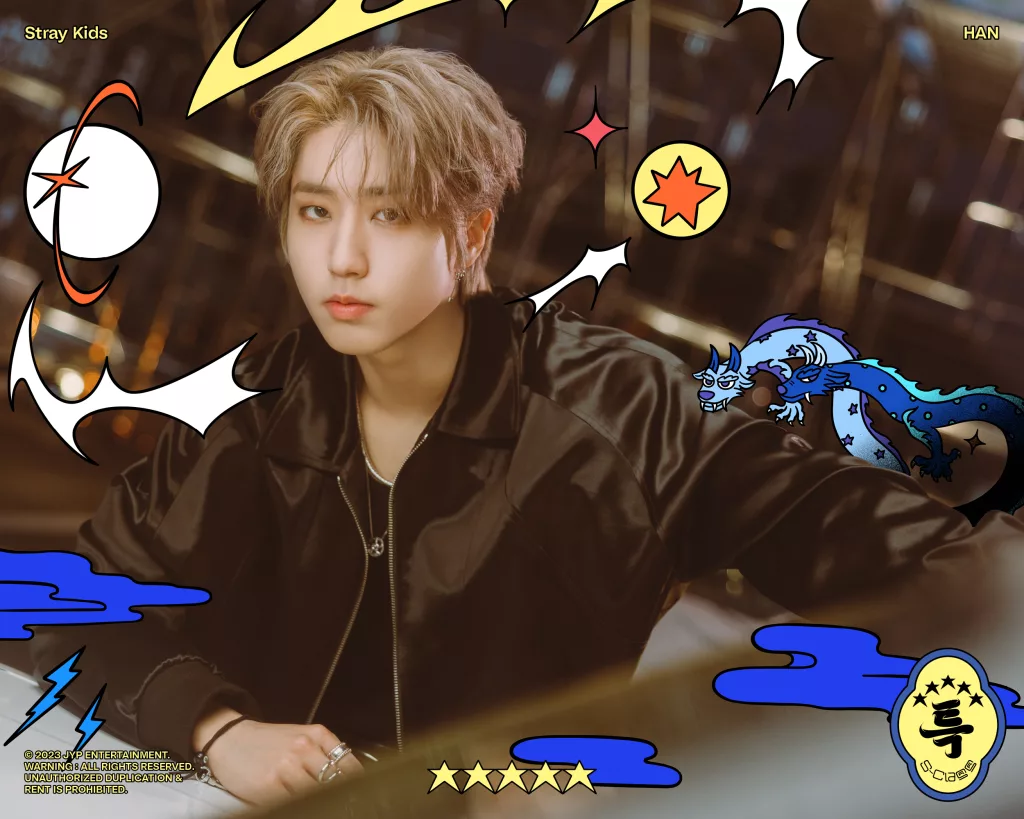 Early Education
Fans of Stray Kids — also known as STAY — usually know leader Bang Chan and deep-voiced Felix are the Australian-born and English-speaking members of Stray Kids. However, these two are not the only ones who are fluent in the language. Besides Bang Chan and Felix, honey vocalist Seungmin and all-rounder ace Han often help out during English-dominant interviews (sometimes' the latter's interesting British-tinged accent comes out, much to the delight of fans). Han member lived in South Korea before moving to Malaysia when he was nine years old. Once there, he was homeschooled to "know more about the world and be open-minded," as he relayed on "Lee Mujin Service."
While Han did not have a traditional school experience, this difference in background does not impede his imagination and empathy. In 2018, Han, Bang Chan, Changbin — the other two-thirds of 3RACHA — and the youngest member of Stray Kids, I.N, penned "School Life." The track appears on the group's Mixtape, which was released three months ahead of their official debut as Stray Kids. Aching exhaustion with the repetitiveness and the lack of empathy found in "School Life" filters through the upbeat song, with lyrics like "Feels the same every day, so sick of this / Wishing tomorrow would be a little different" hitting especially hard. Han contributed his lyrics based on the stories of his members as well as the way school life is portrayed in the media he consumes.
Becoming a JYP Trainee
Every K-pop idol has a unique story of how they entered their company. Han is no different. Similar to many other artists, the young rapper was influenced by veterans in the industry, such as Epik High, to explore music, songwriting, and rapping. The 22-year-old revealed on his Lee Mujin Service episode that his curiosity in K-pop developed later when he came across Zico (from Block B) and other rap performances in the genre.
Han's journey to becoming a JYP trainee was one characterized by coincidence. While he returned to Korea from Malaysia to take exams, the aspiring musician "made a deal" with his parents. Han had realized that if he wanted to pursue a singing career, as he detailed to Seungmin in their 2018 "2 Kids Room" episode, it would be best to stay in Korea and audition to join a company. However, his parents expressed some understandable hesitation about this proposition. Thus, they came to an agreement: "If [Han couldn't] enter a company in a year, [he'd] stop and go back to Malaysia to study."
In a dramatic fashion, Han and a friend heard about an audition at JYP Entertainment on the day he was supposed to return to Malaysia. They made a spur-of-the-moment decision to go but "just in case [they could] see a celebrity," which Han admitted to Seungmin in their talk. Out of the five other people auditioning with him, Han was the only one invited to stay behind and join JYP. Thus began the burgeoning singer and rapper's three years of training in the company before debuting as a member of Stray Kids in March of 2018.
Stray Kids x YG Trainees Battles
Before Stray Kids became Stray Kids, they had to prove their debut worthiness through the JYP Entertainment-conceived survival show Stray Kids (2017). Unlike other idol survival productions, the 10-episode Stray Kids highlighted the nine trainees who were pre-selected to be a part of the final group.
In the sixth episode, Stray Kids competed against seven former trainees at YG Entertainment — including some current members of TREASURE. They faced vocal, dance, and rap challenges in their respective teams. For the rap performance, Han and '99-liner Changbin shaped the words of their doubters into sharp spears of self-confidence on their 3RACHA track, "Matryoshka." The two rappers compare themselves to the nestled matryoshka dolls; even when others try to strike them down or when doubt permeates their ability to make music, there is only more of themselves to be revealed. As Han raps, "Matryoshka version one, J.One / Shedding down, but it's useless / I'm gonna be stronger, I'm not pretending (Mm) for real / Even if you cut me into smaller pieces, I'm spicy / I won't disappear, I'll be stronger."
Han also participated in the vocal challenge alongside Bang Chan and former Stray Kids member Woojin. The three put their own Stray Kids spin on Blackpink's hit song "As If It's Your Last," adding original rap and choreography to the 2016 single. In this performance, Han surprised the YG trainees with both his rap and vocal abilities.
3RACHA's J.ONE
The name "3RACHA" gets thrown around within the STAY community almost as much as "Stray Kids." As the main rappers and production backbone of Stray Kids, 3RACHA are notable in their own right. Han claims the moniker J.ONE in this subunit with Bang Chan, known as CB97, and Changbin, known as SPEARB, rounding out the tight-knit group of three.
3RACHA refer to themselves as "the clash of three rain clouds" in their unit track of the same name from the 2022 album Maxident. In an interview with PAPER Magazine, Han revealed that this is his favorite line of "3RACHA." He elaborated on this detail, musing, "…these lyrics remind me that when the three of us come together, we can create something huge like a thundercloud." And, boy, have they created. Currently, Han is credited on over 100 songs by the Korean Music Copyright Association (KOMCA). This February, the young rapper, plus Changbin and Bang Chan, were promoted to regular members by KOMCA. The top 25 junior members of the association are promoted to this status at the end of each year.
These "thunderstorms" were officially brought to the public's attention, however, through J:2017/mixtape, 3RACHA's first mixtape. This was released on Soundcloud in April of 2017, while the unit's second mixtape followed four months later. Han produced two tracks on the latter project, entitled 3DAYS, including "I SEE," which he produced alongside leader Bang Chan. Five years later, Han and his fellow 3RACHA members reflect on their journey in the self-titled song. Similar to his verse in "Matryoshka," Han recognizes the artistic strength and skill he possesses thanks to his hard work: "I climb higher than anyone else, jumpin' (Get it) / Even if I'm out of breath, there's no stop." The track, in Han's eyes, is also a celebration of the "spirit, grit, and bravado" their team has, regardless of the change and growth they have undergone in the past few years.
Versatile Vocalist and Songwriter
Outside of his often spitfire rapping style, Han is known for his versatile vocals. Different songs have showcased different parts of his voice, allowing him to grow exponentially since his debut in 2018. From pop rock tracks to acoustic ballads, for Stray Kids or for his solo work, Han is a musical chameleon. As he noted in his "Lee Mujin Service" episode, music "itself" and singing came before rap. Han approaches his individual artistry and his role in Stray Kids with a mentality of no limitations in terms of what he does artistically.
This perspective comes across clearly in his growing vocal abilities. While Stray Kids competed on Mnet's 2021 show, Kingdom: Legendary War, Han stood out for his powerful high notes. During the group's performance of BTOB's striking song, "I'll be your man," the original singers and other contestants could not help but express their surprise when Han demonstrated his range. Main vocalist Eunkwang from BTOB cried out, "He's vocal! His skill is not like a rapper!," and fellow bandmate Minhyuk said in disbelief, "How come he can do this well [because he's a rapper]?"
Han took the extended high notes with Seungmin as Stray Kids hurtled into the final, intense part of "I'll be your man," complete with Changbin furiously rapping behind the vocalists' powerful singing. As Younghoon from The Boyz exclaimed, surprise written all over his features, "Isn't he a rapper?"
Meanwhile, Han's "lyrical" side—both as a vocalist and as a songwriter—comes out especially in his SKZ-Record tracks. Through the SKZ-Record project (also known as SKZ-Replay), Han has released original songs such as "Close," "Wish You Back," and "Volcano." The "emotional rapper," who often draws inspiration from movies, tends to pen "lyrical, sad, painful songs," as he himself admitted to Lee Mujin. One only needs to briefly glance at the lyrics of "Volcano" to understand this: "I'll protect you / It's okay to hurt." The pop-rock track pulls in an adamant electric guitar and resonant drum beats behind Han's stable belting, adding to this song that begs for a cathartic scream.
The Quokka of Stray Kids
First of all, you might be wondering what on earth is a quokka. Secondly, you might be wondering why Han is considered the quokka of Stray Kids. To address the first question, a quokka is a macropod (kangaroos are also macropods), and their population is declining. Although they are already a bit round and fluffy, their mouths quirk up in a distinct way, making it look like they are smiling.
Thus, when photos of quokkas are placed besides ones of Han, the similarities are surprisingly striking. Fans and members alike believe he looks like this adorable macropod, so much that the rapper's SKZ Zoo cartoon character—plushies of the members' representative animals/characters—is a quokka. Han takes it all in stride, adopting the nickname alongside his Stray Kids members, who refer to him as such in the 2022 track, "Fam."
Han's Signature Humor
It's difficult to not hear (or see) Han in interviews, on variety shows, including Stray Kids' own "SKZ Code," or on TikTok. When the group's puppy interview with Buzzfeed took a quick detour into freestyle rap territory, the quick-thinking rapper created one about puppies and coffee (the two words rhyme in Korean). Meanwhile, Han's sharp sarcasm—and his British accent—jumped out in another Buzzfeed interview, where he accidentally forgot that "Secret Secret" from NOEASY was written by him. In response, Han widened his eyes in astonishment and said as if he was dishing out juicy gossip, "Oh my god, 'Secret Secret' is so amazing! I love that song; that's so beautiful."
Another iconic Han moment was when he appeared on one of Bang Chan's weekly VLives. Bang Chan's show "Chan's Room" used to be on VLive until the platform merged with Weverse. Although it is mostly Chan chatting with fans and playing music, he would occasionally bring in special guests, such as the highly-anticipated 3RACHA members and their chaotic dynamic. Viewers got their wish fulfilled many times over when Han plopped down in a chair, a rubber horse head sitting squarely on his shoulders. Stray Kids' leader laughed for a solid minute, but showing up was not the end of Han's stunt. Now imagine a horse head saying in Korean, "Excuse me, noona, do you have a boyfriend?"
Want to learn more about the members of Stray Kids? Check out how Felix is Louis Vuitton's newest it boy here.