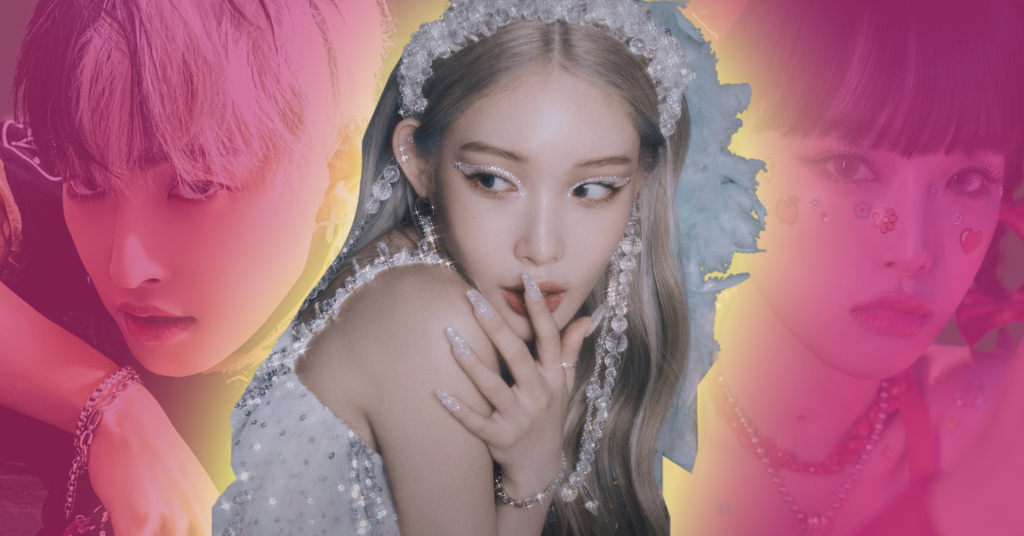 The hottest month of the year came by with many amazing and colorful K-pop comebacks and even more breathtaking visuals. From delicate pearls to neon colors and unique hairstyles, here are some K-Pop beauty moments from July we couldn't help but love
CHUNGHA in "Sparkling"
Faithful to her "Queen of Glitter" nickname, CHUNGHA bodied the concept with "Sparkling" and came through with very sparkly looks for her comeback. The different types of glitter were paired with bright and neon liners, gemstones, and even pearls to match the underwater theme of the music video. On top of that, every new stage was also a new surprise for her fans, with a different eye-catching look in every performance.
aespa in "Girls"
aespa never disappoint when it comes to their concepts, and "Girls" is no different. Going back to Kwangya to battle with the Black Mamba for the last time, the girls sported looks such as darker smokey eyes and bright blues, as well as their always unique nail designs. A highlight of their teaser pictures was Winter and Giselle's graphic liner looks that gave the concept an edgier twist.
Apink CHOBOM in "Copycat"
As Apink's first subunit, members Chorong and Bomi joined forces to release "Copycat". The song is about subconsciously becoming similar to someone you like, and the visuals of the era showed this beautifully. The girls looked very similar but with slight differences, such as donning the same outfits and makeup but with different color schemes, or the same hair color but in different styles.
Xdinary Heroes in "Test Me"
JYP Entertainment's newest band is already known for their edgy and colorful visuals, but they took it a step further with "Test Me". With a cyberpunk concept, the boys of Xdinary Heroes are shown wearing silver jumpsuits with metallic makeup to match, with bassist Jooyeon sporting a lightning shape, likely a reference to David Bowie.
Ateez in "Guerrilla"
Diving even deeper into their lore, Ateez made an explosive comeback with "Guerrilla". With a long rollout full of teasers and a storyline, they showed their unique visuals to match with the concept. Some highlights include leader Hongjoong's split-dyed hair, Seonghwa's undercut, and San's eyebrow slit and piercing.
HyunA in "Nabillera"
Soloist HyunA came back with the fun "Nabillera" and served looks as colorful as butterfly wings. With her signature bold lip and the front of her hair bleached, HyunA looked amazing in white and lilac graphic liner, with pearls on her lids forming wings.
Choi Yena in SMARTPHONE concept photos
About to release her first comeback on August 3, soloist Choi Yena is keeping the bright, fun vibe of her first song "SMILEY." With inspirations from the 2000s, she shows up in concept photos with temporary tattoos in cutesy designs decorating her face and colorful gemstones on her body, as well as many hair accessories covering her head.
(G)I-dle MINNIE x MAC Cosmetics for Elle Korea
Shining as MAC's new muse, MINNIE from (G)-idle shines in the brand's new campaign for Elle Korea. Modeling the brand's new lipstick, she wore a classic look with the range's boldest colors and a sharp liner.
Want to see more beauty moments in K-pop? Check out our June beauty roundup here!
Thumbnail made by Radiya