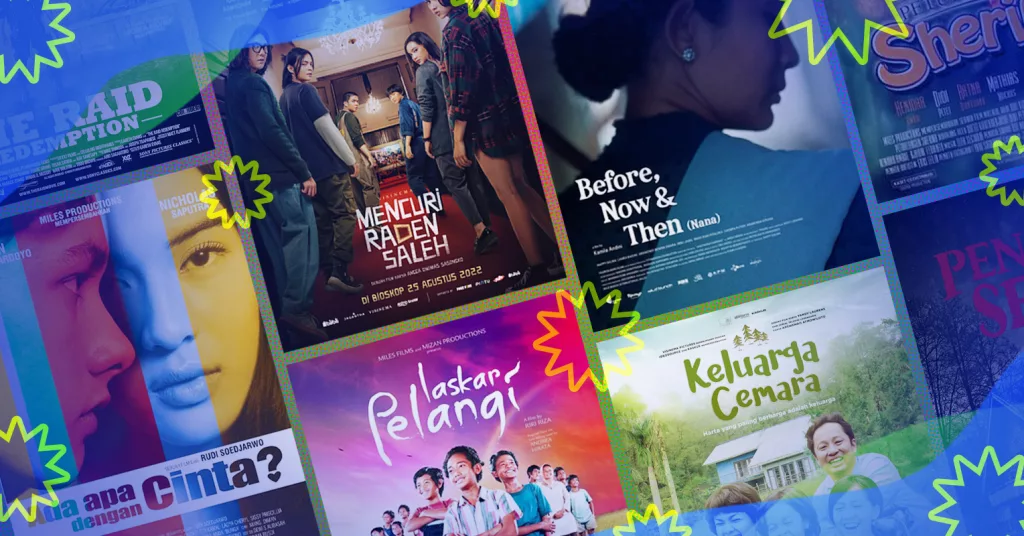 Indonesia, with its national tagline bhinneka tunggal ika ("unity in diversity"), stands as a country rich in culture. From traditional cuisine to the silver screen, the Southeast Asian nation's film industry continues to flourish over time. Now, more than ever, Indonesian movies are being crafted with remarkable quality and unforgettable stories.
To celebrate the country's independence day on August 17, here are eight Indonesian movies that have captivated audiences with their enthralling stories and amazing production. This list spans a variety of genres, ranging from drama, romance, comedy, horror, and action.
Stealing Raden Saleh / Mencuri Raden Saleh (2022)
As perhaps the first Indonesian heist movie, Stealing Raden Saleh is a pulse-pounding feature you can't miss. The plot follows a group of young adults, led by college student and art forger Piko (Iqbaal Ramadhan). Their mission? Pilfer the painting of Diponegoro's capture by Raden Saleh, one of the nation's most treasured artists. While heist movies were practically unheard of in Indonesia, director Angga Dwimas Sasongko seamlessly incorporates the Gen Z zeitgeist into his work. With relatable characters and unforgettable plot twists, this film is guaranteed to keep you on the edge of your seat.
The Rainbow Troops / Laskar Pelangi (2008)
A common thread in Indonesian box office hits is the celebration of diverse ethnic groups — including The Rainbow Troops (Laskar Pelangi). Adapted from the semi-autobiographical novel by Andrea Hirata, this film centers on the life of a boy in Belitung, a small island rich in tin, in the 1970s. He attends a nearly-shut-down Islamic school with nine other students, all of them affectionately dubbed as "rainbow troops" by their loving and determined teacher, Miss Mus. Throughout its runtime, The Rainbow Troops juxtaposes the students' bright talent and outlook with the harsh reality of their surroundings. However, its prevailing message endures: hope exists, even in the darkest hours.
Sherina's Adventure / Petualangan Sherina (2000)
Renowned child stars Sherina Munaf and Derby Romero team up in this musical adventure. Due to her agronomist father's new job, city girl Sherina has to move to Lembang, a town in West Java. Leaving old friends is already hard enough, but to add insult to injury, she becomes the target of her new school's bully, Sadam (Romero). But the duo's rivalry soon crumbles when they witness a land dispute that may change their lives forever. Ripe with fun musical numbers and environmental themes, Sherina's Adventure is a feature for all ages. A sequel, set to release this September, will see Munaf and Romero reprising their roles.
What's Up with Love? / Ada Apa Dengan Cinta? (2002)
Romance thrives in the Indonesian cinematic landscape, and What's Up with Love? remains a standout. In Indonesian, the title features a pun, as cinta is both a word meaning "love" and one of the main characters' names. As the magazine club president, Cinta (Dian Sastrowardoyo) is one of the most popular girls in her high school. However, her life starts to change when she finds out a recluse called Rangga (Nicholas Saputra) defeated her in their school's annual poetry competition. Once the two gradually grow closer over their shared love for literature, Cinta's loyalty to her magazine club is tested. What's Up with Cinta? was and is still huge in the Indonesian cultural lexicon, largely owing to the stellar performances from Sastrowardoyo and Saputra. Since then, the movie has evolved into a franchise, including a 2016 sequel and a spin-off spotlighting one of Cinta's best friends.
Pengabdi Setan / Satan's Slaves (2017)
Drawing suspense and thrills from its well-sustained ominous ambience, Joko Anwar has finely recreated the 1982 film of the same name. Satan's Slaves is a story of four siblings who support each other in their father's absence after their mother's funeral. Every element of the film, from the stunning cinematography, the impressive score and sound design, to the stellar performances, work in glorious harmony to create an exquisitely dreadful atmosphere, updated for contemporary audiences.
The Raid (2011)
If you enjoy the John Wick series, you will definitely like this. Jakarta-based Welsh director Gareth Evans puts his fascination in Indonesian martial arts, pencak silat, to an action extravaganza that is both exhausting yet exhilarating. Starring Iko Uwais, Joe Taslim, Donny Alamsyah, and Yayan Ruhian, The Raid follows a small elite squad tasked with infiltrating a tower block run by a ruthless drug lord. The movie never lets up, delivering non-stop thrills that leave no breathing room. It's an action epic that honors your time and rewards it.
Cemara Family / Keluarga Cemara (2019)
Cemara Family follows a family who loses their home in Jakarta due to bankruptcy. When they move to a remote location, their family dynamics are severely tested. It is a simple, heartwarming movie with just the right amount of comedy. Paired with iconic songs and superb chemistry from the cast, Cemara Family is the exact movie that makes you want more quality time with your family and makes you appreciate your family even more.
Before, Now & Then (Nana) (2022)
Set against Indonesia's turbulent post-independence years in the 1960s, the story revolves around the domestic life of a woman whose personal life has been completely overturned by political turmoil. Kamila Andini has perfectly encompassed Wong Kar Wai's approach to cinematography by creating exceptional blocking and camera movements. Paired superbly with Ricky Lionardi's scoring, this film is a sensory delight. Furthermore, Kamila Andini's films consistently include implicit meanings evident in the coloring, prop selection, and even dialogue. For instance, Andini uses the color green metaphorically, setting the film's tone. Green symbolizes calmness and rebirth, and this is reflected in the figure of Nyi Nana who keeps her composure and tries to be "reborn" by looking for the freedom she has been waiting for.
Looking for more recommendations by EnVi's ACT!ON Team? Check out our coverage of the Disney+ series American Born Chinese here!