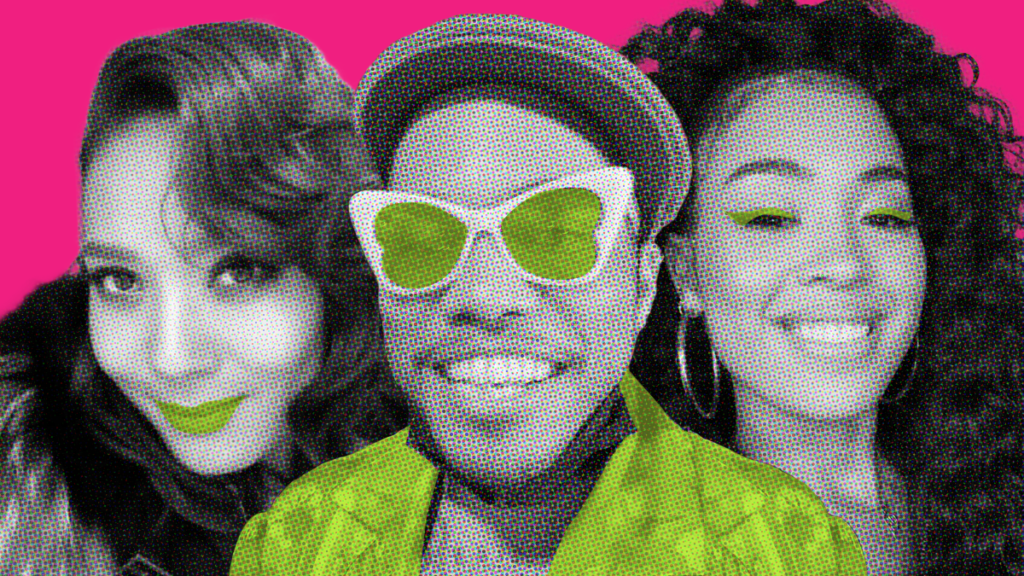 For Asian American and Pacific Islander Heritage Month, Formation is spotlighting nine Black and Asian-American artists you should have on your playlist. Covering singer-songwriters, rappers and producers, we're highlighting artists with global careers, often spanning multiple countries and languages. Whether they're established superstars, artists on the rise, or behind some of your favorite songs, these musicians are trendsetters both in the US and across the world.
ADN
Adien "ADN" Lewis is a multi-platinum singer-songwriter and producer of Black and Filipino-American descent. Growing up in the Washington D.C. Metropolitan area (DMV), ADN was inspired by various artists and genres, most notably 90s/00s R&B. After participating in his high school's choir and band, he started uploading original songs and rearranged covers on YouTube while in college. His musical style usually includes combinations of R&B, electronic and pop music, set to both futuristic and traditional productions, and mesmerizing melodies. After releasing a string of singles, ADN released his first self-produced EP, Alien Wave Volume 1, in 2021.
An expert with the pen for his own releases, ADN usually extends his songwriting talents to other artists. A long-time K-pop fan, he is known for his songwriting and producing for various Korean idols. Some of his songwriting credits include Taemin's "Move," NCT Dream's "Boom" and BTS member V's "Inner Child." Most recently, ADN released "Fight About It," a track about avoiding fights with your lover and instead choosing open communication.
Formation Song Rec: "Fight About It"
Saweetie
Diamonté Quiava Valentin Harper was born to her Chinese-Filipina mother and her Trinidadian African-American father in Oakland, California. Now known as Saweetie, the rapper is known for breakout hits like "Icy Girl" and the collaboration "Best Friend" featuring Doja Cat. Her entrance into the music industry started on Instagram, where she posted popular freestyles while attending the University of Southern California. Hailing from an extended family full of celebrities, Saweetie chose to reject their help to open doors and went at it herself.
Famous for using hit songs from the 2000s as samples in her music, Saweetie shot to superstardom with TikTok favorite "Tap In," the lead to her debut EP Pretty Bitch Music. This popularity eventually lead to multiple GRAMMY nominations for her at the 2022 awards ceremony. Though Saweetie is still finding her way as a newer artist in the music industry, she has managed to build a successful and lucrative brand around herself. Appearing on stages like 88rising's Head In The Clouds, she continuously represents her mixed ethnicity any time she can. Saweetie even turned heads at the 2021 Met Gala red carpet in a custom gown that incorporated both the Black American Heritage and Filipino flags.
Formation Song Rec: "Hot Boy"
Guapdad 4000
Born Akeem Ali Douglas Hayes, Guapdad 4000, or recently just "Guap," is a Black-Filipino rapper and songwriter from Oakland, California. After releasing his first mixtape, Scamboy Color, in 2017, he quickly gained a name for himself across the Bay area. Over the years, he has established himself as an impressive lyricist amongst his generation of peers, like Maxo Kream, Denzel Curry and Buddy, with whom he frequently collaborates with. 
Guapdad always makes sure to shout out his Filipino heritage in his music and online content. He recently participated in Marvel Studios' Shang-Chi and the Legend of the Ten Rings soundtrack, and can be spotted on panels and festival lineups that celebrate Asian American and Pacific Islander cultures. On TikTok, he even hosts a segment teaching viewers different ways to cook the popular Filipino dish, chicken adobo.
Formation Song Rec: "Stoop Kid"
Tasha/Yoon Mirae
Born Natasha Shanta Reid, Yoon Mirae is an American-South Korean singer, rapper, songwriter, and producer. Also known as Tasha or T, the artist was born to an African-American father and South Korean mother. Although she struggled with her identity and was bullied for her darker skin and mixed heritage, she now talks candidly about her experiences, and how they helped her express herself through music.
Lauded as the queen of Korean hip-hop, Yoon Mirae and her husband, Tiger JK, brought the genre to South Korea's mainstream in the late 1990s and early 2000s. With a musical career spanning over two decades, Yoon Mirae has established herself as a hip-hop icon and a legendary Korean drama OST singer. She also joined forces with her husband and their longtime friend, Bizzy to create hip-hop group MFBTY. Yoon Mirae boasts of a vast hip-hop and R&B-filled discography with five solo albums, 13 soundtrack appearances, singles, collaborations, and compilation albums.
Formation Song Rec: "You & Me"
UMI
R&B songstress UMI, from Seattle, Washington, cites the Japanese pop, jazz, and rock her mom frequently played in their household growing up as one of the major influences of her music. Coming from a Japanese and African-American background, UMI spent a brief time confused about her mixed identity. In a recent interview she cited right now as "the best time to be an artist" and authentically yourself, as no one has to be boxed into one label anymore.
Often referred to as a "lo-fi" artist, UMI throws her all into her chill and relatable music. She regularly puts her own (and her friend's) feelings on the line in her raw self-written tracks. In 2018, she released her first EP, interlude, and has since released four more, along with multiple singles and collaborations. After signing with Keep Cool records in 2021, UMI is slated to release her debut studio album in Spring 2022.
Formation Song Rec: "Remember Me"
Anderson. Paak
Born to a Korean mother and African-American father in Oxnard, California, Anderson. Paak is a Grammy award-winning singer, songwriter, rapper, producer, and drummer. The multi-hyphenate has worked with the likes of Mary J. Blige, A Tribe Called Quest, Busta Rhymes, Korean-American artist Dumbfounded, and is one-half of the duo Silk Sonic, working alongside Bruno Mars.
Paak's music fuses elements of hip-hop, R&B, and soul to create a sound that puts the listener at ease while also simultaneously making them want to dance. With the combination of his groovy, upbeat music and lyrics expressing faith and despair, his songs convey a sense of hope and a brighter future ahead. Paak states that while a release date and title has not been decided for his long-awaited fifth studio album, he assures that a collaboration with H.E.R. will be included. In the meantime, be sure to check out Silk Sonic's An Evening With Silk Sonic and his latest solo album release Ventura.
Formation Song Rec: "The Season/Carry Me/The Waters"
Wolftyla
Wolftyla is a singer-songwriter and producer from Manhattan, New York. Releasing songs in both English and Korean, her Korean background inspires her music and fashion choices. First gaining notoriety on Vine (R.I.P) in the mid-2010s, Wolftyla carried that virality over to SoundCloud with the release of "Feels." Afterwards she released a string of singles that lead up to her debut EP, Wolf In Color in 2020. A true millennial, Wolftyla grew up on Studio Ghibli films and musical pioneers like Missy Elliot and Janet Jackson. All influences that can be heard in her soft vocals, hard hitting production, and emotional story-telling lyrics.
With a sound influenced by Neo-soul and pop (with a dash of K-pop), she has collaborated with Jay Park and K/DA, as well as producers Timbaland and London on da Track. Known for her pengame, Wolftyla also writes for a multitude of other artists. She recently contributed to Ella Mai's latest album, Heart On My Sleeve, and has upcoming plans to release her second EP.
Formation Song Rec: "All Tinted"
H.E.R.
Five-time Grammy award winning R&B artist, H.E.R. started her career at the age of 14 after signing with RCA Records. Born Gabriella Sarmiento Wilson in California's Bay Area to Filipina-American mother and African-American father, she grew up in a musical family. Now a veteran in the music industry, she started to gain traction after rebranding and concealing her identity with the release of the 2017 mixtape, HER Volume 1.
With songs like "Focus," and "Best Part," H.E.R. solidified herself as a global superstar. Her emotion-tinged vocals and relatable lyrics helped her music reach every part of the globe, including her maternal homeland–the Philippines. She has received co-signs from legends and greats across all genres including Janet Jackson, Pusha T, Travis Barker, and Alicia Keys to name a few. After both releasing her debut studio album, Back of my Mind, and winning an Academy Award for "Best Original Song" in 2021, she has taken the industry by storm as one of the current generation's leading R&B artists.
Formation Song Rec: "As I Am"
Joyce Wrice
Singer-songwriter Joyce Wrice, who hails from San Diego, California, is of Black and Japanese descent. Her critically acclaimed 2021 debut album, Overgrown, is a love letter to 90s R&B. Joyce grew up listening to R&B while spending summers visiting her family in both Japan and Flint, Michigan. She saw herself in artists like Crystal Kay and Brandy, which inspired her love–and eventual pursuit–of music.
Like most of the millennials on this list, Joyce started her career by posting covers on the internet and going viral. She released her first EP in 2016 which helped her hone in on her sound, then began working on her debut studio album which took over two years to complete. Boasting features from KAYTRANADA, Lucky Daye, and Freddie Gibbs, Joyce also makes sure to include a Japanese language remix of "That's On You" with fellow African-American and Japanese artist, UMI.
Formation Song Rec: "So So Sick"
Creating sounds across genres like pop, R&B, K-pop, hip-hop, and more, these Black AAPI artists are building a musical legacy across the world. For many of these musicians, their heritage has played an important role in their identities as artists, from their songwriting and sense of style to the snippets of life shared with fans. Whether you learned more about the creators of your favorite tracks or found new songs to have on repeat, we hope you are inspired to check out more from these artists.
Want to discover more Black musicians from across different cultural backgrounds? Check out our article on Influential Women in Afropop.