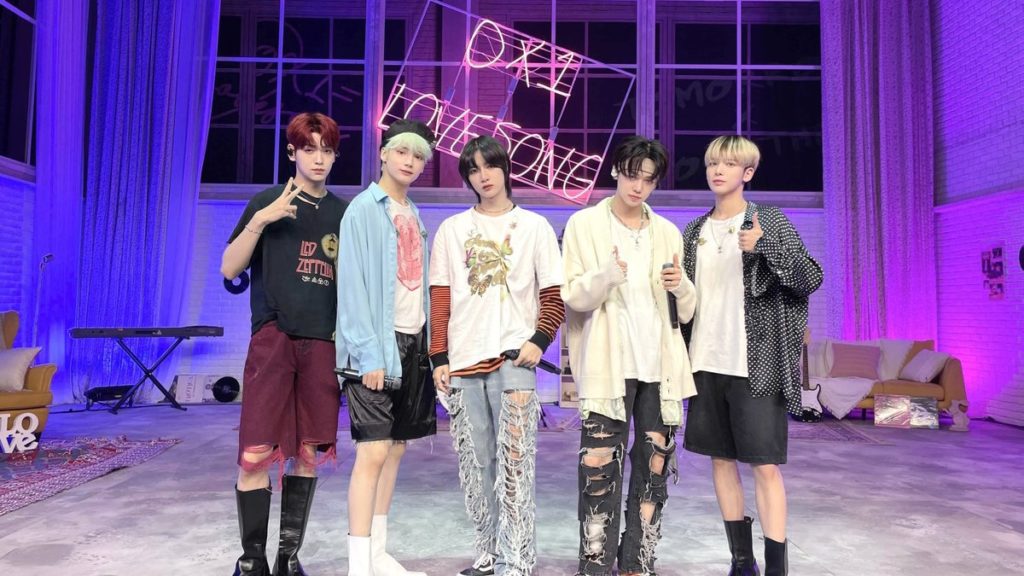 Riding high from the success of their third studio album, The Chaos Chapter: Freeze, and their first full concert, K-pop boy group TOMORROW X TOGETHER (TXT) has returned with their first Japanese EP, Chaotic Wonderland. Released on November 10, the four-song EP includes two Japanese versions of previous Korean releases and a new, original Japanese track. 
【#TOMORROW_X_TOGETHER 】
   11/10(水)発売📆
    日本1st EP✨
『#Chaotic_Wonderland』リード曲
「0X1=LOVESONG [Japanese Ver.]」
◤#TXT_featアーティストは誰だ ❓◢
featアーティストを予想してみよう👀🔍
⏰10/26(火)23:59締切
❣️ヒントは添付画像の中❣️

— umusicjapan (@umusicjapan) October 22, 2021
A LOVESONG With a J-Rock Spin
Officially the third installment in their "chaos" story arc, Chaotic Wonderland uses the group's sound from The Chaos Chapter album. The EP leads with the Japanese version of the group's chart-topping "0X1=LOVESONG (I Know I Love You)." While the original Korean version featured Seori, the Japanese version features vocalist Lilas Ikuta, also known as ikura, one-half of J-pop duo Yoasobi. Though the production of "0X1=LOVESONG (I Know I Love You)" has a distinctly pop sound, the track feels like it could fit into the broader J-rock genre, capitalizing on TXT's unique, dynamic voice tones.
A Visual Delight
Accompanying the track is a brand-new music video–for casual listeners of the group, the music video feels like nothing out of the ordinary for TXT and their high-quality music videos. It's grand and cinematic, full of wallpaper-worthy visuals and top-of-the-line CGI. DIGIPEDI's Seong Wonmo, a frequent collaborator on TXT's music videos and trailers, is behind the production of this music video.
Unlike the Korean music video, which felt youthful and playful despite its longing lyrics, the Japanese music video takes a decidedly darker spin. Primarily shot in hazy shades of blues and grey, then shifting into a more vibrant color palette, the entire video is a visual treat. However, there are a few standout moments–wide sky shots, the boys following shooting stars above them, and the "fallen angel" iconography as Yeonjun and Hueningkai fall from the sky. Aesthetically, it draws parallels to Makoto Shinkai films–and the Japanese director seems to agree.
Beautiful. I love it! https://t.co/b6akjPFOKR

— 新海誠 (@shinkaimakoto) November 9, 2021
ITO
Up next on the EP is TXT's first original Japanese track, "Ito." Written by iconic Japanese group GReeeeN, the track is a solid addition to TXT's discography. No doubt, due to the writing credits, the song sounds distinctly J-pop, and places TXT's strong vocals at the forefront. "Ito," meaning thread or yarn, is a poetic love song, with lyrics like "you and I meet so that we can't be unraveled, our love, wе will weave it togethеr," reflecting the deeply-connected love shared by two people. ALYSA's production is layered with subtleties that will feel familiar to J-pop listeners–an understated bassline and gentle chimes add an effervescent sheen to the overall track.
"Ito" was first released on October 15. Not only is it a track on the EP, but it's also the opening theme for the J-drama Spiral Labyrinth – DNA Forensic Investigation. TXT's labelmates BTS are also a part of the project–their Japanese single "Stay Gold" is also on the drama's OST. 
Bringing Back the "Magic" & Love for MOA
Rounding out the rest of the EP are two songs familiar to TXT fans–a Japanese version of "MOA Diary (Dubbadu Wari Wari)" and the group's first English single, "Magic." 
Promising to be with their fans, MOA, through thick and thin, "MOA Diary (Dubbadu Wari Wari)" is an infectious, bubblegum-pop track, and a love letter to the fandom. Written by all five TXT members and produced by Arcades, the track is a great addition to the EP, extending the group's love for Japanese MOA.
"Magic" is a fun, funky pop track that may remind listeners of BTS' "Butter." Fully in English, the former has X-Factor UK runner-up Olly Murs on its writing credits. The B-side was released on The Chaos Chapter: Freeze, and helped TXT secure their first-ever entry on the Billboard Pop Airplay Chart. 
Fans Can't Get Enough
Fans were spoiled upon the album's release–along with the album and music video came a live performance of "0X1=LOVESONG (I Know I Love You)" on the Japanese morning show Sukkiri!!. TXT performed decked out in the classic casual grunge style synonymous with the track's concept.
Impressed by the stellar visuals and production, fans took to social media to share their excitement and thoughts on the darker spin to "0X1=LOVESONG (I Know I Love You)."
Bruh. TXT's Japanese ver. Of '0X1=Lovesong got me crying like wth 😭 I heard the song and its different versions but this one just hits so hard. The visuals, vocals, the emotion — just wow. Everything was just beautiful ❤️ Featuring Ikuta Lilas was also the best decision ever 😭

— deyldreamer 💭 (@hdale02) November 9, 2021
mv lovesong korean ver//// mv japanese ver

#MOAはTXTの半分のIto
@TXT_members @TXT_bighit pic.twitter.com/DD2fm7ObE5

— FANY$=BE♡MGYU (@beommyny) November 9, 2021
watching txt's 0X1=LOVESONG Japanese ver. really gave me goosebumps idk why but this just hits different

— Liltae⁷🍓 (@taehyungsbichh) November 9, 2021
THIS IS ABSOLUTELY ONE OF THE MOST BEAUTIFUL MVS I HAVE EVER SEEN GOOD LORD THE ACTING? THE CINEMATOGRAPHY? THE VISUALS? THE TALENT? THIS IS TXT Y'ALL! ALSO I'M SO IN LOVE WITH IKUTA'S VOICE SHE'S SUCH AN ANGEL 😭 STREAM 0X1=LOVESONG NOW!! pic.twitter.com/VDfmgbqp1R

— katie ♡︎ VOTE FOR TXT / ia exam week! (@gyugyushot) November 9, 2021
YOUR NAME AND TXT CROSSOVER SHUT UP??? ARE U KIDDING MR pic.twitter.com/MZovgmZ9Z2

— nei ♡s kai & hie (@sputnikaii) November 8, 2021
Chaotic Wonderland has debuted to chart success, too–the album ranks #1 on a handful of global iTunes charts and is in the top 20 on the US iTunes chart. It has also made its way onto LINE's Realtime chart, with "0X1=LOVESONG (I Know I Love You)" at number three. 
2021 has been busy for TXT–but with each release, they have proven forces to be reckoned with amongst fourth-generation K-pop groups and in the industry as a whole. We can't wait to see where they go next! 
Want more TXT? Check out their first repackaged album, The Chaos Chapter: Fight or Escape here!
Thumbnail courtesy of BigHit Ent.