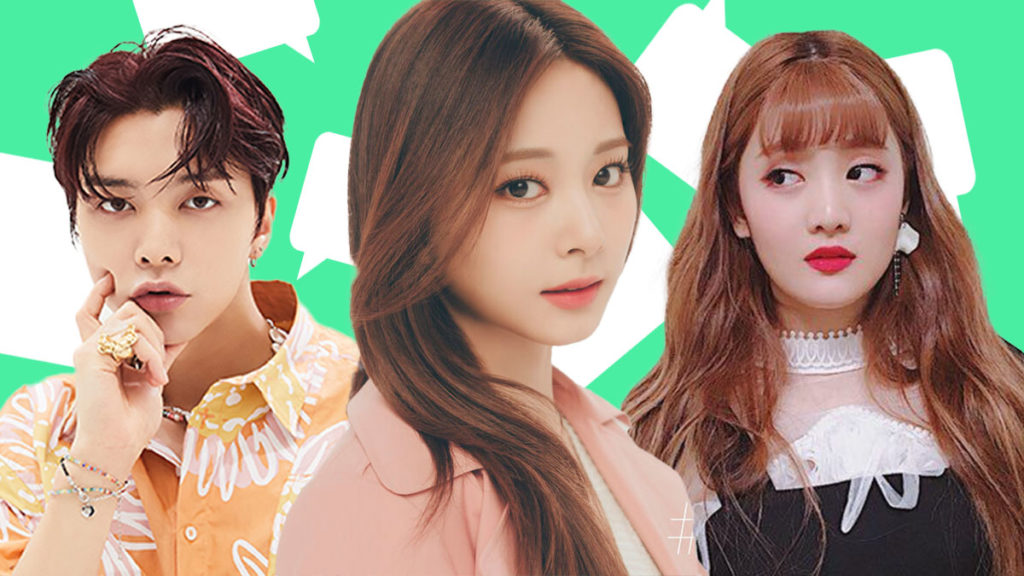 For most, speaking more than one language means going through many hardships and struggles, but in the end, being fluent in different tongues is something to take major pride in. As we come together to celebrate this year's International Mother Language Day on February 21, we'll explore a few bilingual and multilingual idols, and how they've achieved success in Korea.
(G)I-DLE's Minnie: Representative of Thailand
(G)I-DLE's Minnie is a Thai singer, songwriter, and actress born in Bangkok. She arrived in South Korea in 2015 after successfully passing the Cube Star World Audition. At first, she had a hard time figuring out whether or not she should leave home, especially seeing as she still had a year left in high school. However, her mother helped with her final decision as she was the one who ultimately encouraged her, saying it was a "once in a lifetime opportunity" and that they didn't know if she would get a chance like this again. 
As many foreign idols have stated before, moving to Korea to pursue a career as an idol is challenging in many ways. One of them is the language barrier and the arduous journey of learning Korean. When Minnie first arrived, she struggled to understand others during conversations. In an interview with L'Officiel Muse, she said, "I cried every day in those first 3 months because I couldn't communicate. I was lonely. Luckily, the teachers could speak English so I talked to them mostly. I started getting better at the language after half a year so I ended up enjoying it."
Now, the star can speak Thai, Korean, and English fluently. This goes to show what hard work and dedication can bring. Minnie is infamous for her silky vocals, versatility, lyric writing, and artistic strengths. Although she's in a Korean idol group, she wants to be known worldwide as a representative of Thailand in order to honor her home country and wishes to inspire other foreign K-pop idols. We think she's doing a fantastic job!
NCT's Johnny: Chicago Star
Before becoming a trainee in 2008, Korean-American singer and rapper Johnny Suh was born and raised in Chicago, Illinois. He was accepted into SM Entertainment through the SM Global Audition in Chicago in 2007 and trained for nine years before he officially debuted with NCT in 2016. Fortunately, he was allowed to fly back and forth between Seoul and Chicago to finish his education, and upon completing school in 2013, he had to leave his family behind and move to South Korea full-time. 
After nine years of hard training, Johnny eventually made his debut in 2016 with his fellow NCT U members. Now, Johnny is among one of the most well-known members of NCT and continues to gain traction because of his individuality, artistry, and language flexibility as he can speak both Korean and English fluently and a bit of French, Spanish, Chinese, and Japanese. In addition, he's recognized for his fashion sense, alluring personality, and variety in talent. Who doesn't love an all-around artist who can sing, rap, dance, write lyrics, and DJ? It's no doubt that his strenuous hard work and sacrifices have paid off.
Twice's Tzuyu: Taiwanese Icon
Tzuyu was born in the East District of Tainan, Taiwan. She's famously known for being the first Taiwanese member of a girl group and Twice's only Taiwanese member. From a young age, she was interested in dancing and began to train in her hometown after being enrolled in a dance academy where she learned ballet and street dancing. In 2012, she was finally discovered by talent scouts at the MUSE Performing Arts Workshop, upon which she decided to move to South Korea to begin her idol training. After she auditioned twice for JYP Entertainment, she officially became a trainee and competed in Sixteen, an idol contest TV show where she was selected as the last member for Twice. 
One struggle Tzuyu came across as a foreign idol was learning how to speak and understand Korean. During an interview in 2016, she explained that Korean is still a bit difficult for her but that her members make sure to take good care of her. According to Sana, even now they try to use simple Korean words around her, but there's no doubt that her fluency has gotten better throughout the years because of her diligence and dedication. 
Today, Tzuyu is known for being a language prodigy as she can speak Taiwanese, Korean, Mandarin, Japanese, and a bit of English. Alongside this, she's recognized for her impressive vocals, appealing aura, and striking beauty. 
NCT's Yuta: Osaka Prince
Nakamoto Yuta, a member of NCT, was born in Osaka, Japan. The moment he knew he wanted to become an idol was when he saw TVXQ on TV during his first year of high school. He wanted to become someone who moves people through dance and song too, so without telling his family members, he decided to go to SM's 2012 Global Audition in Osaka, where he impressed the judges after singing Yuna Ito's "Precious." After he heard the good news about passing his audition, he told his family about his plans to leave high school and move to Seoul to focus on and further pursue his career as an idol. 
Full of determination, 17-year-old Yuta moved from Osaka to Seoul and began making his dreams come true. In 2013, he was introduced as a trainee under SM Entertainment with his pre-debut team, SMROOKIES. Initially, when he moved to Seoul, he inevitably struggled with the language barrier and cultural differences. At times, because of these imbalances between him and the trainees, they'd have misunderstandings. Thankfully, even though these things still happen once in a while, he believes that these struggles helped him understand his environment and how to go about communicating. 
Finally, he officially debuted in 2016 along with his NCT 127 members. Ever since, Yuta had made a big name for himself both in Osaka and Seoul by breaking records, hosting in his radio show, and successfully selling multiple music releases. He's known for his duality and charisma as well as his incredible vocal, rapping, and dancing skills—a versatile star that can do it all. It's no secret that Yuta is widely adored, and we hope he remains receiving achievements as he continues his amazing career. 
BLACKPINK's Lisa: Thailand Princess
Born as Pranpriya Manobal in Buriram Province, Thailand, Lisa was raised by a Thai mother and Swiss stepfather. She legally changed her name to Lalisa after receiving advice from a fortune teller who told her the name would bring her prosperity. She began to take dance classes at the young age of four, which often allowed her to compete in dance contests growing up. She gained an interest in K-pop and began to dream about rising to fame from a young age. By the time she turned 13, she auditioned to join YG Entertainment in Thailand. Because of her natural raw talent, she was the only one among 4,000 participants to be accepted, making her the first non-Korean trainee within YG Entertainment. After passing the tryout, she was offered the chance to become a YG Entertainment trainee and moved to South Korea in 2011.
The next five years consisted of her working on training and learning Korean, seeing as she was a native to Thailand and had no knowledge of the Korean language. In an interview with Rolling Stone, she expressed gratitude toward her strict teacher, who helped her learn the language in a year. Now, Lisa is fluent in Thai, English, Korean and can converse in some Japanese and Mandarin, making her a multilingual superstar. 
She successfully debuted as a member of BLACKPINK in 2016. Since then, Lisa has quickly progressed in her career by achieving the goals she dreamed of growing up and even breaking records. Of course, it goes without saying that her constant efforts and aptitude have brought her to become one of the most beloved idols in the world. 
Leaving your native country and moving to a completely unfamiliar one takes great strength and fortitude–and so does learning to speak a new language. This International Mother Language Day, let's remember all the hard work we've each put into learning the languages we know and most importantly, honor and celebrate our native tongues. 
Enjoyed this piece from our lifestyle team? Check out our roundup of iconic K-pop pickup lines for more!