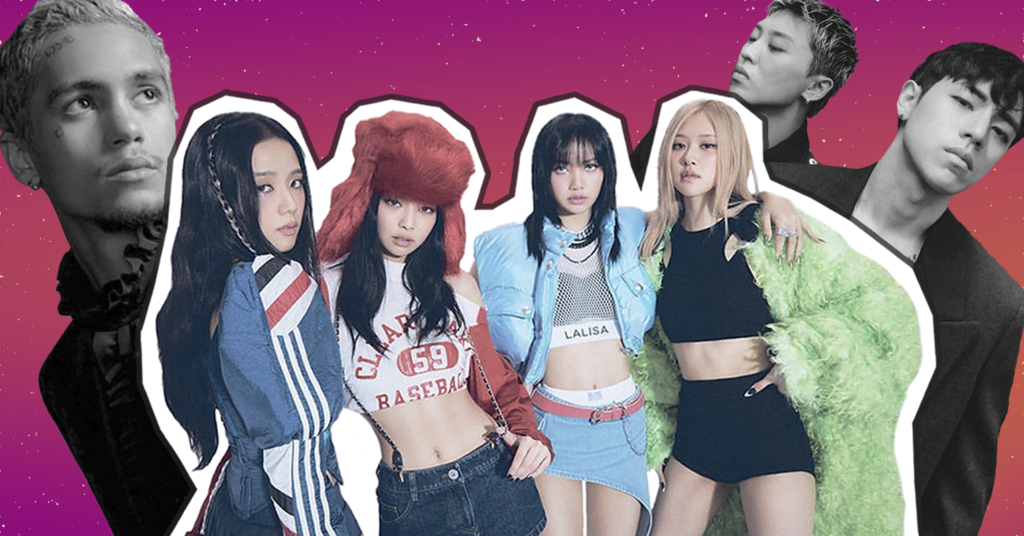 It's almost Coachella season and Team EnVi is here to guide you through its 2023 lineup of Asian artists. Coachella is an annual music festival held in Indio, California at Empire Polo Club. According to Billboard, some of the festival's best past headliners have been Daft Punk in 2006, Beyoncé in 2018, and Ariana Grande in 2019 to name a few. 
This year, artists are set to perform on different dates throughout April: Friday, April 14 and 21, Saturday, April 15 and 22, and Sunday, April 16 and 23. From BLACKPINK to Yaeji, this year's Asian talents are sure to put on some unforgettable performances!
BLACKPINK (April 15 & 22)
BLACKPINK are recognized as one of K-pop's biggest acts. The group consists of 4 members: Jisoo, Jennie, Rosé, and Lisa. They officially debuted on August 8, 2016, with their first single album Square One under YG Entertainment. Both singles off the album, "WHISTLE" and "BOOMBAYAH," debuted in the top ten of the Gaon Digital Charts. "WHISTLE" topped at number one and "BOOMBAYAH" at number seven.
Their latest album, Born Pink, debuted at number one on the Billboard Top 200. The albums' respective singles, "Pink Venom" and "Shut Down," ranked #2 and #7 on the 2022 Circle Global K-pop Chart. Within the first 24 hours of the music videos being released, "Pink Venom" gained 90.4 million views, and "Shut Down" gained 50 million views. 
Following their 2022 North America/Europe tour, BLACKPINK will start the second leg of their tour. The second leg has multiple stops in Asia, Australia, and New Zealand.
Dominic Fike (April 16 & 23)
Singer, songwriter, and actor Dominic Fike is best known for his hit songs "3 Nights," "Phone Numbers," and "Babydoll" to name a few. In season two of the HBO series Euphoria, he gained traction for his character portrayal of Elliot, the mysterious and enigmatic friend of Rue (played by Zendaya) and Jules (played by Hunter Schafer). During the season's finale, Fike got to share his musical talents with viewers when he sang "Elliot's Song." His Instagram followers skyrocketed from 500,000 to nearly 2.9 million after the show ended. 
Previously, Fike began as a SoundCloud artist where he produced songs with his then musical partner Hunter Pfeiffer. After releasing his debut EP Don't Forget About Me, Demos in 2017, he gained the attention of several record labels. In 2018, he officially signed with Columbia Records where they re-released his EP and an accompanying music video for the single "3 Nights." He continued to release songs like "Rollerblades" and "Chicken Tenders" until he finally released his second album titled What Could Possibly Go Wrong in 2020. As a result of his continued success, he was named one of Billboard's "17 Alternative and Indie Artists to Watch" in 2019 and one of NME's "Essential New Artists for 2020." NME also featured him as a cover artist.
DPR LIVE and DPR IAN (April 16 & 23)
DPR LIVE and DPR IAN, also known as Hong Da-Bin and Christian Yu, are part of the independent record label Dream Perfect Regime. Other figureheads of the team consist of DPR CREAM and DPR REM.
South Korean singer/rapper DPR LIVE debuted in 2017 with his EP Coming To You Live. Since then he has released two EPs, Her and IITE COOL. He also came out with a studio album titled IS ANYBODY OUT THERE? in 2021. For the album, he released music videos for "Yellow Cab," "Summer Tights," and "Hula Hoops."
Korean-Australian singer/rapper DPR IAN is the founder, creative director, and chief editor of DPR. Before he began to make his own music, he was well-known for directing multiple music videos for various artists such as "HOLUP!" by Bobby and "BODY" by Mino. He made his musical debut in 2020 with "So Beautiful" and "No Blueberries," which featured DPR LIVE and CL. DPR IAN has released two albums since then: Moodswings In This Order (2021) and Moodswings In To Order (2022).
In 2022, they traveled to several countries for their Regime Tour. The tour consisted of shows in North and South America, the UK/Europe, Asia, and Australia. Recently, they announced they'll be performing in Seoul on the 4th and 5th of February for their tour finale.
Jackson Wang (April 16 & 23)
GOT7 member and soloist Jackson Wang will be bringing his MAGIC MAN experience to Coachella in 2023! Before going solo under his record label Team Wang, Jackson Wang was under JYP Entertainment with fellow labelmates such as TWICE and ITZY. With his own label, Team Wang, Jackson now develops his own performance by curating every part of the experience. From being his own creative director and designing for his fashion label, Team Wang Design, he is branching out to polish his craft even more.
After releasing "Come Alive" a month ago, the video has now reached 9 million views. Working with popular choreographers such as Sean Lew on "Come Alive" and Bailey Sok on "Cruel," Jackson pushes his creativity to the next level. Currently, on his MAGIC MAN World Tour, Jackson is making headlines on TikTok for the immersive experience of his concerts.
Sunset Rollercoaster (April 15 & 22)
Based in Taipei, Taiwan, Sunset Rollercoaster are Kuo-Hung Tseng, Hung-Li Chen, Hao-Ting Huang, Tsun Lung Lo, and Shao-Hsuan. The group debuted with their Bossa Nova album in 2011. Since then, they have released two other albums as well as two EPs. Their success is quite known in Taiwan as they've won two Golden Melody Awards, one in 2019 for "Best Music Video" and another in 2021 for "Best Band." At the same time, they also have fans abroad and have toured all around the world.
Despite starting off in Taiwan, the band prefers to sing in English. This is because singing in English gives their audience the opportunity to uniquely interpret their songs. English is not the first language to any of the group's members, but Kuo knows enough to be able to converse. In 2018, he told The Jakarta Post that although English isn't his mother language, he tends to have an easier time singing and writing in it.
Aside from their Coachella 2023 dates, Sunset Rollercoaster are booked and busy. They will perform in Thailand on February 4 for their Infinity Sunset Bangkok Tour and on May 27 at the Wide Awake Festival in the UK.
The Linda Lindas (April 15 & 22)
Look no further for the new generation of riot grrrl! Formed in Los Angeles, The Linda Lindas are an all-girl punk rock band featuring Bela Salazar, Eloise Wong, Lucia de la Garza, and Mila de la Garza. The group came together in 2018 after Eloise was asked if she would like to perform at a music festival called Girlschool LA. Although the group was intended to be a one-off project, they were invited to open for Frieda's Roses. By fall, they were performing frequently at Save Music in Chinatown. The Linda Lindas signed with Epitaph Records in May 2021, and released their first single, "Oh!" in July 2021.
With their oldest member, Bela being 18, and the youngest member, Mila being 12, the band has lots of potential. After releasing their first album, Growing Up, in April of 2022, their track "Racist, Sexist Boy" received a Best Song nomination at the 2022 Kerrang! Awards in London. The song has gone viral for speaking out directly about racist remarks made at the start of the COVID-19 pandemic.
UMI (April 15 & 22)
UMI, also known as Tierra Umi Wilson, is a Japanese-American Neo-soul and R&B artist. Just like how her name means "ocean" in Japanese, her music provides a healing and comforting space. Starting off with creating covers on her YouTube channel and SoundCloud, she eventually began to share her original music. Inspired by female artists like SZA and Erykah Badu, she draws her inspiration from different areas of interests. Through incorporating her own written poetry into her songs as lyrics, she hopes that people can find peace in her songs just like how music has provided her a tool for expression.
By exploring the female body through her recent piece, "say im ur luv," UMI experiments with musicality through creative direction, dancing, and singing. With the release of her first album, Forest in the City, UMI hopes that her music can become a source of healing. After opening for Conan Gray in his Comfort Crowd tour in 2019, she has finally launched her first own Forest in the City Tour in 2022!
Yaeji (April 15 & 22)
Yaeji is a Korean-American singer, DJ, and producer based in New York. Under the record label XL Recordings, the 29-year-old graduated from Carnegie Mellon University in 2015 with a degree in graphic design. While pursuing her university studies at CMU, she learned how to DJ using the Traktor software and often performed at house parties. Recognized by Pitchfork as one of the "25 Artists Shaping the Future of Music," Yaeji has also been featured in Charli XCX's 2019 album, Charli. Her work is influenced by her international experiences of being in Seoul, Tokyo, Atlanta, and New York. Further, MoMA PS1 labeled her as a "queer Asian zeitgeist" prominent in Brooklyn's underground nightlife community.
Yaeji will be debuting her first album, With A Hammer, on April 7. Hinting at her release, she premiered her title track "For Granted" on her YouTube channel. Following her album release, Yaeji will be performing at her With A Hammer Tour in April.
Interested in discovering more Asian artists and creatives? Check out our recent interview with Young Chance here!