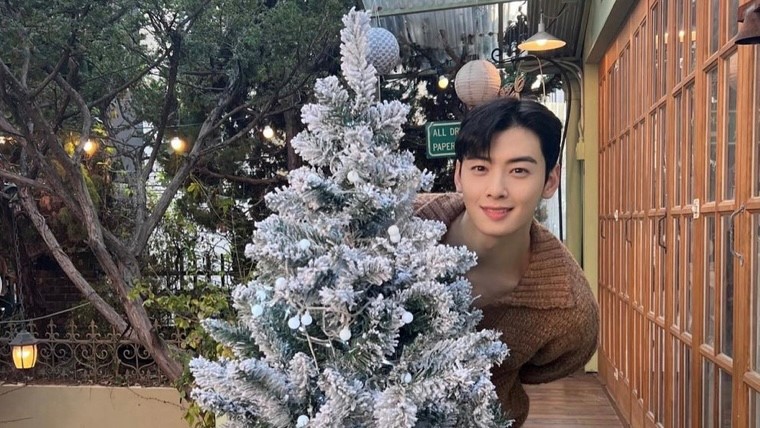 On February 22, one day before ASTRO's debut anniversary, Cha Eunwoo continued his reign as the king of webtoons with his newest solo OST, "Focus On Me." With a knack for bringing fictional stories to life, Eunwoo lent his iconic prince-like vocals and visuals for Han Lee Rim's original web novel, and now webtoon, The Villainess is a Marionette. With "Focus On Me" being yet another achievement added to his growing list of projects, here's a deeper look into Cha Eunwoo's six solo OSTs released so far.
Cha Eunwoo Shifts Our Focus on Him in New OST
Cha Eunwoo's heavenly voice accompanied by the song's comforting lyrics made the perfect recipe for a musical masterpiece. In its new rendition of the original song by indie singer-songwriter Coffee Boy, "Focus On Me" radiates an abundance of warmth and comfort from start to finish. The ballad softly begins with the sound of an acoustic guitar along with deep vocals flaunting Eunwoo's lower range. The song picks up with a dreamy-like piano up to the chorus where Eunwoo offers words of encouragement with the lyrics, "I will always be your side, if you can hear my small voice, take an even bigger step forward."
Transitioned in and out by twinkling percussion, an interlude featuring brass and piano solos adds to the song's musicality and dreamy mood. The lyric music video of the song showcases Eunwoo standing on a front porch surrounded by a steady flurry of snow. Despite the video's winter concept, the song's encouraging message reminding us we are not alone even during tough times is applicable year-round.
The lead-up to the song's arrival built up much anticipation. Fantagio Entertainment released four consecutive teasers, each of which delivered a unique taste of what was soon to come. The first and second teasers displayed an animation featuring the webtoon's main characters, Kayena Hill, Regef Hill, and Raffaello Kidrey.
The third teaser was a lyric version of "Focus On Me" revealing a picturesque scene of Cha Eunwoo standing outside in a flurry of snow. The last teaser showcased Eunwoo's breathtaking visuals as viewers were transported indoors to a bright, warm, and cozy winter home.
"Don't Cry, My Love"
This isn't the first time Eunwoo has lent his voice for an OST. In November of 2021, Eunwoo's vocals breathed life into the Korean web novel, also known as manhwa, Under The Oak Tree with the theme song "Don't Cry, My Love." Opening with a soft piano and later picking up with a powerful violin arrangement, "Don't Cry, My Love" highlights Eunwoo's voice through its deep, majestic, and emotional aura.
"Love So Fine"
In 2020, Cha Eunwoo garnered much attention from his lead role as Lee Suho in the webtoon to K-drama adaptation True Beauty (2020). Racking up over 10 million listens and views on Spotify and YouTube, K-drama's eighth OST, "Love So Fine," fluttered the hearts of many with its upbeat and romantic melody. Accompanied by clips of sweet interactions between characters Lee Suho and Lim Jukyung (Moon Ga-young), the song wonderfully expresses the complex feelings between the two after 15 episodes of their kindling high school romance.
Starting with "I'm not sure why I'm looking at you, I'm so excited about this," to ending with "always in my heart I think I'm in love with you, "Love So Fine's" lyrics take us from the pair's first love jitters to their full-fledged love for one another in a matter of a few verses. The success of True Beauty and "Love So Fine" has undoubtedly been a significant turning point in Cha Eunwoo's solo acting and singing career.
"Rainbow Falling"
Released two years before True Beauty, Cha Eunwoo starred in the webtoon adaptation My ID is Gangnam Beauty (2018) playing the mysterious, cold, and high-achieving student, Do Kyungseok. The K-drama was an immediate hit along with its OST "Rainbow Falling." Filled with passion, Eunwoo poured his heart into the song and lyrics as if he truly was his character in real life.
The song is directed towards the drama's protagonist Kang Mirae (Im Soo-hyang,) comforting and reminding her that there's "no need to be cautious, we can lean on each other now." As a gift for ASTRO's fandom Aroha, Cha Eunwoo graced the stage in an outfit fit for royalty in a live concert performance of "Rainbow Falling."
"Together"
Despite his manhwa success, Cha Eunwoo has not shied away from stepping out of the world of webtoons. In the same year as My ID is Gangnam Beauty, Eunwoo took on the role of Woo Yeon-Woo in the YouTube Original Series "Top Management." Even without a leading role, he had all ears on him in the OST "Together" for the series.
His soft vocals alongside the piano, trumpet, bass guitar, and steady drumbeat resulted in a masterpiece perfectly fit for the series. Taking part in the lyric writing process for the song's character, Eunwoo performed a short segment of "Together" live on Episode 247 of Yu's Sketchbook.
"Please Remember"
In 2019, Cha Eunwoo took on the lead role as Yi Rim alongside character Goo Haeryung (Shin Se-kyung) in Rookie Historian Goo Haeryung. Eunwoo gifted viewers yet again with another melody, this time for the K-drama's Part 6 OST "Please Remember." The ballad conveys messages of longing and love through its lyrics, "there is no more sad love, until then until now, please don't forget me for you, I promise love." Sweet, powerful, and passionate, "Please Remember" is surely a song that won't be forgotten.
With loads of successful projects under his belt, Aroha and Eunwoo fans can expect nothing but perfection from him and his future endeavors. While we wait patiently for his next OST, fans can look forward to his new role in the upcoming webtoon to drama adaptation, Island, set to come out in the first half of 2022.
Want more content on Cha Eunwoo? Read about his journey from ASTRO rookie to lead actor in ACT!ON's Stage to Screen Series here.