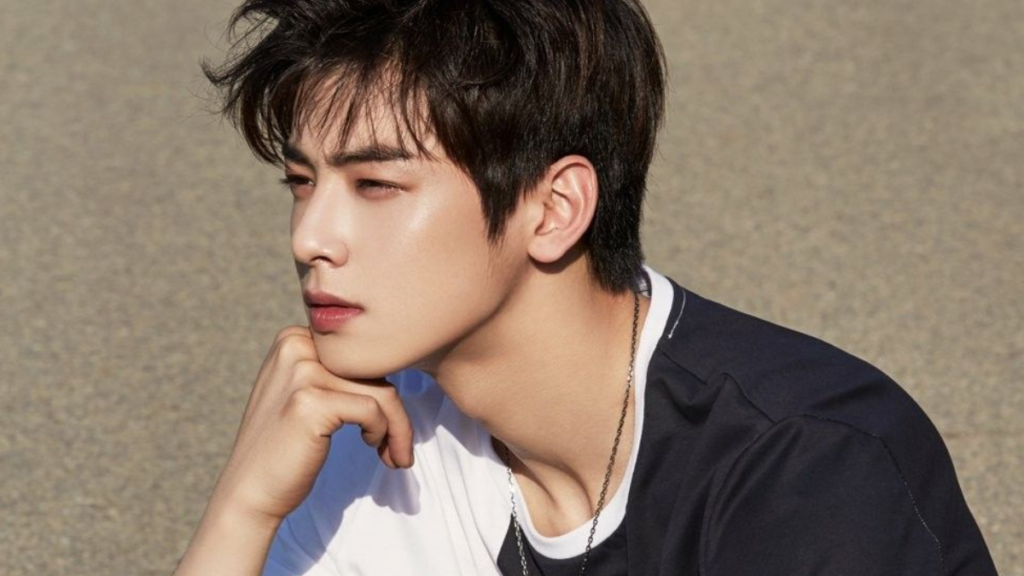 Captivating audiences with his easy charm and dashing good looks seems to come second nature to ASTRO vocalist and small-screen darling Cha Eunwoo. In ACT!ON's Stage to Screen series, we explore idols who have made acting a serious career path. Our second installment follows Cha's career trajectory, from ambitious rookie to a bona fide leading man.
A Little Exposition: The Predebut Years
Born in the scenic city of Gunpo, just south of Seoul, Cha Eunwoo, real name Lee Dong Min, made his foray into the entertainment world after participating in the "Fantagio iTeen Promotional Model Audition" hosted by the pizza chain, Mr. Pizza, in 2013. However, acting may have always been in Cha's blood– his first on-screen appearance was a quick cameo in the 2014 film My Brilliant Life before his debut. After that, the screen time continued, with Cha appearing in KBS's Hallyu Star & Gangnam Style: Trainee Interview. Following those appearances, Cha and other ASTRO members were involved in the web drama To Be Continued.
A Spring Up with ASTRO
In February 2016, Cha debuted alongside five others to form Fantagio Entertainment's six-member boy band ASTRO with their first EP, Spring Up. In just a week, Spring Up reached number six on the Billboard World Albums Chart and number four on the Gaon Music Chart.
With ASTRO's success came more eyes on Cha. After a few variety show appearances, he was announced as an MC of Show! Music Core, where he would co-host alongside actresses Saeron and Lee Soo-min from 2016 to 2018. Cha waded back into acting with a role in the web drama My Romantic Some Recipe (2016), where he plays a version of himself, who emerges to life out of a poster to teach Ahn Mi Nyeo (played by Joo Ah Reum) how to date. The simple romance was overall well-received by fans, praising Cha's charm and on-screen chemistry opposite Joo.
Making Waves On-screen
Following his web drama appearance in 2016, Cha was cast in the slice-of-life K-drama Hit The Top (2017), alongside Yoon Shi-yoon, Lee Se-young, Kim Min-jae, and Cha Tae-hyun. The drama recounts the story of a famous 90's-era idol, Yoo Hyun-jae (played by Yoon Shi-yoon), who is transported twenty years into the future, where he's faced with adjusting to modern life while investigating his missing persons' case. Cha plays popular idol MJ but brings more than just a pretty face to the role, bringing cute, fresh energy to his character.
In the same year, Cha was cast as himself in the teen fantasy web drama Sweet Revenge. In the 2018 YouTube Original series Top Management, Cha stays close to the idol role he's become known for as Woo Yeon-Woo, delivering a performance that had fans experiencing "second-lead syndrome."
His first leading role came with the JTBC romantic comedy My ID is Gangnam Beauty (2018). The drama follows Kang Mi Rae (played by Im Soo Hyang), who grew up bullied for her looks–and her solution became plastic surgery to transform her face. Cha plays Do Kyung-suk, a childhood friend she reconnects with in college that stands up for Mi-rae as she becomes teased for her "Gangnam Beauty" image. The term itself is a derogatory one, used to look down on attractive people but for whom it's evident they have had plastic surgery. As Kyung Suk, Cha embodies some classic tsundere lead tropes with warmth and sincerity.
Shooting to Stardom
2019 was indeed the year of Cha Eunwoo. Opposite industry heavyweight Shin Se-kyung, Cha took the lead role in Rookie Historian Goo Hae-ryung. Cha's dashing good looks are right at home in the part of Yi Rim, or Prince Dowon, who moonlights as a romance novelist under a penname. This is one of Cha's standout roles in a beautifully shot drama that blends comedy with drama and political intrigue, and his chemistry with Shin is one of the series highlights.
This role earns Cha his first awards–the Excellence Award for an Actor in a Wednesday-Thursday Drama and the Best Couple Award with Shin Se Kyung at the 2019 MBC Drama Awards. After that, Cha returned to the variety scene with Handsome Tigers. Then, in 2020, he became a fixed cast member in the reality series Master in The House, the latter earning him the Rookie Award at the 2020 SBS Entertainment Awards.
Viral Success
In December 2020, Cha Eunwoo became a household name with the massive success of the webtoon adaptation True Beauty.
The tvN drama had Cha in the role of Suho, reprising the tsundere lead he played in My ID is Gangnam Beauty, but this time with more depth. Cha nails Suho's character down to a tee, with his aloof, cold persona remaining a bit of a mystery to viewers until the latter half of the drama. But opposite Moon Ga Young as leading lady Ju Kyung and Hwang In Yeop as Han Seo Joon, Cha brought a combination of swoon-worthy charm and believable high school-aged awkwardness to his performance, rightfully earning his spot as the main lead in the series and the hearts of fans worldwide. His performance in True Beauty also earned him the Emotive Award alongside his co-star Moon Ga Young at the 2021 Asia Artist Awards.
Eunwoo's success has also won over the fashion industry–his star power earned him a Burberry ambassadorship, and he's made his mark in fashion with a handful of editorial shoots, luxury brand collaborations, and event invitations. 
Only Up From Here
Coming up, fans can anticipate Cha trying his hand at a new genre. Veering away from his usual slice-of-life dramas, he will play a lead role in the upcoming webtoon adaptation Island, an action-thriller series set on Jeju Island. In addition, Cha has also been rumored to play a character in the forthcoming Sweet and Sour Chicken.
ASTRO fans and Cha Eunwoo fans alike have long enjoyed his performances on screen, and Cha continues to make waves in the K-drama industry. After successfully carving his path as one of the industry's rookies to watch, we can't wait to see where he goes in the future.
Need to update your K-drama watch list? Check out ACT!ON's roundup of upcoming K-dramas you can anticipate in the first quarter of 2022!