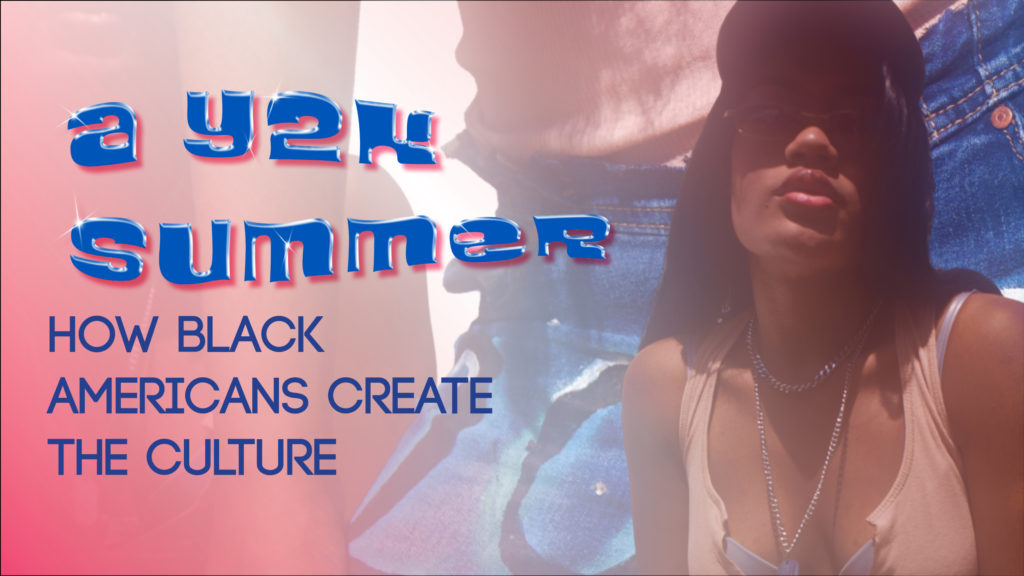 The day is December 31st, 1999. Millions of Americans are sitting at their clocks waiting for the new millennium. For many who lived through it, Y2K is the 'Year 2000 Problem". At the turn of a new millennia, many believed that their data would be lost or that technology would not be able to compute moving into the new millennium. For young adults today, Y2K is an iconic fashion movement that took place in the early 2000's. 
Low-rise jeans, chunky heels, tiny bags, you name it. Y2K fashion is coming back in a fierce way. You may have seen videos on your TikTok "For You Page" featuring creators in their favorite outfits reminiscent of the historic era. Y2K stands for "Year 2000". The early 2000's were a cultural turn point for fashion, music, and movies. 
Despite the major fashion moments that came about during this time, the creators of the cultural movement have been erased: Black Americans. 
Urban Legends
Leading into the 00's, streetwear was very prominent due to the rise in "Bling Bling" culture, a celebration of Black capitalism, found in Hip-Hop and R&B at the time. Brands like FUBU (started by "shark" Daymond John), Sean John (from music mogul Puff Daddy/P. Diddy), EKCO and Rocawear (Jay-Z), capitalized on the trend to cater to the everyday Black consumer.
For creatives like Marc Ecko, his start to fashion began in highschool. He would often take the clothing of classmates and customize their denim jeans for them. Daymond John would sell his clothes by popping onto music video sets around New York City, when by chance in the late 90s he snuck one of his items into a GAP commercial that featured LL Cool J, causing a skyrocket in the brand's popularity. Dapper Dan, a New York-based designer, gained notoriety for printing high fashion logos onto his designs which inspired the logomania that came to prominence in the 00s.
Visionaries like Kimora Lee Simmons changed the game with the brand BabyPhat in the year 1999. The streetwear brand was the first of its caliber designed solely for women. Simmons took note of how urban streetwear aimed at women was still shapeless and baggy as the male counterparts and made sure to include a traditionally feminine edge to her designs. After she saw her Gen Z daughters participating in the revival of Y2K fashion, she decided to bring Baby Phat back through a special collection with Forever 21. When asked about Baby Phats legacy, Simmons stated, "When I created Baby Phat 20 years ago, it was because women – especially women of color – had no voice at all in the streetwear category." 
Not only was Baby Phat instrumental for its clothing but highly impactful due to their runway shows. Simmons was known for her legendary modeling career, her connection to hip-hop and overall status of celebrity. Through that, Baby Phat was able to put on diverse, entertaining and celebrated fashion shows that helped the brand become "an intersection of womenswear, hip hop, and streetwear."
Fashion was forwarded by Black celebrities in the late 90's to early 2000's. Musicians such as Aaliyah, Destiny's Child, Missy Elliot and TLC were photographed in what would be categorized as Y2K today. Left Eye especially, was known for her cutting edge style as well as her ability to piece together iconic looks. Also the early aughts brought the rise of the "video vixen," – models who were hired to play love interest in popular Hip-Hop and R&B music videos – who became popular in their own right, gracing magazine covers and red carpets. Along with supermodels Tyra Banks, Naomi Campbell, and Selita Eubanks, they brought urban city fashion trends to the mainstream.
They were the influencers of fashion before what would be known as the "Social Media Influencer." Black artists have a long history of being the tastemakers in society. From mannerisms, to clothing, to media, their influence on fashion cannot be ignored. 
The Blueprint
Fusing influences from the 90's, Hip-Hop and R&B were major avenues for fashion. From as early as the late 90's with the trends of "Afrofuturism" in popular music videos, the roots of Y2K began to blossom. At the turn of a new millennium, the American general public saw a shift. The culture moved towards a new era anticipating technological and cultural advances. Creating a style which was also referred to as a "Ghetto Fabulous", Black Americans were able to make an urban style that forwarded the fashion trends. 
Artists like Missy Elliot pushed visuals in both music and fashion. Her influences could be seen as her career progressed. In 2002 she released the music video for "Work It." In the video, Missy and her backup dancers wore different Addias tracksuits as a statement piece in the music video. Missy took a traditionally male clothing choice for comfort and made it sexy, feminine and fun. Only a year after the release of "Work It" would brands like Juicy Couture see immense popularity for their own velour tracksuits. A-List celebrities like Britney Spears, Beyonce, and Alicia Keys would be photographed with the tracksuit. 
Tracksuits were not the only hot item of the era. Many people incorporated denim into their looks. Some of these pieces include patchwork patterns, frayed-hem denim skirts and low-rise jeans. For many of these pieces, they were deconstructed and bedazzled. Even before the 2000's, artists like Aaliyah often sported low rise jeans, with cropped tops and bandanas. She especially pushed boundaries of masculinity in her clothing choices. Much of what black Americans wore at the time was DIY due to major fashion brands not catering to them, so many took fashion and style into their own hands.
Also known for wearing denim was Destiny's Child, before the group hit it big they did not have access to a wide range of designer brands so they were styled by Tina Knowles, Beyoncés mother. As a Black American, much of Tina's style for the group originated from Motown. For the girl group (which was composed of four Black women at the time), their style took elements from the glamor of the Motown Era but with a modern urban twist. Tina's designs were heavily criticised by the industry at the time as "low-budget" and "ghetto" but all the while inspired trends worn by the group's white counterparts Britney Spears, Christina Aguilera and Jessica Simpson. 
In a conversation with supermodel Beverly Johnson, Tina stated, "As an African-American, I know, I've always known, that our fashion, our vibe, our style, our swag, has influenced the fashion world greatly." She added, "I remember I used to design things and I would get criticized for it, but the next thing I know it would be on somebody's runway."
Oftentimes, Black creatives are criticized for their works, only for it to be accepted on non-Black people years later. Tina's innovative style allowed for the members of Destiny's Child and the group to become a staple in pop culture and fashion. 
The group sported low-rise jeans frequently as they graced the red carpets and sometimes even wore entire outfits made of denim for photoshoots and press appearances. Knowles added feathers, fringe and rhinestones to unique shapes and silhouettes in their outfits.The group's ability to make fashion their own was apparent in music videos like "Bootylicious".
Not only were artists crafty with their outfits, but their ability to accessorize set them far apart from their nonblack counterparts. The beauty supply store in particular, was a place where Black people could not only find hair products, but accessories and clothes as well. From big rings to "blinged out" necklaces, Black Americans were able to take pieces from their local beauty supply stores and create fashion moments. 
Resurgence of Y2K
Despite the popularity of Y2K fashion in 2021, the fashion movement actually began to rise again in 2017. Juicy Couture included velour tracksuits for their 2017 fall/winter collection. Slowly but surely, the aesthetics from the early 2000's would make their way back into the mainstream. 
From there, brands began to release clothes and accessories reminiscent of the era. In Bluemarine's fall/winter 2021 collection, the inspiration from the 2000's was strong. Incorporating the strap heels of the 2000's as well as fur on clothing, it is evident that the future is Y2K. Black owned brands like Brandon Blackwood also embody the movement with their small handbags. 
With the move from hypebeasts and streetwear, early 2000's fashion was seeing a new revival. Despite it's revival, it was instead classified as "Cyber Ghetto" by users on Tik-Tok. What was a movement started by Black American people, was now being appropriated by non-Black folks on social media.  
TikTok users like @insightofleoo and @shycsmith both use their platforms to discuss the Y2K era. Providing rundowns and looks from the era, their contributions are important to the ongoing conversation around the erasure of black people's influence in culture. 
A major problem in today's society is that it will categorize the clothing and hairstyles of black people as unacceptable until it is worn by non-Black people. A great deal of the culture is started by Black people in the hoods of America. Things such as long ornate tips, hoop earrings and intricate hairstyles were mocked when black people wore them. 
As we continue to move forward in fashion and culture, it is important to always remember the people who created it. Black people must no longer be erased in the conversation about Y2K fashion, especially as its creators. For many, it will take unlearning our biases that allow us to forget that Black people make pop culture what it is today. 
Want more fashion coverage, read about 10 Major K-pop Fashion Moments in the First Half of 2021 here!
Thumbnail by Xana