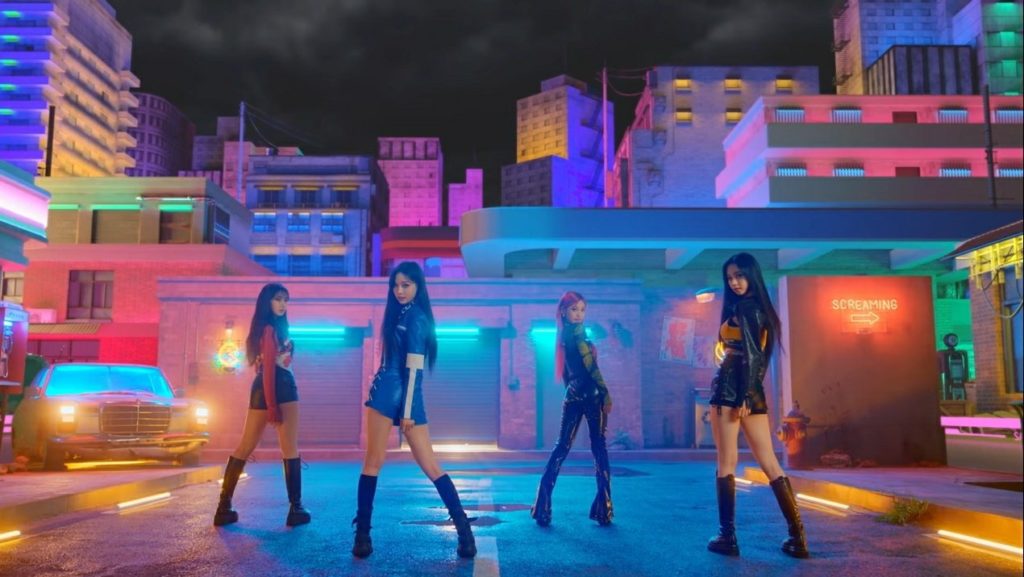 On July 22, the game company Nimble Neuron dropped "Eternal Return" on Kakao Games— four months after signing a joint business contract with Kakao Games. "Eternal Return" is a multiplayer online battle arena (MOBA) game that expands on the lore from the Nimble Neuron game "Black Survival," adding new storylines to already familiar places and characters. "Eternal Return" has been available to play on Steam since October 2020, garnering much traffic since its start and resulting in a launch on the popular Korean gaming platform.
What better way to commemorate the Kakao Games launch than with a "Next Level" performance by K-pop's newest group made up of real people and digital avatars? For the grand opening of "Eternal Return," Kakao Games teamed up with the rising girl group æspa—made up of Karina, Winter, Giselle, Ningning, and their avatar counterparts—to create a special choreography video of their hit single "Next Level." 
A "Next Level" Performance 
Taking a break from the Kwangya, the four members of æspa returned to the internet to perform "Next Level" in the world of "Eternal Return." The music video combines æspa's video game-esque concept—a combination of technology and K-pop storytelling elements—and powerful choreography with the game's personalized animation with their own characters to create a cohesive teaser music video.
Adorning their chic leather outfits from the "Next Level" music video under the luminescent city lights and grungy blue denim ensembles in the daylight, æspa did what they do best: perform. In a grand entrance, the members of æspa teleported to the world in a deserted street in the city before they began their number. Midway through the video, the camera pans out and the music distorts, showing that æspa are being watched in-game.
This falls in line with what the red-haired "Eternal Return" character, Hyunwoo, is doing as well. When the video switches to him, Hyunwoo appears to be searching for something, creating a suspenseful atmosphere. At the end of the video, æspa glitch out, leaving the already barren backstreet completely abandoned.
On the Show Stopping Single 
Since "Next Level" was released in May, the song has been met with much global recognition. æspa's single charted in the Billboard Global 200 Chart for two consecutive weeks, peaked at number 3 for Billboard World Digital Song Sales Chart, topped YouTube's Trending Music Video list, debuted at 2 on the Worldwide iTunes Song Chart, and charted in the top 10 on iTunes in over 30 countries. On June 19, just 32 days after the video dropped, the single hit 100 million views on Youtube, a personal record for æspa who previously exceeded 100 million views for their debut song "Black Mamba" in 51 days. The video currently has 130 million views on YouTube and over 47 million streams on Spotify. With only three songs released, æspa currently have over 3 million monthly Spotify listeners.
Not only has "Next Level" had international success, but it has been met with longevity on Korean music charts. Within an hour of being released, the song charted on the top five slots on the Korean charts Bugs and Genie, later rising in the ranks for the other major Korean music charts. It has been over two months since the song came out and the chart is performing just as well.  "Next Level" is currently charting on the top five on MelOn 24Hits and Genie, and top 10 for FLO and Bugs. With æspa's domestic and international success, it's no wonder why their single was sought out for a Kakao Games collaboration.
What's Next?
The collaboration between æspa and Kakao Games places the girl group into the world of  "Eternal Return," fusing the game with æspa's unique digital concept. This is only a fraction of what MY, æspa's fanbase, can expect in the future. 
During their "Next Level" promotions, it was revealed that the girl group were working on releasing an album—the date to be revealed. Additionally, æspa have recently signed with Creative Artists Agency, one of the largest entertainment agencies in the world. Perhaps æspa's recent activities are a sign for a comeback in the near future; perhaps these are simply promotions for the on-going success of the single. Regardless, these "Next Level" singers are a force to be reckoned with, and certainly a group to look out for. 
Need a recap on æspa's concept? Check out our dive into their SMCU storyline here. 
Thumbnail courtesy of SM Entertainment