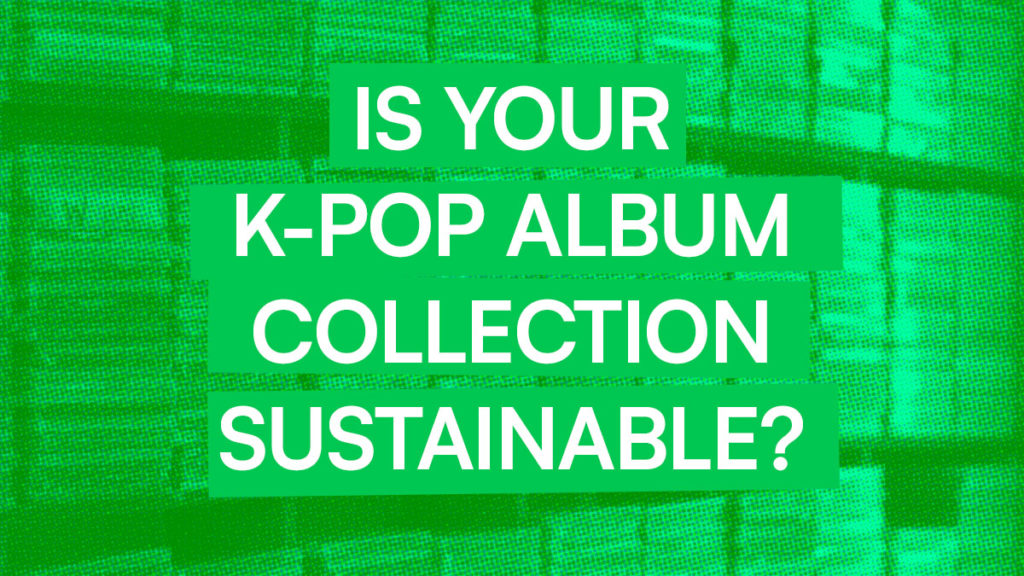 Buying albums can be a fun way for K-pop fans to support their favorite acts. However, beyond the impact on fans' wallets, increasing global album sales come at an environmental cost. For Earth Day, EnVi is exploring sustainability issues in K-pop album collecting and what can be done to make collecting more eco-friendly. In part one, we are looking at the design of albums, bulk buying, and the actions companies can take to be more sustainable.
Exponential K-pop Album Sales
With the shift in technology towards digital platforms, worldwide CDs sales plummeted from 2000. While CDs sold in markets like the US had fallen from the noughties until 2021, South Korean physical album sales have been growing since 2014. In this market, top-selling physical albums, most of which are CDs, are dominated by K-pop acts. Even though the pandemic halted in-person concerts and fan meetings, there were record-breaking K-pop album sales in 2020. This continued in 2021, with a recorded 31% growth in K-pop CDs sales on the Gaon Chart compared to 2020. Exports of K-pop CDs in January and November 2021 also rose 50% above the previous year.  Growing CD sales, however, are not necessarily correlated with CD player sales, as fans still primarily listen to music digitally.
Why Do K-pop Fans Buy CDs?
For many, the collecting and unboxing of albums can be an enjoyable part of the K-pop fan experience. This is reflected in the hours of album collections and unboxing videos on YouTube and TikTok. For fans, albums are not necessarily a way to listen to music, but an object of pride. According to Lee Gyu-tag, a professor of Cultural Studies, nowadays physical K-pop albums are "a form of merchandise for the fans and a marker for how popular certain stars are."
The design and contents of albums are factors that set K-pop apart from many music industries and contribute to continued sales. Designs typically come as books filled with concept photographs and lyrics, plastic jewel cases, or more experimental formats, like a takeout box or space ray gun. They also hold posters, assorted items like stickers, postcards, bookmarks, and highly sought-after randomized photocards. Some artists have themed album series, e.g. SHINee's The Story of Light and BTS' Love Yourself, which incentivize fans to complete the set. Adding to the collectibility, there may be multiple options for the same release, with covers reflecting different concepts or individual members.
NCT The 3rd Album 'Universe'
Album Details (JEWEL CASE Ver.)#NCT #Universe #NCT_Universe#NCT127 #NCTDREAM #WayV pic.twitter.com/ChpEugYeOs

— NCT (@NCTsmtown) November 30, 2021
Due to companies' marketing strategies, peer pressure from fellow fans, or the goal to reach pre-order and sales records, fans may bulk buy copies of the same album. Album purchases are the primary way to win a one-on-one conversation with your favorite idol, and the odds to win can increase with more purchases. With the shift to online events during 2020, video call events made it possible for more international fans to speak to their favorite idols with some fans entering multiple raffles by different retailers.
[#MCND][📢]
MCND 'into the ICE AGE' Release celebration Meet & Call Fan signing eventhttps://t.co/QnuSMmcvOs#캐슬제이 #Castle_J #빅 #BIC #민재 #MINJAE #휘준 #HUIJUN #윈 #WIN#into_the_ICE_AGE #ICE_AGE pic.twitter.com/ljj9V6BuAO

— MCND_official (@McndOfficial_) March 11, 2020
Fans may also buy several albums to increase the chances of getting their favorite members' photocard from the randomized options. Specific retailers offer pre-order benefits or exclusive photocards, encouraging collectors to order even more copies to obtain these rarer options. With some individual cards selling for more than a sealed album, bulk buying can be profitable to resellers.
💿 NOW SELLING 💿

🌶 NCT DREAM 1ST ALBUM – 맛 (Hot Sauce) [Jewel Case Ver.] 🌶
▶️ Exclusive hello82 photo cards
▶️ Behind-the-scenes video access code
🛒 https://t.co/btWO6rnis3@NCTsmtown_DREAM#NCTDREAM #hello82 #NCTDREAMxhello82 #hello82shop #hello82tv #NCTDREAM_맛_HotSauce pic.twitter.com/rKnknKaJ6B

— hello82 (@hello82official) May 19, 2021
The Environmental Impact of Albums
Growing K-pop album sales come with several sustainability issues. Albums often come in plastic shrink wrap and other non-recyclable packaging. They are built to last, with the combination of plastics and other materials, but this also means they are difficult to recycle. The demand for albums without photocards and other inclusions is also much lower than that of the photocard resale market, making them harder to rehome. In South Korea, fans have faced criticism for donating spare albums to community organizations and charities, as CDs do not address pressing needs, there are too many to give to beneficiaries, and they often end up unused in storage.
Globally, fans are calling for the K-pop industry to do more to protect the planet. According to the fan-led group, KPOP 4 PLANET, 95.6% of fans felt entertainment companies should be the ones to make changes for K-pop to become sustainable and two-thirds thought bulk album purchases were the most unsustainable part of K-pop. During the "Sustainable K-Entertainment" conference at the National Assembly, a representative from the KPOP 4 PLANET called for the industry to do more to address climate change. The group currently has over 10,000 signatures on a petition asking for K-pop labels to provide greener options for albums, reduce concerts' carbon emissions, and encourage artists to talk about the climate change crisis.
What Companies Can Do
If album buyers often do not even play their CDs, can physical albums come in a more practical format? In 2017, BigBang's G-Dragon released Kwon Ji Yong, as a USB drive. Fans could then download the tracks and other exclusive photos and videos with a serial number. At the time, the album was not eligible to chart for physical album sales, as the USB drive did not hold music files. Since USB slots are more widely available than CD slots, a chart-eligible USB format could be considered more often.
The Kihno kit, which has been around since 2014, is another alternative format, which does count on Hanteo and Gaon Chart album sales. Instead of a CD, users access music, video, and photos through the KiT player app. Kihno kits contain inclusions like photocards but tend to be more expensive than CDs and cover fewer releases, so it has not reached the same popularity as CDs. More recently, the Platform Album format has been used for Victon's Chronograph single album. With this option, fans were sent a photocard and could listen to the tracks digitally through a code they received. It will be interesting to see if companies move towards formats aligning closer with digital listening habits.
[#빅톤]
VICTON 3rd Single Album
[Chronograph] Platform Album 판매 안내!
한정 판매되는 플랫폼 앨범도
앨리스 여러분의 많은 사랑 부탁드립니다💛💙

🍎 iOS: https://t.co/9Pg6hKIY0O
🤖 Android: https://t.co/ztmLWl7uQl#VICTON#Chronograph pic.twitter.com/T5jWCAcLBF

— VICTON(빅톤) (@VICTON1109) January 18, 2022
Several agencies are adapting how they manufacture albums. YG Entertainment introduced more environmentally-friendly albums last year, starting with Winner's Mino's  To Infinity album. The album included more eco-friendly inks and coating, as well as paper with a lower carbon footprint. For SM Entertainment's NCT DREAM, individual Glitch Mode album covers were made from recyclable paper, marking a change from the plastic jewel case format for Hot Sauce. MNH Entertainment soloist Chungha's Querencia was also made using environmentally-friendly paper. To reduce plastics only the photocard was laminated and the CDs were in paper envelopes, instead of plastic jewel cases. 
Ultimately, excessive purchases remain at the core of the sustainability problem, however more eco-friendly materials actions can be a step in the right direction. With over 9 out of 10 of fans feeling companies should be the ones to make K-pop more sustainable, ideally, K-pop companies and retailers would address the encouragement of bulk-buying. However, this could be slower to change, as it comes at odds with goals to increase sales and top charts. 
In the meantime, supporting collectives like KPOP 4 PLANET is one step fans can take to pressurize the industry to change. Small changes to purchasing habits can also reduce the environmental impact of collecting albums. In part 2, we explore 6 Ways to Make Your K-pop Album Collection More Sustainable.
Want more EnVi articles for Earth Day? Click here!