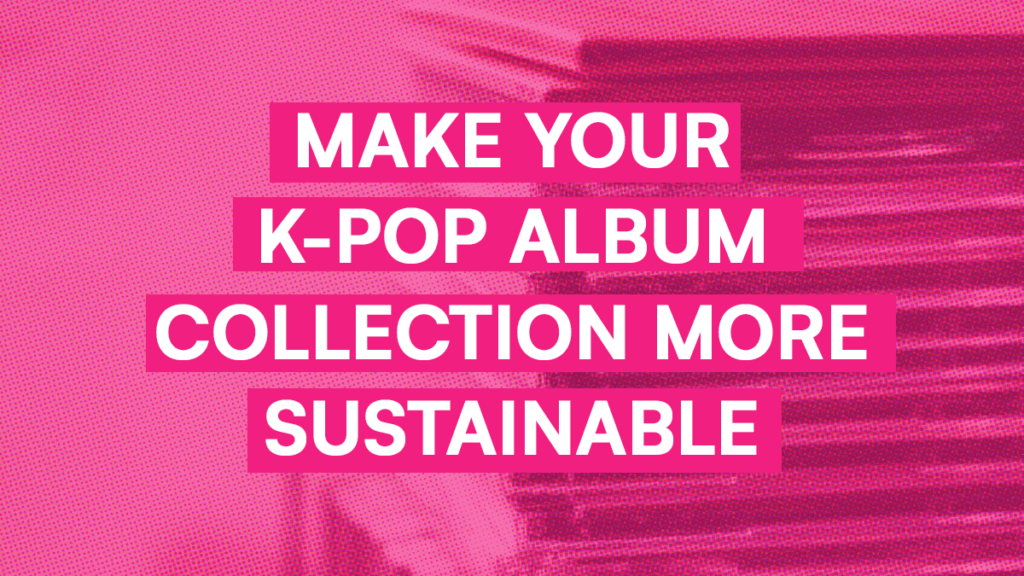 Buying albums can be a fun way for K-pop fans to support their favorite acts. However, beyond the impact on fans' wallets, increasing global album sales come at an environmental cost. For Earth Day, EnVi is exploring sustainability issues in K-pop album collecting, and what can be done to make collecting more eco-friendly. In part two, we are looking at 6 ways to collect more responsibly.
Think More Carefully Before You Buy
While it can be tempting to press buy as soon as pre-order links are released, try to reflect on whether you need a copy straight away. By waiting for more details about designs and options, you can make a more informed purchase decision and avoid unwanted albums gathering dust. Unboxing videos are a great way to get an idea of how big an album is, what the photobook looks like, and the types of inclusions. Live vicariously through unboxings before deciding if an album is a must-have for your collection.
Buy and Sell Used or Unsealed Albums and Inclusions 
With many fans selling spare or unwanted albums and inclusions, it can pay off to wait after the initial release to buy unsealed albums. It can be easier to choose which inclusions you want; for example, if you do not want a poster or stickers, you can buy albums without these. For those who collect specific members, it may be better to buy their photocards or postcards separately, instead of ordering several sealed copies and hoping for the best. You can keep track of which inclusions you want with tools like K-Collect. Online marketplaces like Depop, eBay, Mercari, and Shopee are common places to find sellers from the same country. Several fans also sell through Instagram and Twitter, although extra caution should be taken to avoid scams.
When sending albums and inclusions, you can limit your environmental impact by reducing, reusing, and recycling packaging. Don't use more tape and bubble wrap than necessary, as these materials can be harder to recycle. You can also reuse toploaders, pieces of cardboard, and other packaging from previous orders. Wherever possible, try to use recyclable materials like paper and cardboard instead of plastics. 
Join or Host A Group Order
If you decide to pre-order an album, there can be multiple benefits to joining a group order by a trusted group order manager. As some websites offer shipping discounts for larger orders, you might find cheaper prices, compared to buying directly from stores or international sellers. Several group orders allocate photocards according to joiners' preferences, meaning you can be more likely to get bias' photocard, than buying several sealed copies.
If you have your hopes set on meeting your bias at a fansign, you could also consider running a group order with friends or fellow fans, so any spare albums will have an owner to go to. You can check out EnVi's video on how to organize Group Orders here and our article about the group order management tool, GOMdrop, here.
Host A Giveaway
If you have some spare albums and want to help fans who cannot afford a copy, you could host a giveaway on TikTok, Instagram, or Twitter. Check out EnVi's giveaway post for an example of how to set entry conditions.
Get Creative And Repurpose Albums Into Collages
You could repurpose spare photobooks into binders, collages, cards, envelopes, or even a decorated shelf. NCT 127 members Doyoung, Jaehyun, and Jungwoo made DIY phone cases from the Neo Zone album by adding stickers and creating a colleague from album pages. To get crafting, you'll need supplies like scissors, glue, a crafting knife, and brushes. You could also decorate your room with a CD wall, using pins to hang spare disks on the wall. 
Go Digital
If you want to support your favorite acts beyond streaming on digital platforms, you can buy a digital download of their album. iTunes Digital Booklets may come with exclusive content like interviews and photos. If you decide to not buy a physical or digital booklet, you'll still be able to view some concept and music video photos shared on official social media channels.
We hope this article inspired you to make your K-pop album collection more eco-friendly. Want to hear more about the sustainability of collecting albums? Check out part one, where we cover bulk buying and the responsibilities companies have. 
Want more Earth Day related content from EnVi? Click here!