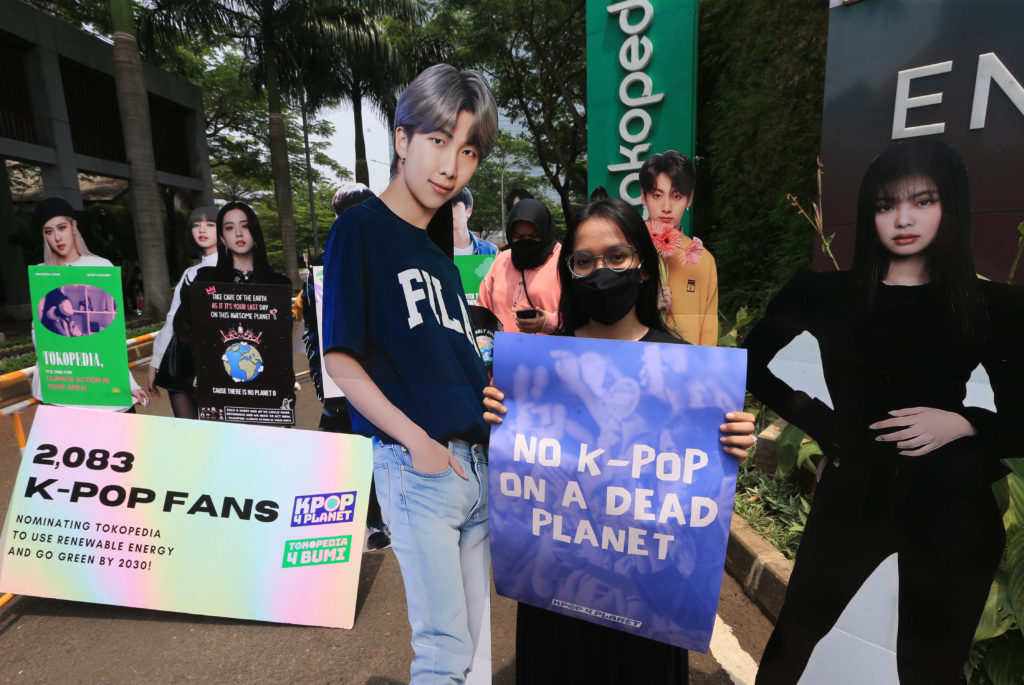 Not 15, not 150, but over 15,000 signatures from K-pop fans all around the world have been gathered across two of Kpop4Planet's environmental petitions. When it comes to advocating for climate justice within the K-pop community, Kpop4Planet plays the role of an organizer, a liaison, and an information hub. In conjunction with Earth Day, EnVi sat down with Nurul Sarifah, an EXO-L and Kpop4Planet's organizer, and talked about everything from Kpop4Planet's vision and mission to their sustainability efforts that fight for a greener K-pop scene.
The Origin
True to the definition of by fans, for fans, Kpop4Planet is a platform created by a group of environmental activists, who are also K-pop fans themselves, with the hope of encouraging climate discussions and actions within the K-pop community.
Kpop4Planet was established on World Wildlife Day (March 3) in 2021. Striving to become a platform that facilitates conversations on climate justice, Kpop4Planet faced the challenge of sparking the conversation in the beginning. Sarifah recalled asking K-pop fans the reasons they were not comfortable in speaking about climate issues. Some K-pop fans responded that they did not feel well-informed enough to speak about it.
Sarifah believed that outreach was the key to overcome this. "We built communication channels with the fans to encourage climate conversations, and explained that this is one of the reasons Kpop4Planet exists—to become one of the platforms for K-pop fans to discuss and learn more about climate issues together." Kpop4Planet has several group chats that serve as platforms for environmental discussions and to collect fans' suggestions on future campaigns.
Since its establishment, Kpop4Planet has organized various campaigns and collaborated with different groups of activists and fans, achieving important milestones along the way. When asked which campaign was the most memorable, Sarifah shared that the #TOKOPEDIA4BUMI petition was Kpop4Planet's first campaign and also one of their most significant achievements. In the Indonesian language, "Bumi" stands for Earth, and as the campaign's name suggested, Kpop4Planet and the other campaign supporters urged Tokopedia to join in the fight for climate justice.
As one of the largest e-commerce platforms in Indonesia, Tokopedia also collaborates with many K-pop idols and receives attention from fans all around the world. Sarifah emphasized that it is important Tokopedia leads by example and commits to using renewable energy by 2030. "Through this campaign, a critical dialogue about sustainability has opened up between the Tokopedia's side and the Kpop4Planet's side to discuss how to improve their policies," she added. The petition was able to reach its target of a thousand signatures thanks to the tremendous support from K-pop fans who would love to see their idols collaborating with a company that has a climate commitment.
One Step Forward
When a petition target is reached, the project does not just end there. Kpop4Planet actively communicates with large companies and industry insiders to convey fans' voices and concerns, as promised to the petition signers. Sarifah explained, "The [Tokopedia] petition signatures were sent directly to the Tokopedia chief sales officer [CSO] and corporate social responsibility [CSR] team. And last December, we also sent out the 10,000 signatures for the No K-pop On A Dead Planet (#NKDP) petition to major Korean entertainment companies, such as SM, YG, HYBE, and JYP."
Joining Forces
From tree planting and animal adoption to fundraising and petitions, K-pop fans have jointly organized campaigns that strive for a common goal—to fight against the climate crisis. But, it would be great if entertainment companies and K-pop idols share that common goal with us and make good use of their resources and platforms to support climate movements, right?
Starting from the production stage up to the marketing phase, there are multiple levels of the K-pop supply chain that allows the incorporation of climate strategies. "Entertainment companies could minimize plastic use in the production of goods and albums, and use low-carbon options for concerts and tours," Sarifah suggested. The Kpop4Planet organizer also added that by announcing climate commitments, entertainment companies can encourage fans and idols to join in taking climate actions.
Green Stanning
Would environmentally-friendly alternatives to traditional albums and conventional concerts affect fans' stanning experience? What if there are promising ways to make K-pop albums and concerts more sustainable?
Sarifah expressed that some fans have voiced their concerns on album waste and digital streaming. "We can support the switch to using digital music streaming platforms that employ data centers that use renewable energy," she recommended. Sarifah believed this could be a way K-pop fans can enjoy their stanning experience without harming the environment.
Sarifah also mentioned some recent encouraging advances within the K-pop industry. From VICTON's third single album, Chronograph, which has the digital album option that comes with only the photocard to YG Entertainment using Forest Stewardship Council (FSC)-approved paper and low-carbon paper for album production, there are some ways that the K-pop industry can opt for more sustainable alternatives to the traditional physical albums.
When asked about the kind of campaign Kpop4Planet would like to collaborate with K-pop idols on, Sarifah excitedly shared, "If we were given the opportunity to work with K-pop idols, we could create a more sustainable album together, such as using sustainable materials and having a song about the environment. There's also an idea from the fans like planting trees for every album purchased. We think this would be a really good collaboration between fans and idols."
Upcoming Campaigns
Moving forward, Kpop4Planet will be extending their No K-pop On A Dead Planet campaign and focusing on album issues. Kpop4Planet has started collecting unused albums from K-pop fans in South Korea. The organization is also planning to visit the K-pop entertainment companies with these collected albums to show how environmentally harmful traditional physical albums can be and the support of K-pop fans in environmental campaigns.
Sarifah further shared that Kpop4Planet is working on opening a discussion for deforestation among fans. The environmental activist explained that there is an increase in awareness among K-pop fans regarding the importance of trees in combating climate change, as seen from the various tree planting projects in the name of their idols or fandoms. "We are planning to create an online global map later this year to track all the trees that were planted, or planning to be planted, by the K-pop fandoms," she revealed.
"Overall, this year especially we are trying to broaden our connections by reaching out and collaborating with different fandoms, especially those who are located in climate vulnerable countries," Sarifah added.
Hello Future
To create a greener future for K-pop, the responsibility lies not just with the fans but also with the industry itself. Sarifah acknowledged a long-standing problem within the K-pop industry and called for actions, "The album system [i.e. buying albums to enter fansign] needs to be changed, and the entertainment companies should start considering its effects on the sustainability side." She also hoped to witness low-emission K-pop concerts happening in the near future, such as ones being powered by renewable energy, with reduced plastic usage, and having education stands. Sarifah encouraged fans to take an active part in contributing to lower carbon emission during concerts by reducing single-use plastic and taking public transport to the concert venues.
As the insightful and inspiring interview came to an end, Sarifah closed with a heartfelt comment: "We have seen fans' positive responses in participating in tackling the climate crisis, from having discussions between fans to lending their voices in our campaigns. K-pop fans' support is really important because this kind of collective action is desperately needed for the climate crisis. We welcome more K-pop fans to be onboard and take climate actions with us, as there is no K-pop on a dead planet."
Want to know more about how K-pop idols have supported climate actions before? Check out EnVi's feature article here or head to Kpop4Planet's website to find out more!