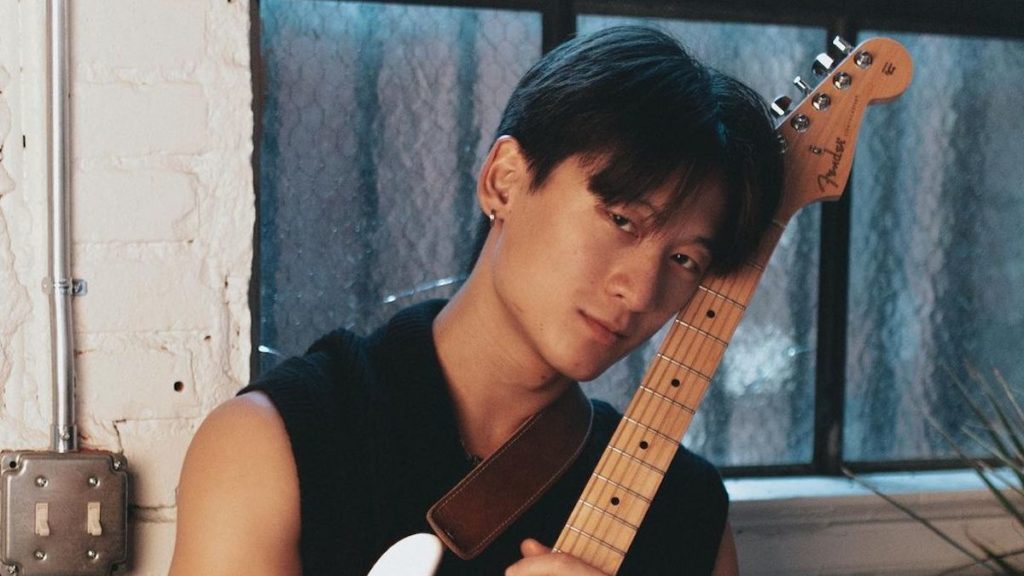 Back in January, Los Angeles based emerging artist Boyu sat down with EnVi to talk about his path into music, latest singles, and hopes for the future. Full of excitement and eagerness, Boyu made it clear that he was just getting started. EnVi had the pleasure of catching up with Boyu over Zoom to talk about his debut album Flower Garden and what this milestone means to him.
A Flower Garden for Everyone
Since the release of his debut song "Flower Garden" in 2021, Boyu has released eight more singles. These include the nostalgic "Embers Of Our Innocence," the energetic and experimental "Miata Trip," and the cheerful and retrospective "How Is Life In Hollywood." The last song from this streak of singles was "Songbirds," released back in September.
Spanning over a year, the sporadic release of these nine singles was building up to the debut of Boyu's first album. Sharing the name of his debut single, Flower Garden comes with three new songs: "R&BBY," "Liquid," and "Monterey."
Reminiscent of surf rock songs, "Monterey" is easygoing with breezy guitar riffs and drums. As described by Boyu, "Monterey" is the perfect soundtrack for your road trip. "I don't think I had a song like that in my portfolio, so I really wanted to make one," shared Boyu. "It happened so naturally… Yeah, I think it's my favorite song on the record."
In Flower Garden, Boyu gives listeners fragments of his life and promises a sonically diverse journey that may have just what you are looking for. "Each song takes its own identity representing its own flower," shared Boyu. "So similar like how a real flower garden is arranged by color, the symbiosis–you know like what type flowers need sunlight, will it do better in the rain–based on the arrangement and composition of that is very similar to how I arranged my twelve song project, by the tempo, the genre and overall mood."
Listeners can expect a joyous time while playing Flower Garden, as it has been carefully curated from beginning to end to enhance listener satisfaction. Concerned that listeners may lose interest in the album, Boyu got creative and put in the work to ensure the album was interesting to ongoing fans as well as new listeners. "I was a little worried that a lot of the songs, like 9 out of the 12 songs were already out, that people wouldn't be as excited," said Boyu. "But I was like 'wait, I kind of have to repackage this and come from a different angle to get people excited to listen to the whole thing.'"
Behind the Scenes of Boyu's Flower Garden
Following suit from his first singles, the remainder of Flower Garden was also heavily influenced by storytelling. Each song in Flower Garden has its own narrative and story to tell. "Liquid" reminisces on a mountain hike turning sour. "This girl is like completely one of those social media fiends, so they are just on their phone exaggerating how hard the hike is when it's not that bad and when we get to the top of the mountain she's still on her phone not enjoying the view," shared Boyu. On the other hand, "Monterey" recounts a road trip with a stranger. "I went on a spontaneous trip with this girl, we went to Monterey, and we didn't really know each other and did an overnight trip. Hence, the 70 hours line that starts the song."
Another attribute that stands out from Flower Garden is how it has been a highly collaborative project from its early beginnings. When asked about the new songs, Boyu is quick to mention and shout out the peers who have been part of the album's development. "My frequent collaborator Zenii, we produced 11 of the 12 songs together," recalled Boyu. "We worked on them together and I would say it was a huge learning curve, just making each song and both our skills increasingly getting better with each song."
Another frequent collaborator of Boyu is the creative and video director FLASCH. Since we last talked, one of Boyu's goals had been for each song to have a visual. Sure enough, each single released has been accompanied with its own music video and FLASCH was the mastermind behind most of these music videos. "My homie FLASCH and I mainly worked on all the videos together. It's just like her and I. She directs, shoots, does everything, edits."
Boyu excitedly recounted how he and Flasch have developed their confidence and skills while working together. "Throughout the year we have worked together and now you can see her kind of skills set has improved and the way she shoots me," explained Boyu. "I guess, it's just both of us leveling up on skills, confidence and ability to create something really beautiful that will last forever on the Internet."
More recently, Boyu has been working with Kotton and Kevin Holm. Two of the forces behind "Monterey," with Kevin in the guitar–– as Boyu shared, the guitar parts "just bleed out of him"––and Kotton in the drums and programming the arrangements. "They are just really fun to create with. We have a lot of other songs on the vault. It's always a good time, always stress free, the flow is always so effortless," Boyu said about what it's like collaborating and working with the duo. "I am excited to release more songs with them because they all are more or less the "Monterey" vibe."
End of an Era
To Boyu, Flower Garden is a milestone worthy of celebration for various reasons, one of them being that it's the culmination of work he has been doing since 2020. "It feels pretty good. I think it's just like a sigh of relief that these songs are out in the world. Cause I don't know, I feel like when I was making them I was just trying to, I was just really having fun with it," shared Boyu.
Yet, since moving to L.A. Boyu has been taking a more serious approach to his craft – and his efforts have not gone unnoticed. A scroll through the comments section of his music videos reveals the support he has been receiving from all around the world. "The internet is a crazy thing, I am very amazed and stoked that my music can reach people from around the world," said Boyu eagerly after I asked if he had seen these comments. "It's crazy that someone is sitting at home in Thailand and listening to a song I made in my bedroom or like someone down in Argentina or Mexico."
"I am very proud, and I feel a sense of accomplishment for this year. I feel this was a good year. I have definitely used my time wisely to invest and focus on this goal and vision that I have," said Boyu. "For an artist, singer, and songwriter, all they want to do is to be heard and have their music be listened to. So, it's really cool that I can grow that and see that happening."
As for 2023, Boyu reassured he will be active and not vanish as some artists do after dropping an album. He hopes to release music videos for the three new songs to have a complete visual Flower Garden. Boyu will then continue to release more music that has been in the works. For some songs, he will be the sole producer and writer, while others will be collaborative projects. After all, Boyu has continued creating, collaborating, exploring, and developing his skills nonstop.
To see more of Boyu, make sure to follow him on Instagram, TikTok, and YouTube, and don't forget to check out Flower Garden.
If you would like to read more about Boyu and his career path, you can check out his artist spotlight here!