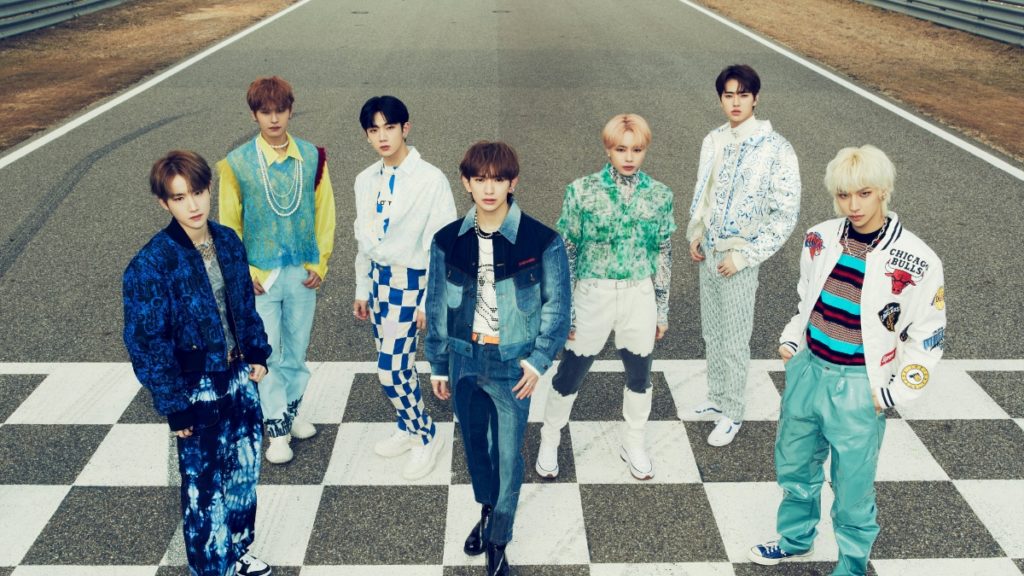 Yuehua Entertainment's latest boy group, TEMPEST, debuted with the perfect storm of captivating vocals, strong visuals, and energetic performance. Following delays from their initial debut date, the septet made their official debut on March 2 with the mini album It's ME, It's WE and the title track "Bad News." With a total of five songs, It's ME, It's WE displays TEMPEST's unified capabilities as a group. Music distributor Stone Music Entertainment described the release as a "bold move forward to open a new world of K-pop with infinite possibilities and potential."
TEMPEST consist of members Lew, Hyungseop, Hyuk, Eunchan, Hwarang, Taerae, and Hanbin. They are joining the likes of EVERGLOW, UNIQ, and soloists WOODZ and YENA under Yuehua Entertainment and distributor Stone Music Entertainment. In the web showcase, the group leader, LEW, described the group members as having "different allure and charming points." He outlined the group's aim to "create a tempest with powerful performances and colorful music."
The Awaited "Bad News"
TEMPEST's "Bad News" is a playful and upbeat pop track declaring the group's arrival and their ambitions for the future. During their debut showcase, Lew expressed how the song shows their arrival in the music scene and sheer determination. With lyrics announcing, "Here comes TEMPEST (We are) / Get out of the way, out of the way, on my way" TEMPEST embodies their ambition and aspirations.
The music video manifests the song's liveliness with a visual storm of colorful explosions, fireworks, and locations filled with graffiti. With an energetic choreography, CGI emojis, and lyrics in various typographies, TEMPEST's debut music video has piqued the curiosity of K-pop fans as the newest rookie group.
The song has earned more than 4,400 streams on the South Korean music streaming service Melon. Additionally, since its premiere, the music video has surpassed three million views on YouTube, and trended at #1 Worldwide. Meanwhile, It's ME, It's WE secured a place at #48 on the Worldwide iTunes Album Chart and a #98 position on the European iTunes Album Chart. Among the rookie groups of 2022, TEMPEST has already recorded sales totalling more than 34,000.
It's ME, It's WE
In addition to "Bad News," TEMPEST's mini-album It's ME, It's WE includes four songs. These songs are "Just A Little Bit", "Find Me," "Next To YOU," and "Bad At Love." With various genres, the songs in the mini-album highlight TEMPEST's vocals, raps, and performances.
Compared to the bright and bold title track, "Just A Little Bit" portrays the regret about a lost connection between lovers. The sentimental melodies of "Just a Little Bit" highlight the members' vocals. "Find Me" is a track with a catchy '90s beat and a rap that reflects TEMPEST's journey of self-discovery. It's ME, It's WE then proceeds to mellow down with "Next To YOU." The slow-paced track is dedicated to TEMPEST's fans who waited for TEMPEST to debut and will join them in their journey. The album closes on a high with "Bad At Love." Despite its bright sound, the lyrics depict the anxiety one feels from an unrequited love.
Building Up Hype
Despite their recent debut, some TEMPEST members have been in the public eyes for years. Lew and Hyungseop participated in Produce 101 Season 2 back in 2017. Similarly, Hwarang made his first appearance on MBC's reality show Under Nineteen in 2018 and Hanbin in Mnet's I-LAND (2020). On the other hand, Hyuk, Eunchan, and Taerae are new faces to the music scene.
As part of the final group lineup, TEMPEST officially launched its social media accounts on December 31, 2021. On the following days, the first teasers for their debut were unveiled under the tagline "WHO AM I?"
During the first two weeks of January, TEMPEST showed off their skills through covers and performance videos posted on YouTube. These include NCT 127's "Kick It," SEVENTEEN's "HIT," Michael Jackson's "Smooth Criminal," and Problem's "Better Watch Yo Self."
iE Welcome TEMPEST
Following their debut and showcase, TEMPEST announced on Twitter their fandom's official name. "At the heart of TEMPEST is always the fan club iE," the account stated. Pronounced like "eye," iE stands for a wish to always be filled with smiles. iE welcomed TEMPEST with positive comments, words of encouragement, and excitement.
For more updates on TEMPEST's future schedules, make sure to follow them on Twitter, Instagram, and YouTube. You can also stream their debut mini album on Spotify.
Interested in more new K-pop acts? Check out our coverage of NMIXX's debut here!