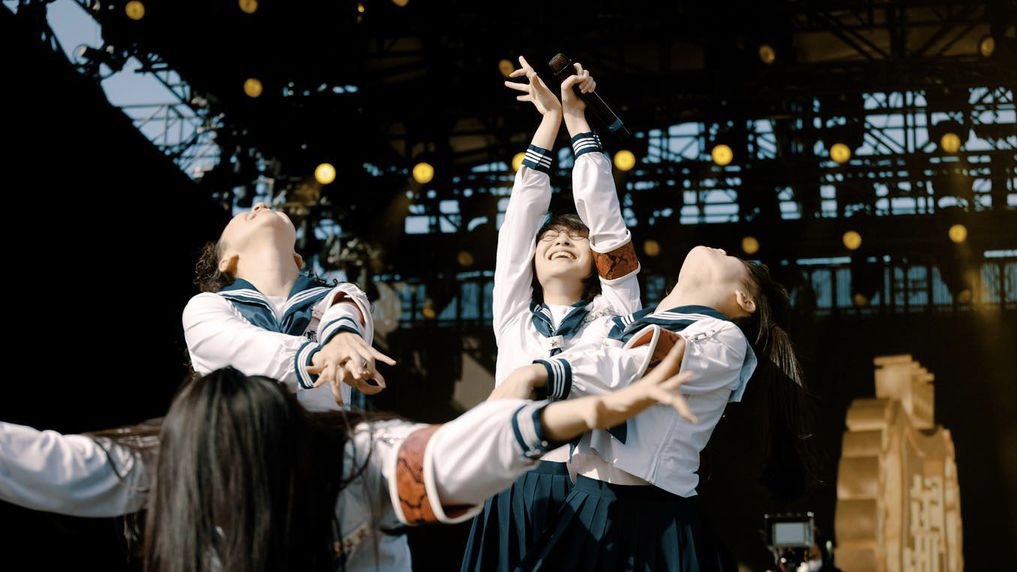 ATARASHII GAKKO! are leading a revolution, and it's reached Los Angeles! The Japanese jazz-rock girl group signed to the American label 88rising earlier this year, and have finally had the chance to debut on the US stage. ATARASHII GAKKO! opened for day one of the Head in the Clouds festival, performing eight songs in total–a mix of new and old. Among the eight tracks was a never-before-heard song, a new track that will be part of their upcoming SNACKTIME EP to be released on November 12.
Starting with A Bang!
If there is one thing anyone should know about ATARASHII GAKKO!, it is that they have a uniquely "ATARASHII GAKKO!" style, marrying Japanese culture with music and performance. Donning their seifuku (school uniforms), they entered the stage at the sound of school bells ringing–Mizyu with her signature pigtails, Suzuka in glasses, Rin with her charming curls, and Kanon with her sleek straight hair. ATARASHII GAKKO! then proceeded with their "Human Drum" stage, starting the Head in the Clouds festival with a bang.
Their leader Suzuka led the taiko-inspired dance, playing the members as if they were drums. The group broke out in a full-group dance, which led into a series of cartwheels and the next track, "Final Humanity." In a carefully crafted yet chaotic performance, the quartet performed the rock-infused piano track with steady vocals, a series of lifts, and intense dance breaks.
Expressing Emotion
ATARASHII GAKKO! commenced the start of "Night Before the Exam" by pulling out red ribbons and using the props to express their feelings.   
"Love Revolt" was introduced by Suzuka asking, "Sensei, is it a crime if I confess my feelings for you?" With girlish skipping and heart-wrenching choreography, the girls expressed their complicated feelings through dance. 
A Lively Hip-hop Segment
Before their next track, the girls thanked the audience and introduced themselves in a small ment, catching a small break. Suzuka then asked the audience if they loved hip-hip, introducing their next stage–a cover of their favorite band, Beastie Boys. They then got to work, putting on construction hats and vests over their uniforms. ATARASHII GAKKO! chanted "We are Beastie Girls" commencing the start of a rap-heavy "Intergalactic" cover stage.
Once they were done with work, they began "NAINAINAI," which came out earlier this year in January. With hip-hop-inspired choreography and lots of rap, the girls performed the track with immense energy.
An Epic Finale
Backup dancers joined the stage during ATARASHII GAKKO!'s finale. The group teased their new bass-heavy rock song, "Free Your Mind," in an energetic performance with tons of screaming and clapping.
The backup dancers left the stage in a frenzy after it was 'invaded" by a tall, green foreign entity. In a choreographed fight, the girls held up their pineapple against the alien, beginning the start of their recent single "Pineapple Kryptonite." 
If they started with a bang, then the group ended with an explosion. Their dance was a perfect demonstration of their dance experience and gymnastics training, performing cartwheels, headstands, and other stunts in the midst of their stage. By the end of the song, all girls but one had fallen. In an epic ending, during their final "lullaby," as the song says, Suzuka pierced the alien with a pineapple and it collapsed.
At the end of the track, Mizyu, Kanon, Rin, joined Suzuka in standing. With a short thanks, ATARASHII GAKKO! bowed, making their exit in a jog.
Want more on HITC? Check out our coverage of DPR here.
Thumbnail courtesy of ATARASHII GAKKO!