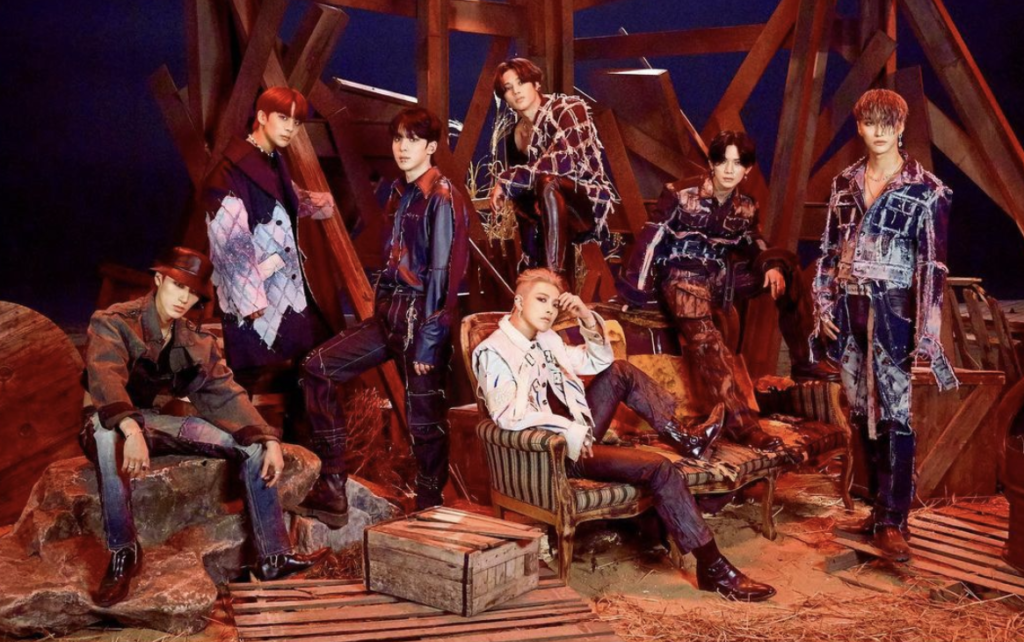 In the midst of the competition of MNET's Kingdom, Ateez is back with their latest release Zero : Fever Part.2. Consisting of seven tracks, the album is a follow-up to their previous, which reached number one on the Gaon Weekly Album Chart. Though Mingi is on hiatus for personal health reasons, the album does feature all eight members of the team: Seonghwa, Hongjoong, Yunho, Yeosang, San, Mingi, Wooyoung, and Jongho. 
In anticipation of their first comeback of the year, the group worked with some of their longtime partners to produce the album. Both rappers Hongjoong and Mingi are credited on each track along with musicians Eden and Ollounder. Other contributors include previous collaborators Leez, Pepperoni, and Oliv.
Starting with the title track and its music video which reached one million views in five hours, Ateez are transported to a dark, thematic world set ablaze with "Fireworks (I'm The One)" and it's remixed "Heat-Topping Version." While the active members performed the quick-paced choreography in the video, Mingi's familiar voice was depicted by a radio reading his signatiure "fix on." Attentive listeners may have noticed that the opening of the song were the last few notes teased in their previous music video for "THANXX." Similarly, this feature teases a sound snippet at the end. While this bite plays, we once again see the mysterious man in white from previous videos portraying the alternative universe of the group's conceptual storyline.
Following after is "The Leaders." Reminiscent of "To The Beat" from their previous album, the song overlays soft whispers on a heavy beat. True to the group's sound, the track is emblematic of their bold style.    
Showcasing the duality of Ateez, the album takes a turn with "Time Of Love" and its cheery sound. The song shares the beauty of a love that is generous and deep, personified by the lyrics "nobody's perfect." 
Along with its English version, "Take Me Home" is carried by a serene melody complete with a saxophone solo. Wishful lyrics resonate with those battling loneliness and uncertainty, especially during such difficult times.
Continuing the more colorful side of the album, "Celebrate" features a choir and closes with vocal runs against the upbeat track. In character with the meaning behind their name Ateez, short for A TEEnager Z, the song cherishes youth and individuality. 
In addition to the new album, Ateez fans, called Atiny, have much to look forward to in the upcoming months. The group will carry out their promotions for Zero : Fever Part.2 with various stages in the following weeks. Shortly after, they will continue with their bid for the crown on Kingdom, airing April 1. 
Have you checked out Wonho's anticipated mini-album yet? Find out more here!
Photos credit to KQ Entertainment