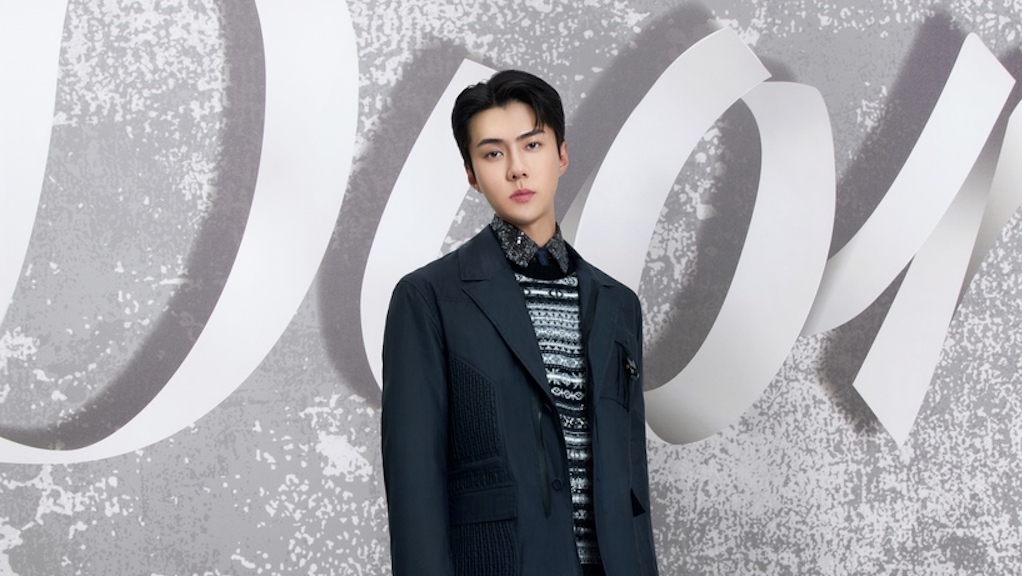 The association between K-pop juggernaut, Sehun, and Dior is stronger than ever. In his role as Global Ambassador of the French luxury brand, Dior's Dearest — virtually—  joined an exclusive list of celebrities for the unveiling of Dior Men's Pre-Fall 2022 collection. 
Oh Sehun, The Best Dressed Man
Those who have followed Oh Sehun's career will know the Korean star has continuously made headlines for his involvement with fashion brands. Whether he is making splashes at Paris Fashion Week or fronting magazines, Sehun has secured his status as one of the best dressed K-pop idols. Living up to this title, last year, the EXO member was appointed Official Ambassador of Dior Men in Korea. Throughout 2021, the singer and actor has endorsed the French brand in different instances. The launch of Dior Men's latest collection was no different. 
Dior Men's Fall 2022 Collection On The Road
On December 9, Dior presented its Men's Pre-Fall 2022 show in London. Ahead of the runway, the luxury house shared video clips featuring well-known friends of the house. In the video, names like Tom Daley, Lila Moss and Nicolas Maury anticipated the collection reveal. It was Oh Sehun's presence, however, that caught the most attention. The EXO member made a brief appearance reading a passage of Jack Kerouac's "On The Road," the book that inspired Kim Jones's latest work.
Inspired by the Beat Generation, the social and literary movement that came to prominence in the United States in the 1950s, watch the #DiorMenFall 2022 collection by Kim Jones, unveiled live on Twitter and https://t.co/rC5KWz8jod in 30 minutes!
© Melinda Triana@KerouacEstate pic.twitter.com/upE4ZHoXwu

— Dior (@Dior) December 9, 2021
An avid collector of books, Kim Jones, Creative Director of Dior Men, paid tribute to the great American literary movement known as the Beat Generation. In a collection that, for a change, was taken to his hometown, Jones playfully combined present-time fashion staples with classics like tweed coats and slacks. A variety of textures, ranging from sequins to knits, invaded the runway. It was Jones' interpretation of the eclectic wardrobe of a traveler. "It's how it would be on the road; packing and unpacking and mixing it up," he explained. 
Fair Isle knits were a recurrent element in last night's #DiorMenFall https://t.co/23sfN0UJ6P show by Kim Jones. Featuring the 'CD Diamond' motif, they were a constant presence as socks, but took the traditional sweater to new heights with sequin embroideries.
© @Olympia_London pic.twitter.com/b6vK9gMMTs

— Dior (@Dior) December 10, 2021
Sehun, Dior Global Ambassador
After the show, as it is a tradition for the brand, Dior took to social media to share the pictures of the #StarsinDior. In a look taken straight from the runway, Sehun flaunted his fashion sensibilities. But despite his dashing looks, what sent fans into a frenzy was Dior's introduction of the star as their "Global Ambassador," a title the house had not previously used when referring to him. 
Singer, actor and Dior Global Ambassador Sehun tuned in to discover #DiorMenFall 2022 https://t.co/rC5KWz8jod by Kim Jones wearing a gray blouson, sweater, shirt with sequined collar, blue trousers, red socks and boots, all from the new collection.#StarsinDior pic.twitter.com/oy0dU6KRKN

— Dior (@Dior) December 9, 2021
Fans Celebrate
Naturally, loyal fans were overjoyed with Sehun's new title and his evolving partnership with Dior. Their enthusiasm reached social media where they gushed about Sehun and shared their anticipation for upcoming activities in this role. 
been here since the beginning of Sehun's journey with Dior and it feels really amazing to see them announcing Oh Sehun as their Global Ambassador. Looking forward to all future projects with new GA <3

SEHUN DIOR MEN GLOBAL AMBASSADOR #DiorGlobalAmbassadorSEHUN pic.twitter.com/opFh3Zk63f

— 94 🏹 (@kjishunnie) December 9, 2021
Sehun x Dior✨

201012: "New Face of Dior Men"
201212: "House Friend"
201222: "Dior Men Korea Ambassador"
211210: "#DiorGlobalAmbassadorSEHUN"

"I've always liked Dior. As soon as I received the offer to be an Ambassador, I said that I really wanted to do it." — Oh Sehun, 2020 ♡ pic.twitter.com/wZf63Vtnaf

— ㅋㄹ 💐 (@xunhuas) December 9, 2021
Congratulations to Oh Sehun as he has just been officially announced as Dior's Global Ambassador‼️😭✨#DiorGlobalAmbassadorSEHUN pic.twitter.com/9EEbadIoNm

— ㅋㄹ 💐 (@xunhuas) December 9, 2021
2021 was full of Sehun and Dior. I'm so happy we will end this year with Sehun as the Dior Global Ambassador 💗

SEHUN DIOR MEN GLOBAL AMBASSADOR #DiorGlobalAmbassadorSEHUN pic.twitter.com/gv2rlnjLOm

— ♡ (@here4sehun) December 9, 2021
Dior's Dearest
Sehun's appointment as Dior's Global Ambassador comes only a month after he was handpicked to model the Dior and sacai capsule collection. The collaboration between brands marked the first time ever Dior altered its logo.
Although K-pop stars continuously reach new milestones with their fashion endeavors, Sehun's newest title is one to celebrate. Adapting perfectly to Kim Jones' creations, he is part of a very select group of men who represent the house of Dior in any of its divisions. A list that includes a member of the Monegasque royalty, nonetheless! 
As the EXO icon continues to prove that he embodies the modern haute couture image of Dior, we look forward to more of the alliance between these two fashion powerhouses.
Eager for more fashion coverage? Read everything about Kai's Holiday Campaign for Gucci Aria here.