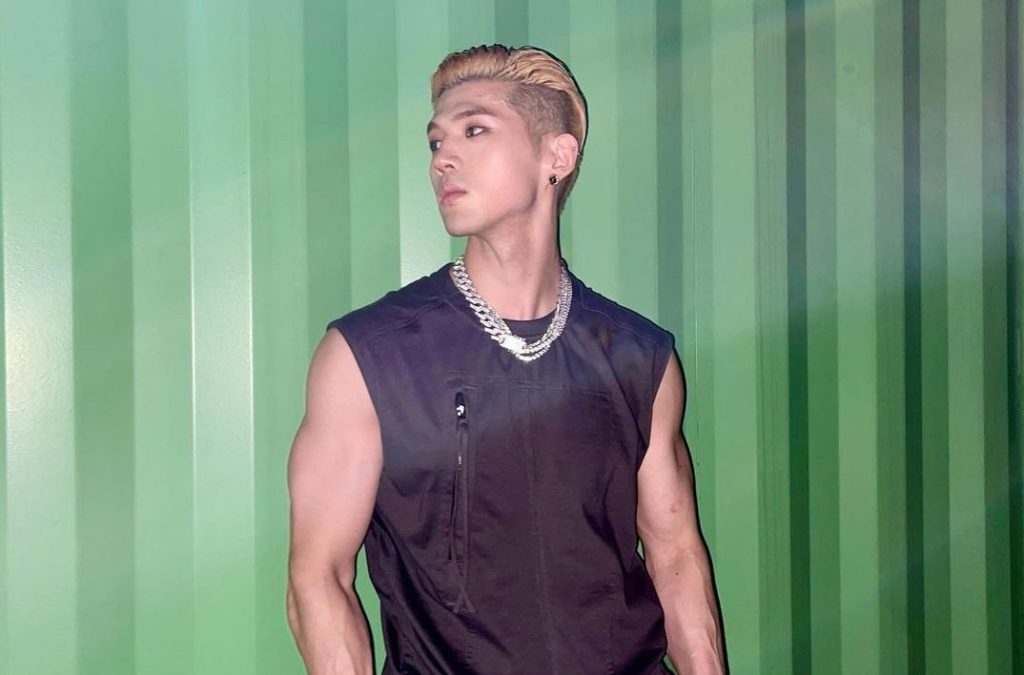 Soon after announcing his Fashion Week plans, KARD's BM took to the runway for BOSS X Russell Athletic. As part of Milan Fashion Week, one of the four major cities to host fashion weeks, the show featured many A-list names. In addition to the rapper, several celebrities were on the runway and in the audience for this cross-industry collaboration.
[#BM]
See you soon BM!

✔️ 9/21 ~ 9/26 Milan Fashion Week, Italy
✔️ 9/26 ~ 10/6 Paris Fashion Week, France

Have a safe trip BM to Milan/Paris!
Follow his journey through his ig @ bigmatthewww#KARD #BM#카드 #비엠 pic.twitter.com/yfw5bo9tOe

— KARD (@KARD_Official) September 20, 2021
BOSS x Russell Athletic
German luxury brand BOSS of Hugo Boss and Kentucky-based clothing manufacturer Russell Athletic first collaborated in 2020. With the former's reputable design and the latter's popularity among athletes, the two produced a unisex line inspired by heritage. BOSS's creative director Ingo Wilts explained that the brands combined elements from their 70s and 80s archives for the collection. Wilts cited the rising popularity of casual athletic wear due to changing trends in streetwear and the pandemic as inspiration. 
For their second release, the duo reiterated the retro, athletic theme with a unique show. The event took place on a baseball field at the Kennedy Sports Centre. 
View this post on Instagram
BM's Runway Debut
Following his solo release, BM achieved another first as a runway model at the BOSS x Russell Athletic show. He made his debut at one of the biggest fashion weeks for a collaboration between two noteworthy brands. With his youthful appearance and athletic physique, BM fit the line's design and concept. The idol walked alongside famous models, including Gigi Hadid, Alton Mason, Joan Smalls, and Irina Shayk.
Similarly, there were many stars in the audience such as actors Ross Butler and Avan Jogia. Fellow K-pop star, and member of the "Big Tiddie Committee," SEVENTEEN's Mingyu, received an invitation to the show as well. Mingyu and rapper BIG Naughty both shared their invites and gear on Instagram. 
View this post on Instagram
Fan Reactions
BM's fans, Hidden Kard, expressed their support and shared their reactions on social media. They chronicled their impressions and commentary online, ecstatic to see BM in a new setting making major achievements.
Just imagine making your model debut here with the biggest models in the industry. #BMxMilanFashionWeek #BOSS #MilanFashionWeek#KARD #BM @KARD_Official pic.twitter.com/f5Og5rTCos

— ᶰ|| LALISA (@devonnebyme) September 23, 2021
#BM and Gigi in the same frame, is this a dream?
Milan Fashion Week , thankspic.twitter.com/eb10ORCYQu
#MFW #BMxBOSS #BMxMilanFashionWeek #BOSS

— Mar (@krimsonkard) September 23, 2021
How to be that mascot ?#BMxMilanFashionWeek #BOSS #MilanFashionWeek#KARD #BM pic.twitter.com/GzKMv7jW4I

— Zz (@theDinhidden) September 23, 2021
seeing matthew modeling for BOSS at Milan Fashion Week is one of the greatest things ever. as a hidden i'm proud of everything he does but this time i'm feeling more proud of him,seeing him grow more to achieve all of his dreams#KARD @KARD_Official #카드 pic.twitter.com/LgjCnJG3Q8

— dimension: lore (@krdvrse) September 23, 2021
I'm feeling like a mom being proud of his successful boy *cries* 😭❤️#KARD | #BM | @KARD_Official pic.twitter.com/Y2GnwubBIF

— Van 🌙 (@skziwoo) September 23, 2021
To Be Continued 
According to his schedule, this is only one stop on BM's fashion week itinerary. Combined with his work with STAYDIUM, these latest projects represent a growing influence. The young star has established a name for himself in the music industry and is quickly expanding his reach. As a result, BM is becoming a major player in the crossover between K-pop and fashion. 
Looking for more idols working with fashion brands? Check out Stray Kids and ETRO here!
Thumbnail courtesy of DSP Media.