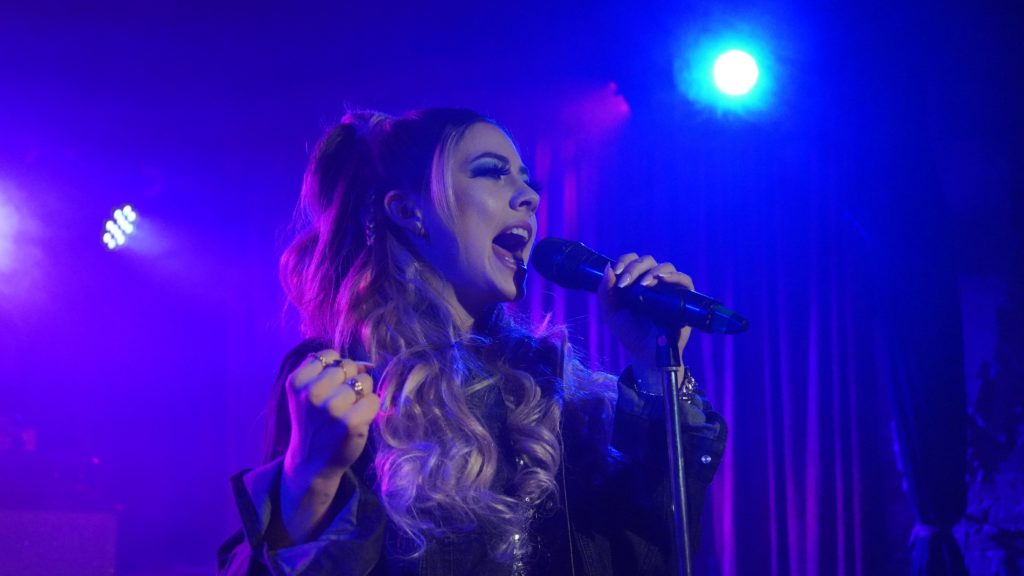 Chilean-American singer-songwriter Marilyn Hucek brought a high-energy pop performance on February 9. She was part of a packed, four-act night at Arlene's Grocery, an intimate Lower East Side venue focusing on up-and-coming artists. Hucek closed out the show after performances by acoustic rock act Big Rich Energy, "indie-jazz-rock" fusion quartet Porterfield, and alternative rock-meets-soul band Lucid Lip.
The crowd's energy fluctuated throughout the night, matching the vibe of the performers. But when Hucek took the stage, their energy skyrocketed. Despite being the last performer, the audience grew, with the room slowly filling up in anticipation of her show. It was clear the audience was excited about her performance and was cheering loudly before she even started singing.
A Strong Debut
While Hucek has performed live for audiences before, this show was her first non-acoustic performance. Instead of Hucek being the one playing the guitar, as she had been at previous shows, she was supported by a guitar player and her backing tracks, giving her the freedom to interact with the audience.
Hucek opened up her debut set with her debut song: "Memories," released in June 2020. She shared that it was written in honor of her father, who was diagnosed with early-onset Alzheimer's. The audience was excited to kick things off, swaying and singing along to the song.
Getting Vulnerable On Stage
"Memories" isn't Hucek's only sentimental song. She treats music as a diary, writing about her feelings, dreams, and fears. She went on to perform "Vulnerable," a song about reuniting with an ex-boyfriend years later and getting to know each other again, and "So Long New York," about leaving the city due to the COVID-19 pandemic.
Despite the subject matter, there's a sense of optimism to Hucek's songs, amplified by her performances. She was bright on stage, smiling, and having fun so that even when she sang about heavier subjects, there was a feeling everything would be alright.
Perhaps the clearest example of this is when she performed her second single "What?." Hucek wrote about being furloughed and feeling nervous about the future, but also about finding herself and her purpose during the initial lockdown in 2020. She brought her energy with the song and had the audience screaming "What?" along with the chorus. The dance beat and uplifting sound also had people dancing along to the music.
Turning Up the Heat
She turned up the heat with her popular song "I'm Not Sorry," a strong and bright song that encourages women to not feel obligated to apologize so much. It was clear this song was a fan favorite, and it had the audience dancing and singing along with Hucek and her backup dancers. This performance was a highlight of the night–from the pink and blue lighting reflecting off Hucek's sparkly outfit to the audience hype, it became more obvious that Hucek was in her element.
She also performed other fan-favorite songs like "No Pasa Nada," a song sung exclusively in Spanish, and "Touch Me," which came with tales of learning to pole dance for the music video. Although it seemed difficult, Hucek managed to excite the audience even more with each performance.
Spoiler Alert
Another highlight was the early reveal of Hucek's newest release: "Girl's Girl", which came out on February 25. A women empowerment anthem, the song was written, composed, and produced entirely by women. Despite being the first time anyone in the audience would have heard the song, its upbeat hook and catchy chorus had the crowd chanting with Hucek "I'm a girl's girl/ yeah I'm a girl's girl" almost immediately. The crowd even continued singing even after the song ended, leading another round of the chorus all on their own.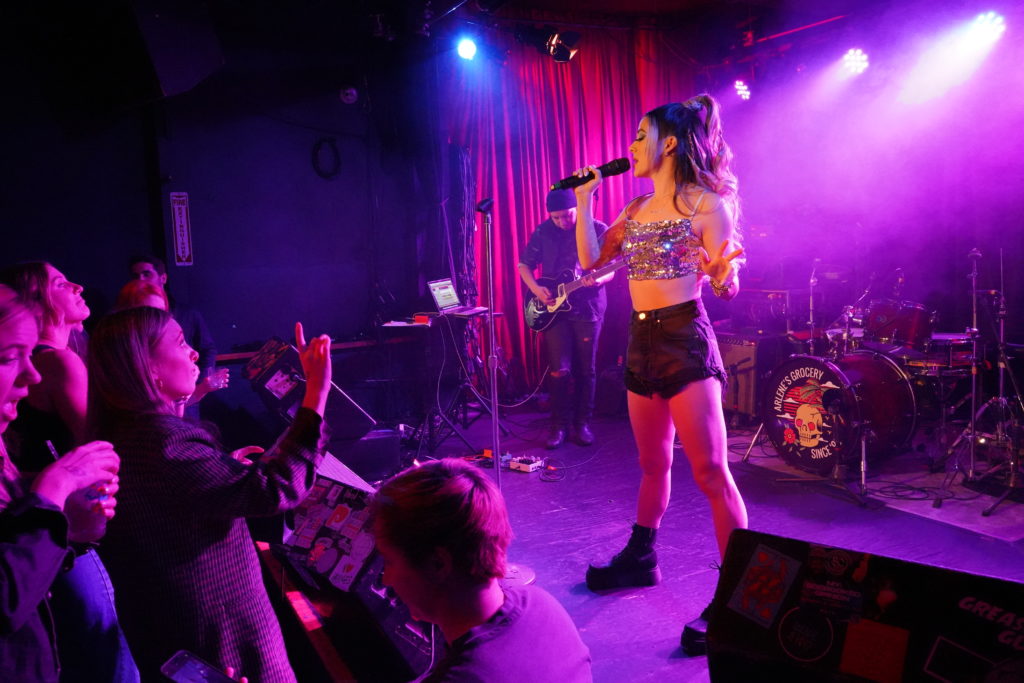 After ending the show, Hucek took the time to chat with fans as she left the stage. One audience member was very excited to tell her that "I'm Not Sorry" was on his Spotify most-played list at the end of the year.
For a debut performance, the audience's enthusiasm and numbers made it obvious that she has a solid fanbase and a real knack for performance. Overall, the concert made for a fun and exciting night and solidified Marilyn Hucek as an artist to keep an eye on.
To read more about Marilyn Hucek, check out our artist spotlight of her here.