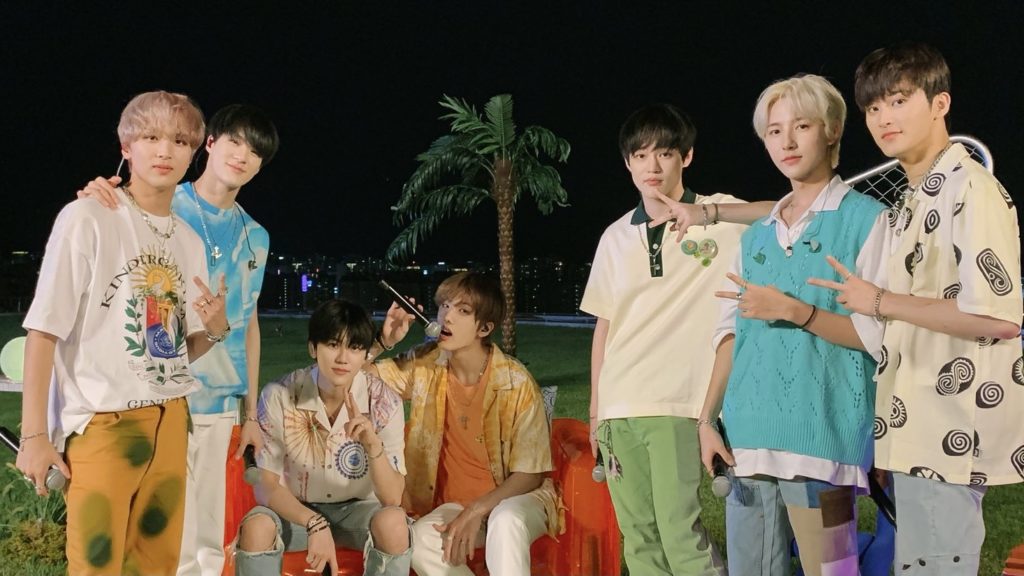 On August 18, NCT DREAM released a live clip of 'ANL,' and '오르골 (Life Is Still Going On),' to commemorate their 5th anniversary. 
The 7-minute surprise clip features the group performing the songs on an outdoor set that overlooks Seoul's beautiful scenery. Paired with the members' heavenly vocals and visuals, this clip undoubtedly sparked fire in the fandom. After the clip was released, group members Renjun, Chenle, and Haechan were trending under the music tag on Twitter with fans praising their amazing vocal abilities  
210818 ? '오르골 (life is still going on)', 'anl' live clip | nct dream 엔시티 드림

mark and chenle duet harmonization part in ANL ? – truly a highlight of this song#MARK #CHENLE #CHENMARK #천맠 #마크 #천러 #มาร์คเล่อ pic.twitter.com/PuHBxrr0oM

— chenmark archive ? 천맠 (@marklearchive) August 18, 2021
Their vocal really on another level. https://t.co/CefIDEr2cc

— Nur ❤ ⁷⁵ (@nako_mintchoco) August 19, 2021
Additionally, they also shared a heartfelt message for fans all around the world,
"5 years with NCTzens! We thank you from the bottom of our hearts, to the highest peak in world, to the deepest pits of the ground. We're only here because you guys are here. It has truly been like a DREAM…and we're still dreaming"
August 18 was also the date SM announced the debut of the NCT's third unit 5 years ago. This unquestionably makes the release of the live clip all more significant both to the fans and the group itself.
'Hot! Summer Dream'
Back on August 13, NCT DREAM's official Twitter page announced a virtual fan meeting titled 'Hot! Summer Dream' to celebrate the group's debut anniversary next week. This online fan meeting event is scheduled for August 25 at 8 PM KST, streaming through Beyond LIVE. The fan meet is expected to feature talk shows, games, and hit songs performances. 
Beyond LIVE – NCT DREAM ONLINE FANMEETING 'HOT! SUMMER DREAM'
OFFICIAL MD ONLINE SALES NOTICE

MD 1st LINE UP
ONLINE STORE : YES24, SM Global Shop, SM true Store   
SALES PERIOD : 2021. 08. 18 (WED) 15:00 ~ 2021. 08. 26 (THU) 23:59 [KST] pic.twitter.com/cOxP7RrDT1

— NCT DREAM (@NCTsmtown_DREAM) August 13, 2021
Numerous fans all over the world expressed their excitement for the fan meet as it's the first concert all 7 members of the group will be present since the NCT DREAM SHOW back in 2018.
i missed my dreamies so much ? cant wait for this!! i love youuuu ? #NCTDREAM #NCTDREAM_ONLINE_FANMEETING_HOT_SUMMER_DREAM https://t.co/90IYncCsT5

— justine (@jaetenmark_) August 16, 2021
Alongside the news, the group's Twitter page also released two teasers that have the fans speculating on what could be the fan meet theme. The first teaser features Mark, Haechan, Jaemin, and Chenle in blue-based outfits seemingly giving an invitation to their event. Meanwhile, the 2nd teaser released a day after, features Renjun, Jeno, and Jisung. It serves as the cherry on top with the appearance of a cake decorated with the text 'NCT DREAM 5TH DEBUT CONGRATS'. Both of these videos ended with the members grouped up and popping champagne to evidently celebrate their anniversary.
In short, the teasers certainly make the fans more eager to watch the upcoming event. Make sure to check out the V LIVE page here for more information about the fan meet.
For more NCT Dream content click here.
Thumbnail courtesy of SM Entertainment.