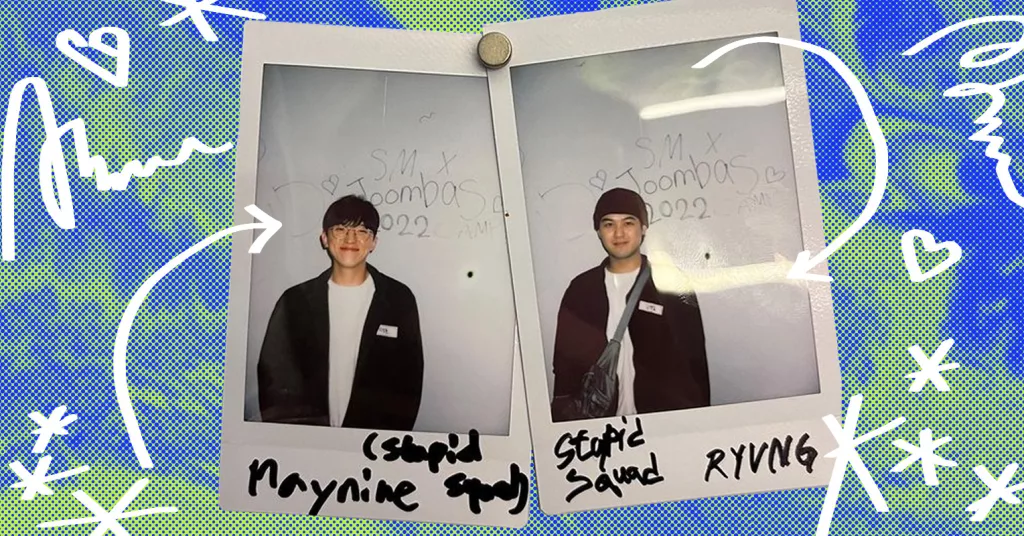 As K-pop keeps rising globally, the idol industry has seen countless acts showcasing their artistry in the field. Many things factor into the success of a K-pop act, including their performing skills, visual concepts, and the very music they release. It may be challenging to create a unique sound that stands out in a market with ever-changing trends. For the Korean production team Stupid Squad, however, this isn't a problem.
Stupid Squad consists of producers Maynine (Ji Sang Hoon) and RYVNG (Kim Ryang Gil). Since their formation in 2017, the duo has produced music for Red Velvet, GWSN (Girls in the Park), Rocket Punch, WEi, and more. Their music also found a home in foreign grounds, including the Philippines and China, with girl group BINI and the boy group BOYHOOD, respectively. Through email, EnVi talked to the duo about their beginnings, work behind the scenes, and how they shape the sound of some of the K-pop acts they've produced for.
Gathering the Stupid Squad
Before forming Stupid Squad, both Maynine and RYVNG had their own paths in the music industry. In 2016, Maynine quit his previous job to pursue music production. On the other hand, RYVNG enrolled in a music college to learn producing. They met in 2017 through a mutual friend. The two collaborated as Maynine needed someone to sing in one of his demo tracks. Maynine admitted that at that time, his and RYVNG's skills were "pretty close to zero," and they didn't have huge plans for the future. But their shared passion for music prompted them to work on more projects together. "So I said, 'let's try it,' and here we are today," he said.
For the duo, producing music was a calling from their hearts. Compared to Korea's typically tedious yet competitive working environment, making music allows them to be more in tune with themselves. "I want to live a life where I enjoy my time working, not one where I'm always waiting to clock out," Maynine elaborated. With this mindset, Stupid Squad aim to create music that captivates its listeners. When producing a song, they usually begin with its theme. Maynine defined this as "those key parts/lines of the song that leave a strong impression on the listeners." To the duo, the theme is the most important part of a song as it cements the song's identity. Once they've come up with a theme, they construct the rest of the song — the verses, the hook, and the topline.
With K-pop continuously gaining popularity worldwide, Stupid Squad recognize the need to curate their own sound. "K-pop is no longer music you only listen to in Korea, so you have to understand the flow and trends in not just the K-pop market but the global pop market as well," said Maynine. That said, the duo manage to find a good balance between new and familiar sounds. One thing they do is listen to new releases every day — usually released at 6 PM Korean time. Ultimately, while producing music is no easy feat, it gives them something to be proud of.
Creating GWSN's Soundscape
Among the K-pop acts they've produced for, Stupid Squad are well-known for their contribution to GWSN's discography. In 2018, the seven-membered girl group debuted with "Puzzle Moon" — penned by none other than the duo. "Puzzle Moon" stood out for being a deep house track. Its minimalistic yet intricate arrangement may remind some K-pop fans of SHINee's "View" and f(x)'s "4 Walls." "Back then, the genre [deep house] was slowly starting to rise with Justin Bieber on the Billboard charts, and only f(x) and SHINee had tried [it]," Maynine recalled. Armed with his budding producing experience, he decided to give the genre a try. To distinguish the track from previous deep house K-pop, he gave the song a lighter feel. "SHINee and f(x)'s deep house was a bit dark and dreamy. So, I decided if I want to survive in the market, I have to make deep house music that's a bit brighter and more bubbly." The result? A catchy debut track that solidified GWSN's distinct voice amidst the myriad of early fourth-generation K-pop girl groups.
Not only did Stupid Squad produce the majority of GWSN's first mini-album, but they also contributed to their follow-up releases. The last two albums of THE PARK IN THE NIGHT series and the Keys saw the duo expanding GWSN's soundscape. "Pinky Star (RUN)," for instance, is faster and more energetic to reflect its title, whereas "RED-SUN (021)" alternates its tempo to create a whimsical feel. That said, the songs, as well as B-sides like "Miss Ping Pong" and "Tweaks ~ Heavy cloud but no rain," retain GWSN's signature sound. Indeed, according to the duo, GWSN's first three title tracks are influenced by three sub-genres of house music: deep house, garage house, and future house, respectively. And if we look into their B-sides, GWSN's sound can be identified as a mix of house, jazz, and Shibuya-kei.
Aside from working with the entire group, the duo has collaborated with the group's main vocalist, Lena. In 2021, with help in mixing from the producer team, she released a self-produced song called "꿈" ("Dream") on SoundCloud. According to them, Lena built the track herself from scratch; the duo simply helped her polish it further. "Sometimes, yes, we play the role of teachers, but we're just presenting an outline. Lena does all the studying, songwriting, and recording herself," Maynine said. Her talent and creativity show a lot of potential and this is shared by the other members. "All the members are such good-natured people, and we consider ourselves very lucky that we got to work with such charming and good people so early on in our career. Thanks to that, we're steadily in contact, and we have a good relationship with the members even now."
All Eyes (and Ears) on WEi
Another K-pop act whose discography Stupid Squad has notably contributed to is WEi. For their debut mini-album IDENTITY: First Sight in 2020, Stupid Squad helped write "Fuze" alongside member Jang Daehyeon. "Fuze" is a passionate mid-tempo love song, which incorporates sultry vocals and a hard-hitting rap. It also features the sound of a clock ticking, evoking the singers' burning devotion to their lover.
This collaboration continued in the next mini-album, IDENTITY: Challenge, where Jang Daehyeon and Stupid Squad worked on "All or Nothing." A sharp contrast from "Fuze," it combines modern trap and hip-hop, as well as traditional Korean and Arabic music. Right off the bat, listeners receive an energetic, brass-heavy intro. Elements of Korean and Arabic music are present throughout with the use of the gayageum and the classic maqam scale. About the song, Maynine recounted, "Back then, WEi's first album was done, and the company and the members all wanted the second album to show a powerful side that was different from 'TWILIGHT,' the refreshing title track from the first album." In order to create the song, Stupid Squad and the boy group looked toward K-pop songs in the trap hybrid genre like WANNA ONE's "BOOMERANG" and BTS' "Burning Up (Fire)." By incorporating musical elements from multiple parts of the world, WEi came up with a catchy title track.
Overall, working with WEi was a pleasure for Stupid Squad. The producing duo praised their style, dubbing them "a boy group with a sophisticated sense of boyishness." Their songs show the group's power and chic, with a pop-oriented sound that Stupid Squad noted makes them stand out. Maynine was also particularly impressed by Jang Daehyeon, be it on stage or off recording in the studio. "Jang Daehyeon and I are just like high school friends, so we care for each other as more than just colleagues," he said fondly. "[He] has a great gift for toplines. When making a melody or a theme, he knows what points people will easily remember and catch. And what's more surprising is that this isn't something he learned. It's something he mastered on his own by listening to a lot of music." There may have been many ups and downs in their producing journey. That said, Stupid Squad hope to continue making great works together with Jang Daehyeon in the future.
On a Ride and Going Up
Stupid Squad's journey took a huge leap in 2022. Their song, "On A Ride (Rollercoaster)," made it to K-pop megastars Red Velvet's mini album, The ReVe Festival 2022 – Birthday. Featured on the group's mood sampler video, "On A Ride (Rollercoaster)" is a "hyperpop dance song with an impressive pluck sound that glides rhythmically over a pleasant beat." The track was one of their first attempts at hyperpop. One time, a staff member from the American office of 153 Joombas Music Group suggested they create a hyperpop track. After listening to artists like Charli XCX and Remi Wolf, they created their own track — but not without a twist. "We planned on making a hyperpop song that contrasts instruments in the bright, high range with those in the darker, lower range," said Maynine. The B-side's bubbly melody, juxtaposed with the somber mood from its bass and synths, creates a merry-go-round-esque tune. This duality is also present in Red Velvet's concept: "red" being their whimsical side, and "velvet" representing their boldness. It's no surprise that the track became part of their discography — and hopefully the first among many from the duo.
The producing duo is also foraying into music-producing education. Last year, on Instagram, Stupid Squad began posting on @stupidsquad_lesson. Not only does the account show off their diverse portfolio, but it also contains behind-the-scenes of the tracks they've produced. After five years of creating music, the two finally decided to offer lessons to aspiring music students. "[…] There have been requests for a music class for a long time ago, but we didn't think we were ready," said Maynine on the long gap. Those interested can check their posts on the lessons' curriculum and contact them through Instagram's direct message or KakaoTalk.
With an impressive producing journey — and more to follow — Stupid Squad do dream big. "As pop musicians, we want to get a number one on the charts. I think it's a natural goal to want to make it to Billboard," Maynine admitted. But one event from 2022 changed his outlook on his career's trajectory. Last year, he and RYVNG had the opportunity to participate in SM Entertainment's songwriting camp. "It's not because we were invited by SM, but because we were so happy during the process of putting heads together with world-class writers and working on a song for a week," he said. When he realized he'd completed a song, he felt a joy he couldn't trade for anything. To him, more than a song finding its home in an artist's repertoire, a producer's happiest moment is when they realize the song they're working on is a good one. It's a feeling he dreams of reproducing for his life, which is only achievable by collaborating with his colleagues. And this vision of living life to the fullest is present in their message to aspiring producers: "Don't smoke and get lots of exercise. Your mind can only be happy when your body's healthy, and it's only out of a happy mind that good music flows."
If you enjoyed reading this interview with the talented individuals behind your faves' discography, why not check out our interview with Young Chance here?
(Interview translation by McKenzie Gooding and Kevin Omans)