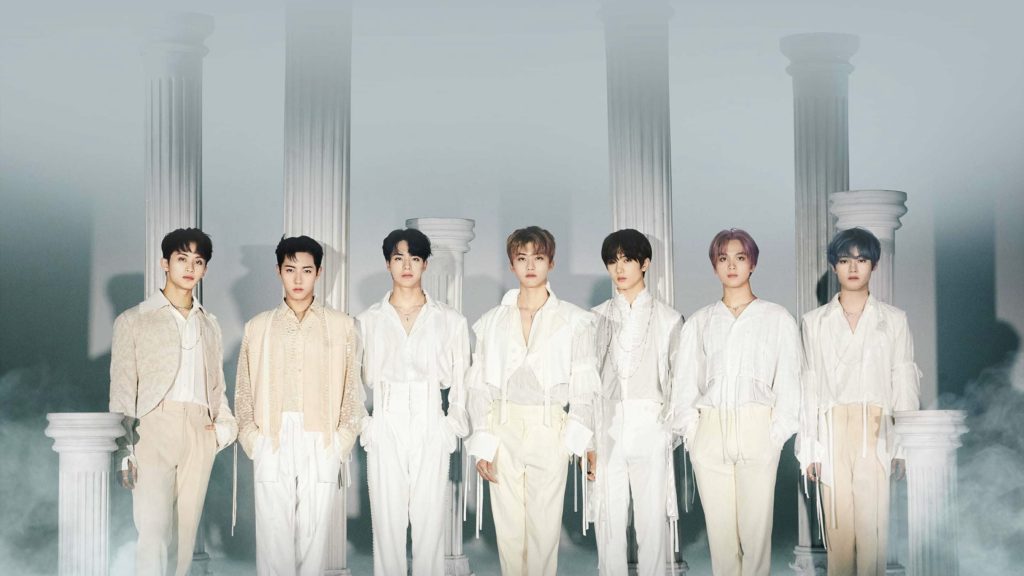 With a two-day special event in theaters, NCT DREAM THE MOVIE: In A DREAM shares NCT DREAM's visions with viewers. Both their own visions and how other people see them and their future shines through. However, there's one shared vision throughout the whole movie: the dream of growing and pushing further. 
Prepping for a concert has the potential to be a stressful ordeal, and sharing that process could be even more so. In NCT DREAM THE MOVIE: In A DREAM though, the group pulls back the curtain on the preproduction and execution of their sold-out stop of The Dream Show 2: In A DREAM tour at Seoul Olympic Stadium. With dazzling performances, touching testimonials, and plenty of behind-the-scenes hijinks, this documentary reveals how NCT DREAM handle the highs and lows together while truly seeing each other and those around them.
DREAM's Vision of DREAM
From the very beginning of the film, it's clear that Mark, Renjun, Jeno, Haechan, Jaemin, Chenle, and Jisung have defined visions of themselves and of each other. These visions span the wide range of all their personalities being mixed up in one superstar group. From every members' admiration of Mark as the pillar of the group to their undying adoration of Haechan's relentless positivity, their perception of each other became a clear part of who they are as a team. The film brings out more of the members' individual self-reflections on who they think they are. This deep understanding of who they are as both people and performers paints a picture of the group that the members and viewers alike hold dear to their hearts.
Helping NCT DREAM Keep Dreaming
NCT DREAM are incredibly talented in their own right, but they couldn't put on such an incredible show without the help of others. Their performance director Ilhyoung Lee is one of those people. Right alongside him helping to guide the group toward their vision of their concert was Rino Nakasone, their concert creative director. Collaborating with each other and NCT DREAM, their own views of admiration for the members emerged. Helping people bring their dreams into reality is an incredible feat and Lee and Nakasone both help the NCT DREAM members do just that. Nakasone has known the members since they were young, and understood just how important this show was for the members to show how much they've grown. "Yeah they're big now," she said while reflecting back on times when "Chewing Gum" and building cardboard cars in "My First and Last" were the group's story, "but I truly believe their history just has begun." She's seen that growth over the years herself, and knows they have more they could achieve together. 
Dear DREAM
One of the stand-out features throughout NCT DREAM THE MOVIE: In A DREAM is just how many times the members thanked their fans, NCTzens, for helping to push them forward and making their dreams come true. Numerous messages of thanks on stage during the show and off stage in testimonials held the bursting emotions of the group. No matter how many times they said 'thank you' to the fans, it was always clear that they would never stop thanking fans for helping them come so far to perform. As Mark so perfectly put it, "We have walked all this way to be together."
Perhaps even more thankful for NCT DREAM than the members were for their fans were NCTzens. Screams in a stadium can only show so much gratitude, and the documentary allowed their fans to truly tell the members just how much NCT DREAM and their music means to NCTzens. Written cards greeted members on a set, thanking them for encouraging and emboldening fans in their lives. Seven written cards are only a small fraction of the thankfulness for the group of seven, when they're surprised with video messages from fans assuring them that they'll stick by the group's side, thanking them for how much encouragement they provide. Finally, a shower of neon green confetti—made of sticky notes with messages from fans that attended the concert—rained down on the group. Every little doodle and message like "I'm an NCTzen 24/7" shone on the members.
Dreaming of the Future
Performing as 7DREAM in an Olympic-size stadium is as dream-fulfilling as it can get. But every song performed, every scream in a rehearsal gym, and every earnest message conveyed one thing: NCT DREAM has a vision of where they'll go even further and who they're doing it for. Their passion for performing shines through every moment of the documentary. Their gratitude to NCTzens never wavers. Their greatest strength according to Haechan, their "relationship with the members," helps to build them up and move forward together as seven. The vision for the future is bright and green, and filled with performances and albums for years to come. And through it all, the seven members will be there. After this movie, sharing Jaemin's dream is easy. "I hope 7DREAM lasts forever. That's my dream."
Go watch NCT DREAM THE MOVIE: In A DREAM in a theater near you on December 3!
Want more NCT DREAM? Read all about how they're traveling in style for this tour here.