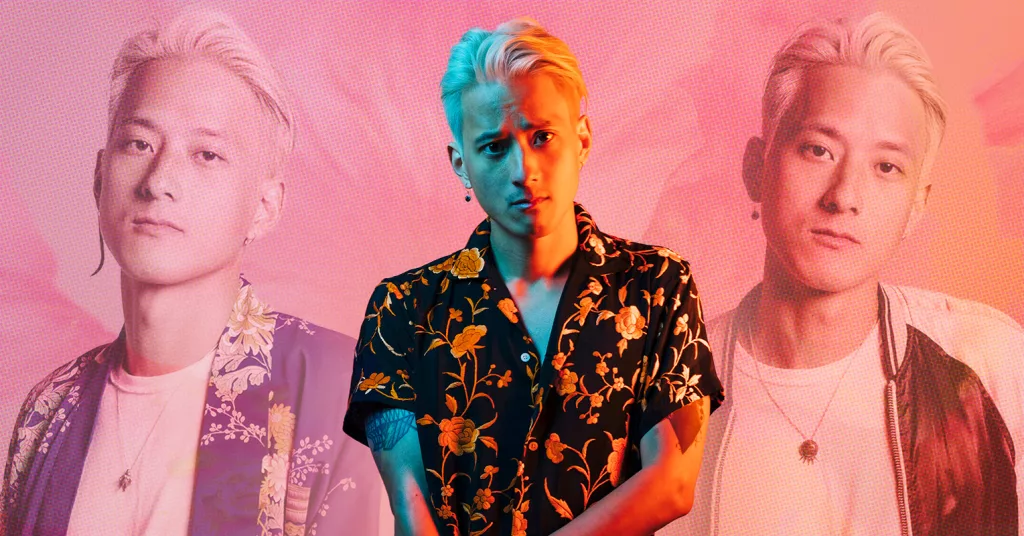 When it comes to taking risks, not many are as familiar with the task as Chinese-American, Tim Wu, better known by his stage name, Elephante. A wildly innovative artist, Elephante is known for fusing melodic electronic dance music with pop, blues, rock, and other genres. To date, he's garnered hundreds of millions of streams across his two indie EPs: I Am The Elephante in 2016 and Glass Mansion in 2018. The singer, songwriter, and producer has made a name for himself in the music industry through hard work and dedication.
After almost two years, Elephante chatted with EnVi in an interview via Zoom, catching up on where he's been since we last spoke and where the future will take him.
Reflecting on the Past
It was 10 years ago when Elephante quit his job in corporate America at a top global consultant firm to pursue music — a decision that would prompt his former boss to text him telling him he made a mistake. While the journey from then to now was nothing short of difficult, it is one that Elephante looks back on with pride. He laughed softly as he recalled what the beginning of his escapade was like, saying he was nothing if not passionate, feeling like he would take over the world. "I listen back to the music that I was making early on and I'm like 'Man… this is terrible'," he said through a candid laugh. "But everyday you just try to make some better stuff y'know, it's been a wild ride."
Elephante made it clear that when he abandoned his comfortable life for music, he was completely in the dark. Pursuing music was something he dreamed of and loved the idea of doing, but he would be lying if he said he wasn't grateful for his blissful ignorance. Looking back on his humble beginnings, he would just tell his past self to trust himself and that, through persistence, he would make it work. He smiled while shaking his head as he confessed, "But I always think that if I knew how hard it was going to be and all the things that would have to go my way […] in order to be where I'm at, I'd be like 'there's no f***ing way'" With finality, he nodded before simply telling Tim Wu of 10 years ago —
"Trust yourself, be yourself, have faith. You'll make it work."
Yet, while his hard work and dedication paved a path for him, Elephante knows that the same is not true for everyone. There is no right way to veer off into uncharted territory when it comes to abandoning one's current plan to try something new. "My biggest advice is don't wait for permission and don't wait for a plan or a strict guideline on how to do things." His other concern was to make clear that the journey would be unpredictable. There would be many bad days but with passion and love for one's craft, there would be good days mixed in as well. "Just know that if you love what you do, it's going to show up in your work […] I can't tell you what I did because if you try to do what I did now, it wouldn't work. So you have to carve your own path and have faith in yourself."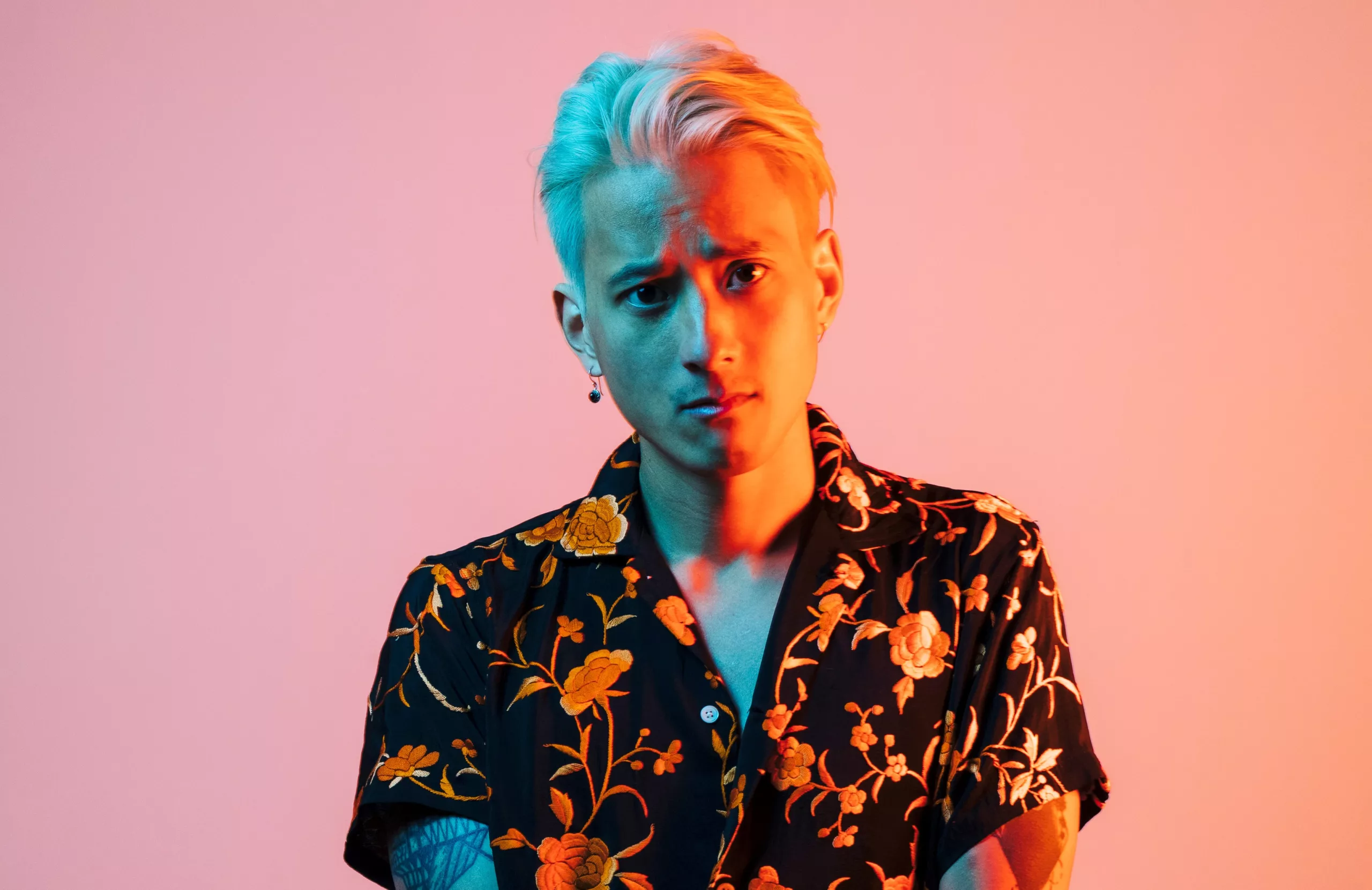 Finding Music and Making it His
Although Elephante always knew he wanted to pursue music, electronic/dance was a genre he never thought he would go into. He grew up as a singer-songwriter, classically trained in piano and played guitar. He played in open mics and idolized John Mayer (and still does). It wasn't until 2010/2011 when he had first listened to the American DJ, Skrillex, that he realized there was a whole different world out there in terms of what it meant to make music.
"I was like 'What is this? How does he make these sounds and how does it work? It's not an instrument so what is it?'," he gushed as he recollected the memory. He had felt like the doors blew open and that moment had truly inspired him to play around with electronic music. In the beginning it was all about just making music for the hell of it, writing songs and doing remixes. "It was just like a whole new toybox for me to play with. One thing led to another and I fell in love with it, and fell in love with the culture."
Once he had found the sound that he identified with most, Elephante knew that the most important part about making music to him is the songwriting. While electronic and dance music is the genre he found a home in, his lyrics do not always reflect the happy-go-lucky vibes of his beats. With notebooks full of songs he has written, for Elephante it has always been about finding his voice and doing what feels authentic to him. Immediately, he knew and accepted that the artists that inspired him were not artists he could directly pull from. "I come from a different background and I think that ends up with different sounding music and that […] is the key to making something different and differentiating yourself from all the other amazing artists out there." Elephante has made peace with the fact that he can't make a dubstep song even though it is the music that drove him, because it is not who he is. "What I write is not usually what you would expect from dance music but it's what I can do."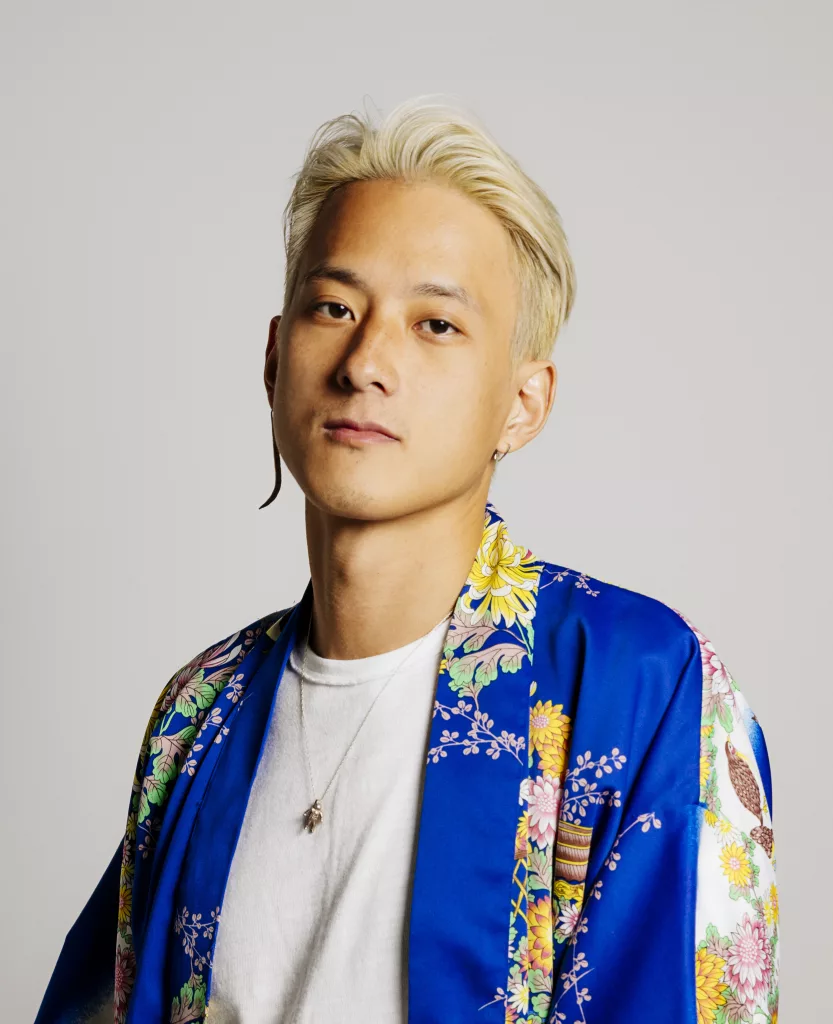 Being open and truthful in his lyrics is important to Elephante. It's about being heard. While being vulnerable and sharing such deep moments can be scary, for him it's also cathartic because making music is like his therapy. He has many painful memories, a lot of heartbreak and, certainly, a lot of emotion goes into his music, but it's what helps him work through the things he is going through in his life. "It can feel scary in sharing that with the world and putting yourself out there but ultimately I think that's the music that I love, that has that kind of feeling to it." he emphasized.
That being said, when it comes to making music, the first day is his favorite part. Something about starting out with an idea that eventually becomes a thing that exists in the world excites him the most. "There's a world of possibilities of where it could go. That's the really exciting thing." But like anything, there are less fun parts, too. The finishing, mastering, and commitment to ideas is where it can begin to feel like a bit of a drag for him. Though, the initial spark of having an idea for a song and hearing it for the first time, "There's nothing better than that." he gleams.
A Glimpse Into Tour Life
Making music is something Elephante was born to do. From pouring his soul into his lyrics to really falling into the rhythm of it — the craft is like an extension of himself. But nothing beats the ethereal atmosphere of a live performance.
Coming off the heels of his Heavy Glow Tour, Elephante shared that it was probably the most momentous and biggest accomplishment of his career. His tour began as the world reopened after the pandemic, and he had a very real fear of not knowing if people even remembered who he was. He was worried that they wouldn't want to come out to shows but all that disappeared as he performed show after show. Getting on stage to play his music that he worked so hard on felt incredibly gratifying to the artist. "And to know that people still connected with the music, that was a big relief," he revealed.
Connecting with his audience truly is Elephante's favorite part about performing. After spending hours in his room working on his own, seeing his music out in the world and how it reacts with fans and vice versa, Elephante said, is a feeling like no other. "When you're making songs you, like, imagine what it's like […] but to see it actually happen it's like, that's why you put in all the hours, why you put in all the work, so that you get to see your little baby out in the world doing what it does." He heartfeltly shared that the connection with the audience is ultimately what it is all about for him; a sort of sacred connection he has with the people that listen to the things he makes.
On top of meeting with fans, he added new elements to his performances – sticking true to his roots and playing guitar and piano. He worked with the crew to build the stages and unique visuals on set, and while the experience was exhausting it was also incredibly rewarding for him. And nothing felt as incredible as performing at one of his dream venues in Los Angeles, California; The Hollywood Palladium. "[It's] one of those places where when I first moved to LA y'know you drive by the marquee and I kept telling myself like 'One day I'll be there'." He had been to many shows at the iconic concert hall but to finally be on stage, the artist shared, was an immensely proud moment.
What the Future Holds
After touring, Elephante was right back in the studio, releasing his latest project, "No Explanations," on March 31. The track features Indonesian singer-songwriter Stephanie Poetri and Chinese singer Zhang Yanqi. The trio came together to create a disco-influenced track that was new territory for Elephante.
"No Explanations" couples vulnerable, yet bubbly lyrics and a groovy beat to express that in-between stage where you've fallen in love but are still working up the nerve to say it aloud. The song is an upbeat and refreshing release for spring. Creating the track was admittedly a bit difficult for Elephante, not concerning the production process itself, but in terms of letting go of control. "Working with other artists and collaborating has always been a bit of a challenge for me because I'm kind of a control freak." But he finds solace in the fact that he is at the point in his career where he has made a lot of music and has established his sound. He knows what he loves so, while it is difficult to let loose, he gives himself the freedom to just have fun and not think about how it fits with the music he's made before. The songwriter shrugged his shoulders as he stated that he's back in the mode where he's "just chasing the song" and not thinking about what it means. Though difficult, the collaboration was a lot of fun for him. "I'm experimenting and I'm having fun and whatever comes out comes out."
On that same note, Elephante shared with EnVi that he has an exciting collaboration set to release soon in May. Like "No Expectations," it's a different feel to all the music he has put out before. "It's exciting to just try out new things and [make] music that I never really made before and [work] with people from different worlds." He leaned back in his chair with a smile as he revealed, "It's a big collab." The artist he is working with is "a former K-pop [artist] and it's been really cool working with them." The excitement for this upcoming release was evident on his face as he apologetically said that was all he could share, although the anticipation has us excited nonetheless!
The future for Elephante is bright, and he is thankful for all of his fans that have been with him on his journey until now. He's excited to continue exploring! He let us know that it is "collab season" for him, and that he's working with a lot of people from different parts of the world and different sounds. He's having fun with his music and seeing where it takes him. He parted with EnVi on a hopeful note, radiantly smiling as he let us know "I'm really excited for everyone to hear what's to come."
Stay updated on Elephante and his upcoming projects by following him on Twitter, Instagram, and YouTube. And make sure to keep an eye out for his upcoming collab!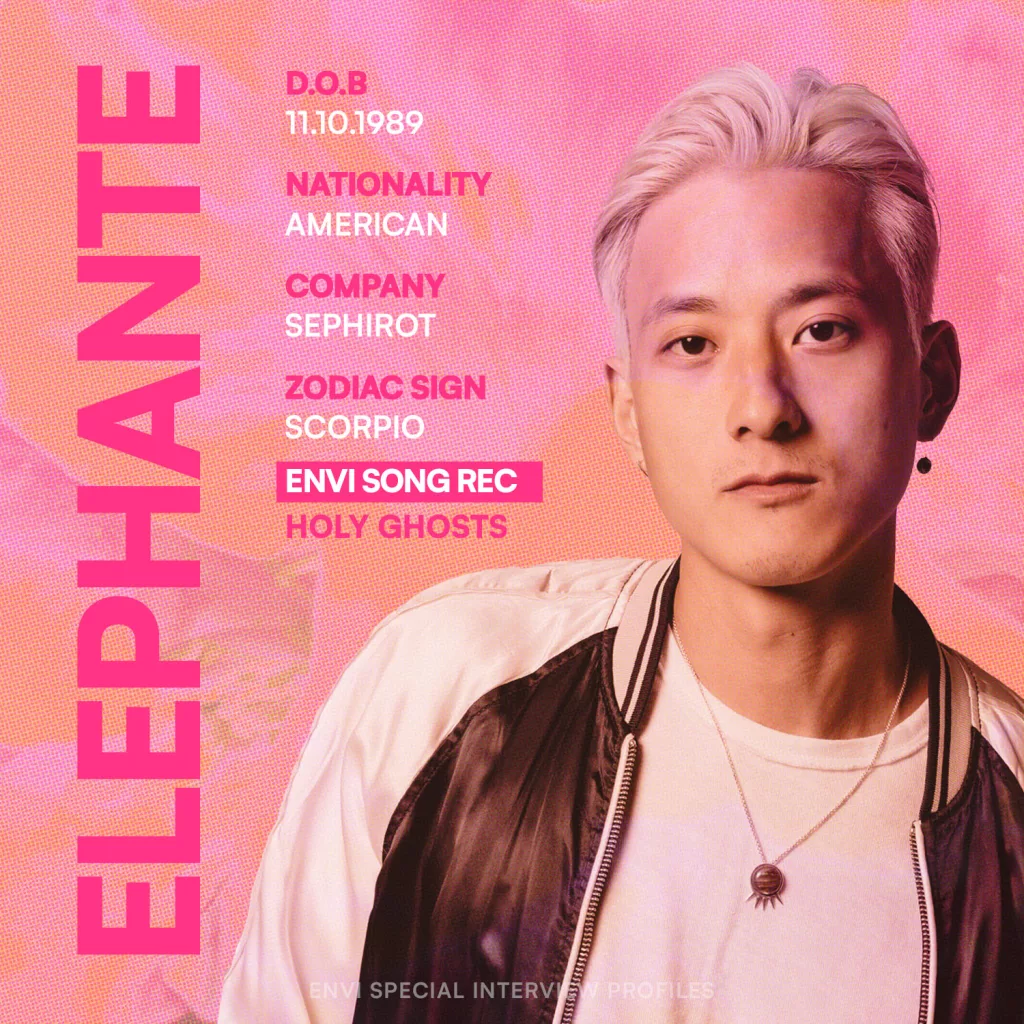 Interested in more Elephante? Check out our coverage of his Heavy Glow (Deluxe Edition) album, here!