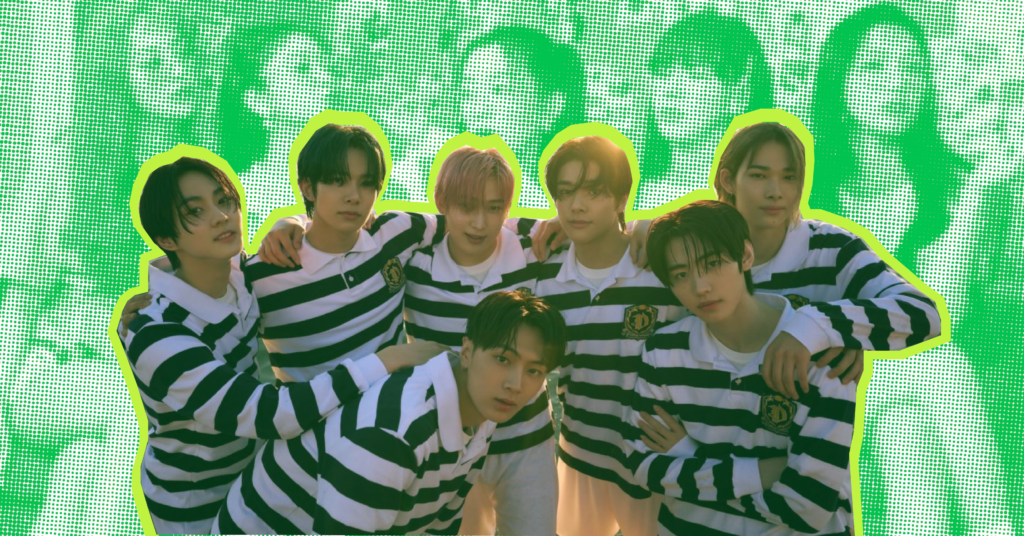 B-sides often fall out of focus when it comes to K-pop releases. As most of them aren't promoted, they tend to shine only among fans. This, however, is not always the case. With the rising popularity of social media marketing, especially through TikTok and Twitter, B-sides begin to receive more love. Some gain a cult following, and others even catch the attention of the artists themselves. To see what they're all about, EnVi explores some of the K-pop B-sides that blew up online this year.
TAEYONG, HENDERY, JENO, YANGYANG, GISELLE – "ZOO" (December 27, 2021)
As some of SM Entertainment's finest rappers, TAEYONG, HENDERY, JENO, YANGYANG, and GISELLE team up in "ZOO." The electronic hip-hop track captures what it means to be free and confident, just like wild animals. NCTzens and MYs alike enjoyed the SMTOWN 2021 winter album B-side, as it highlights each of the members' strengths. Earlier this year, the pentet performed the song for the first time—choreographed by none other than TAEYONG himself. After posting his powerful choreography online, netizens showed their inner beasts too, marking it as the "ZOO challenge."
TREASURE – "DARARI" (February 15, 2022)
TREASURE are known for their energetic EDM and hip hop-infused title tracks. They also have a mellow side with vocal-heavy releases; "DARARI" is one of them. Written by members CHOI HYUN SUK, BANG YE DAM, YOSHI, and HARUTO, "DARARI" is a relaxing love song with a catchy hook. Its beat, coupled with the members' tender voices, remind listeners of a warm summer breeze. The B-side found public recognition after Indonesian fan @aidafi3 created a dance challenge on TikTok. TREASURE themselves later joined the challenge, with their TikTok video reaching more than 46.8 million views.
(G)I-DLE – "MY BAG" (March 7, 2022)
After a year-long hiatus, Cube Entertainment's (G)I-DLE made their huge return with their debut full-album, I NEVER DIE. Preceding the album's release (and later hit title track "TOMBOY") was a one-minute track video of "MY BAG." In the hip-hop B-side, the members boast their bold, independent selves through hard-hitting raps. "MY BAG" clearly caught the attention of fans and non-fans alike; the track video reached 1 million views on YouTube in just a day. Currently, "MY BAG" has more than 50 million streams on MelOn.
TOMORROW X TOGETHER (TXT) – "Thursday's Child Has Far To Go" (May 9, 2022)
TOMORROW X TOGETHER's minisode 2: Thursday's Child chronicles the journey of a heartbreak, and "Thursday's Child Has Far To Go" is its hopeful finale. Members SOOBIN, BEOMGYU (who participated in production), and TAEHYUN form a subunit to perform the '80s synth pop-inspired B-side. Starting with slightly muted vocals, the song erupts into a simple but nostalgia-inducing beat. The B-side's fun and optimistic sound prompted user @luvminary on TikTok to create a dance challenge for the summer. Currently, the official "Thursday's Child Has Far To Go" TikTok sound has been used in more than 14,700 videos.
Red Velvet – "Day 1" (September 9, 2015)
With their versatile concept and discography, Red Velvet has something for everyone. "Day 1," a B-side from their debut full album The Red back in 2015, is proof of that. The song is a fusion of bossa nova and pop rock, with wholesome lyrics about a budding romantic relationship. Backed with big band instrumentals and tender strings, the quintet show a wonderful sound. Its timeless charm makes it the most streamed The Red B-side, with over 9.5 million streams on Spotify alone.
aespa – "Illusion" (June 1, 2022)
aespa are no stranger to futuristic-sounding songs that complement their metaverse concept. Just after announcing their second mini-album Girls, the quartet released "Illusion" on all streaming platforms. "Illusion" begins with blaring sirens, setting off the hard-hitting and enchanting mood of the track. The catchy electronic track proved to be popular among fans and non-fans. It has remained in the Circle Digital Chart for 15 weeks and gained over 36 million Spotify streams.
ENHYPEN – "Polaroid Love" (January 10, 2022)
A polaroid is long-lasting—just like ENHYPEN's love for their fans, ENGENE. Dedicated to ENGENEs, the feel-good pop song soon found worldwide fame, especially on TikTok. Fans and non-fans took part in the memorable "Polaroid Love" challenge—and it found success in other platforms as well. Member SUNOO attributed the B-side's popularity to its "sweet side," and hopes to replicate its success in the future.
NCT DREAM – "Never Goodbye" (March 28, 2022)
Kicking off NCT's 2022 subunit activities were NCT DREAM with their sophomore full album Glitch Mode. The album's penultimate track is "Never Goodbye," an R&B ballad with dreamy instrumentals. Members MARK, JENO, JAEMIN, and JISUNG took part in writing the rap parts. Originally a sad farewell song, the Dreamies give the B-side a heartwarming twist, reassuring its listeners nothing but making good memories. "Never Goodbye" found love online, with a sped up version of the song making rounds on TikTok and Instagram. On Spotify, it has over 14.7 million streams and over 23.4 million streams on MelOn—the most out of any Glitch Mode B-sides.
Looking for more K-pop song recommendations? Check out Team EnVi's favorite September releases here!