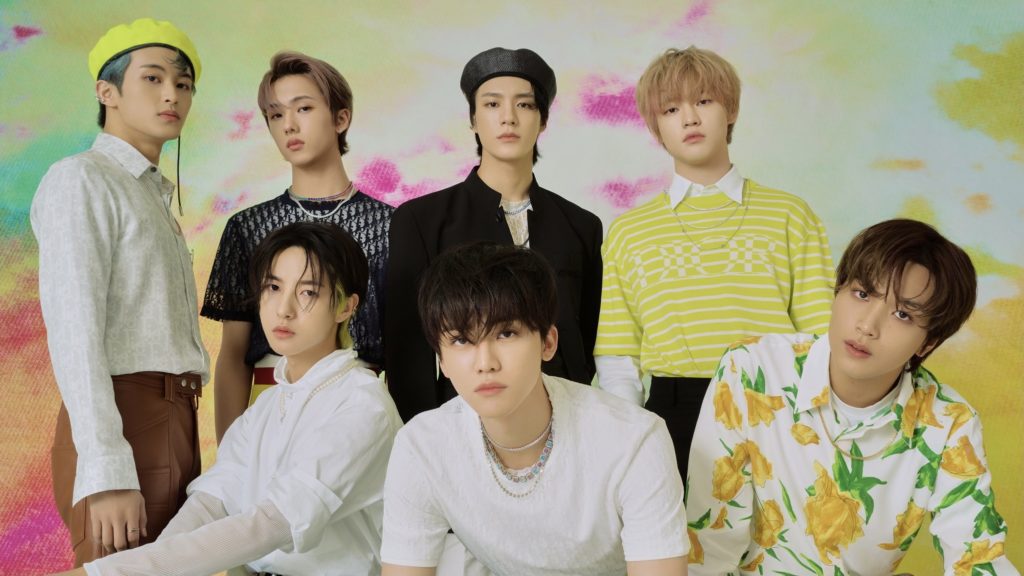 POR: ARUSHI
TRADUCIDO POR: LUCIA
Si alguien puede llevar a cabo un concepto de verano funky, es NCT Dream. Con canciones de éxito como «We Young», «We Go Up» y «Hot Sauce», NCT Dream es un grupo más que versátil y tras el éxito comercial de su primer álbum completo, Hot Sauce, lo han vuelto a demostrar. El septeto formado por Mark, Renjun, Jeno, Haechan, Jaemin, Chenle y Jisung ha vuelto con un ecléctico himno de verano. El primer álbum repackage de NCT Dream, Hello Future, fue lanzado el 28 de junio a las 6:00 pm KST. La canción principal de este álbum, también titulada «Hello Future», ha arrasado en NCity junto con dos nuevos temas musicales que son «Life Is Still Going On» y «Bungee».
Un Verano Neo(n)
Escrita y producida por Kenzie, Adrian McKinnon y Moonshine, «Hello Future» es un himno veraniego cargado de bajos. Con una letra como «Because I met you / We shine brightighter together», la canción transmite un mensaje de bienestar acompañado de un ritmo adictivo. El vídeo musical de «Hello Future» es una auténtica maravilla visual. Lleno de colores psicodélicos y una introducción de fantasía, el vídeo recuerda mucho al lanzamiento de 2017 de NCT Dream, «We Young«.
Más adelante en el vídeo, se puede ver a los siete miembros en diferentes escenarios. Acompañado por imágenes de neón brillantes y una secuencia de arco iris que coincide con la coreografía del estribillo, «Hello Future» llevó a los espectadores a un viaje con una configuración de campamento. El escenario es futurista y refleja la verdadera moda de NCT. La coreografía es enérgica y con mucho ritmo.
«Hello Future» fue bien recibido por los fans, que se sintieron nostálgicos y emocionados con el regreso de NCT Dream a sus raíces.
OK CAN I JUST SAY I LOVE HOW HELLO FUTURE JUST HIGHLIGHTED EACH AND EVERY ONE IN NCT DREAM LIKE YES THANK YOU FOR GIVING US A BEAUTIFUL PRESENT WRAPPED IN HOPES AND DREAMS

— 제노리 (@jenoxious) June 28, 2021
Hello Future is very uplifting, it is the anthem of love & positivity & I like how the lyrics keeps you motivated & it gives you a kick in the backside like NCT Dream picks you up to motivate you on achieving your goals. It provides a little lift that we occasionally need. ??

— ً (@JNDYLOVE) June 28, 2021
https://twitter.com/areumdauszxc/status/1409439800004808705?ref_src=twsrc%5Etfw%7Ctwcamp%5Etweetembed%7Ctwterm%5E1409439800004808705%7Ctwgr%5E%7Ctwcon%5Es1_&ref_url=https%3A%2F%2Fwww.envimedia.co%2Fnct-dream-say-hello-to-the-future-with-a-summer-anthem%2F
Hello Future reminds me to be a better version of myself everyday! past is a lesson, but we should say hello to our future and makes the best out of it, as long as we can. ?? pic.twitter.com/lkYvBrkwEZ

— stari⁷⁷ ? (@jaehyunsky_) June 28, 2021
Best Lyrics of the Year Award goes to NCT Dream's Hello Future pic.twitter.com/kAE6FuMaL9

— gelo; NSD ? (@jijaechan) June 28, 2021
Salto "Bungee" a los corazones de los fans
Incluso con «Hello Future» a la cabeza, «Bungee» es el chico nuevo de la ciudad en este álbum repackage. Producida por Kenzie, Moonshine y Stephen Benson, la canción es un nuevo género para NCT Dream en su ya versátil discografía. Utilizando elementos de EDM que combinan el techno y el house, «Bungee» es un tema digno de ser bailado con una acumulación adictiva hasta el estribillo, junto con las sólidas voces y el rap de NCT Dream.
nct dream bungee…she's the one for me

— jay✴︎¹²⁷ (@tyongcandy) June 28, 2021
BUNGEE IS GOOD GOOD nct dream's bsides never disappoint, this is why their discography is excellent

— marti (@hyuckkook) June 28, 2021
Have you ever been punched by a song? Like in a good way. https://t.co/zlTpeiVuH4

— Suhperior ? (@suhbliss) June 28, 2021
Un final de verano de ensueño
Por último, añadiendo a una línea ya estelar está «Life Is Still Going On». Una canción de R&B pop con el sonido de una caja de música de fondo, esta canción fue acompañada por un vídeo de pista previo al lanzamiento.
Con un ambiente veraniego y una estética relajada junto a la piscina, «Life Is Still Going On» fue considerado inmediatamente como un clásico de Dream por los fans en Internet.
life is still going on… it's addictive not gonna lie…

— 뀨? (@renminrise) June 28, 2021
listening to life is still going on be like: pic.twitter.com/sxFbiphxJE

— carl° | nsd ? (@jeongjaevin) June 28, 2021
i honestly thought dive into you was gonna be the song for me but life is still going on owned my heart pic.twitter.com/qFl5Y4mYrH

— mauwrb (@dytututu) June 28, 2021
Hello Future de NCT Dream se promocionará a partir de esta semana y tiene a los fans anticipando actuaciones y más. Mientras tanto, puedes escuchar el álbum en Spotify y Apple Music.
¡Lee todo sobre la trayectoria de NCT Dream hasta Hello Future y su evolución a lo largo de los años aquí!