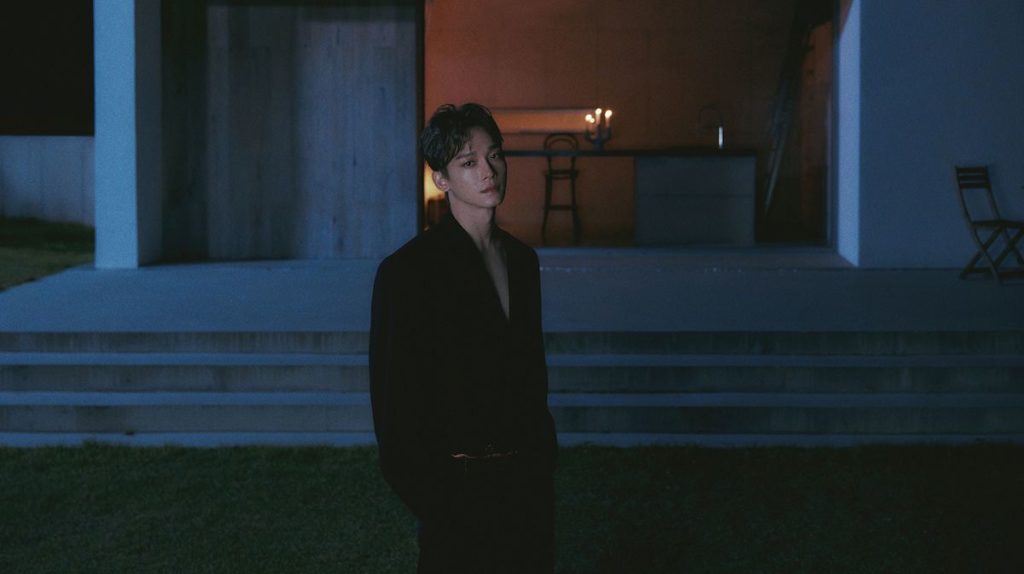 Goodbyes, happiness, comfort, and love, each of these come together in Last Scene. After a long wait since his last mini-album Dear My Dear, EXO's Chen has returned with another deeply emotional release filled with meaningful lyrics. Last Scene touches on topics such as the departure of someone you love and being a shoulder to rest on for someone you care about. Released on 14 November as his third mini-album, Last Scene marks the start of a new chapter for Chen.
Chen is widely acknowledged as a talented singer who evokes strong emotions through his music. His skills as an artist have shone brightly through his solo work over the years, and Last Scene was number 1 on the Itunes top album charts in 31 countries just a few days after its release. In albums like April, and a Flower, Dear My Dear, and even singles like "Hello," Chen has proven himself a master of moving people with music. He comforts his fans, known as EXO-L, while creating incredible, touching atmospheres with his music.
For Last Scene, his first mini-album since 2019, Chen wanted to show a more mature tone for his voice. Despite having 11 years of experience as an idol, the artist still has an open mindset to experimentation, not settling for what he already knows; this shines through Last Scene with songs from different musical genres. An hour before the album release, Chen held a countdown live where he discussed the making of the album and talked about the meaning behind the songs.
His penchant for experimentation isn't only displayed in the song genres, but in the album's visual concept as well. Last Scene contains six tracks that represent his different vocal colors, while Chen's teaser images showcase the colors visually, with each of the six rooms shown in the teasers illuminated with a different color. 
The Last Scene
Last Scene has been in the making since late July, a few months after Chen's discharge from his mandatory military service in April. The release goes hand in hand with autumn vibes, transmitting comfort and calm to listeners. This is a common and deliberate trend in Chen's work, and something that he mentioned in his DIVE Studios 'GET REAL' interview.
This mini-album is based on his own emotional experiences. According to Chen, it was easier to transmit the feelings expressed in the lyrics with his voice, something that wasn't true with his past releases. "With my first and second mini album, I imagined the lyrics and thought about what I would do. This time, all the b-side tracks are based on my own experiences and emotions," he shared.
"Last Scene" tells a story of longing and tracing memories of places that remind you of a person you love after the relationship fails. Written and composed by 꿀단지 (Honey Pot), "Last Scene" opens the album with a piano and string based melody, creating a sentimental ballad that transports listeners to the story created by the song.
In line with the song's story-like nature, the music video follows the story of a man who travels to find traces of his past love. Chen's voice carries the story as the male lead (Park Hae Soo) drives around the city while reminiscing old memories of the woman (Hwang Seon) walking on the beach as the sun sets. Chen does not appear in the music video as he did not want to interrupt the storyline. Instead, he wanted his voice to play as a backdrop to the story.
Chen Expresses His True Feelings
"Photograph," composed by Royal Dive and Brian Cho, is the second track on the mini-album. "Photograph" is a retro song with a medium tempo that emphasizes Chen's vocals, with sounds of piano and violin adding to the emotion as the song progresses. As a result, when listening to the song, it appears as if the melodies are following Chen's voice, creating an atmosphere that feels like he is the one leading the rhythm of the song.
Chen's intention was to not make the track sound old fashioned given the retro nature of the track. For this song he tried to sing calmly to convey feelings of comfort, the lyrics talk about looking back at childhood photos as an adult, and comforting the adult who has been living a busy life where they feel they have lost themselves. "Walk wherever your heart goes / I am sure, there will be regrets on this road / Like the bright you in an old photograph / You can laugh again." These lyrics seek to provide listeners comfort and support that there are brighter days ahead.
"Traveler" changes the tone of the album from melancholic to bright and easygoing. Composed by Hollin and Choi Ji won, the song came as a surprise, as it differs from Chen's past solo work but still finds a way to fit in the album.
The song is accompanied by the sound of an acoustic guitar, and Chen's soft vocals explore the feeling of being free. With lyrics like "I feel just like / I'm walkin' in a dream / A trip with you and me alone / Wherever it is, paradise" Chen conveys the feeling of going on a trip with someone you care about.
Love Comes at Different Speeds
The fourth track of the album and one that catches especially the attention is "I Don't Even Mind" written by Chen and composed by Bradford Ellis, Etham Basden, Sam Merrifield and Huautboi Rich. As Chen explained, the song's meaning is simple, yet it touches on a topic not usually addressed in love songs. "I Don't Even Mind" talks about loving someone deeply, but knowing this person does not love you the same way you love them, and yet, it is okay because you don't want to force feelings on them. "We feel emotions at different speeds and temperatures." 
The lyrics written by Chen were originally meant to be a sketch for the lyricist to work around. Ultimately, however, the company decided to use Chen's own lyrics. When talking about performing it, Chen expressed that he felt he could deliver the song better given his understanding of the song as a songwriter.
"It's okay to take one step at a time / Even if you don't answer me / 'Cause I don't even mind" The song grows under the sound of the acoustic guitar, the simple sound gives this track the aura of a live performance as the main focus is on Chen's voice. In "I Don't Even Mind," Chen focused on expressing calmness – his voice is soft and feels like a gentle reassurance of his love.
Continuing with "Reminiscence," the song displays more of Chen's abilities as a singer. With this track, the energy slowly rises alongside the lyrics, the constant rise and fall of the music accompanies Chen as he carries the high notes effortlessly. "Reminiscence" is not only loved by Chen, but it also became his fellow EXO members' favorite.
This track was written and composed by DK Choo, Ferdy, JayJay (MosPick), Son Young Jin, and Yeah, Nice. It talks about a love that was once beautiful but changed over time, but the person still treasures those memories. "Brilliant memories / Put it in the drawer now / Let's keep it as a beautiful memory" the lyrics express the sentiment of seeing the good in a relationship after it ended, knowing that it's better for these moments to stay as memories.
Wrapping up the album is "Your Shelter," an expression of love. Written and composed by B-Rock and J-Lin, this song sums up the album neatly. The lyrics are deep and return listeners to the emotional ballads often associated with Chen. Chen sings about becoming a place of comfort to someone you love: he compares it to the stair landings between floors, after a tiring way up he hopes to become a safe place to rest from troubles. "I am yours, I am yours / If you take the stairs, make a place to rest / Evеn for a moment / Just rest easy" read the lyrics.
Despite experimenting with different styles and genres, Chen maintained his core ability to bring out emotions in listeners. Even without the ability to understand Korean, each track can be understood thanks to Chen's ability to convey feelings with just his voice.
Creating a Story With Chen
There is no better way to describe Last Scene than a collection of interconnected stories. With this mini-album, Chen opened his emotions to the world and showed a deeper side of himself to his fans EXO-L.
To celebrate his long awaited return, Chen came together with his EXO members for a listening session of the album, a sight for sore eyes for EXO-Ls who have been waiting for the group to reunite since the start of their military enlistments. Chen, Xiumin, Suho, Chanyeol, Kai, and Sehun enjoyed "CHEN FM" as they listened and reacted to the new release. 
You can listen to Last Scene on Spotify and Apple Music. 
Want to read more about EXO? Check out our coverage of Xiumin's latest release Brand New here!