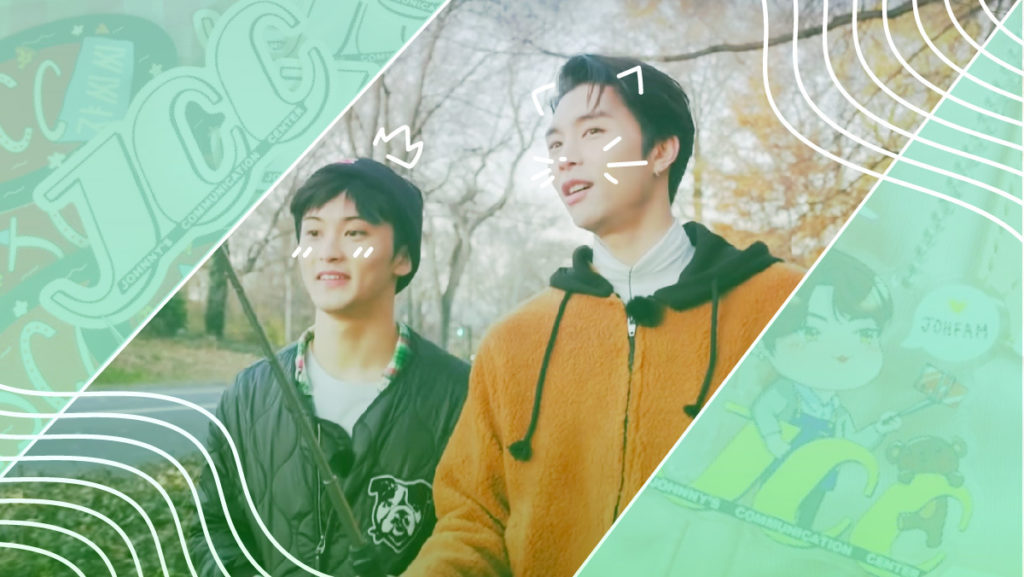 It's been three years since NCT's Johnny started his very own Youtube series called Johnny's Communication Center (JCC). This series serves as an avenue to connect with NCTzens and most especially his own fans, the Johfams, by sharing vlogs of him doing different activities. On its anniversary this year, EnVi compiled our favorite JCC moments among its 30 episodes!
Celebrating Thanksgiving in Korea with NCT 127
Kicking off with JCC's very first episode, Johnny celebrated his first Thanksgiving in Korea with his NCT 127 members whom he considers as both his friends and family. Growing up in Chicago, he is used to celebrating this event in his hometown but Thanksgiving of 2018 was a different story as it was his first time celebrating the holiday in Korea. 
In this heart-warming episode, Johnny emphasized that Thanksgiving is the day where we "celebrate the thanks of everyone, share wonderful compliments with one another, and eat some really good food." With Taeyong cutting the turkey for everyone, the NCT 127 members shared some delicious food over dinner. While eating, Johnny asked each of the members to tell what they were thankful for that year. It's a great episode to feel the joy of Thanksgiving.
April Fool's Day with Ten
What's a better way to spend the 1st of April with some elaborate pranks? Well, Johnny and Ten understood the assignment when they pranked their fans on April Fools this year!
The prank started when he posted very cryptic Instagram stories on his account. It began with a piece of luggage, a photo of a sky with airplane emojis, and a blurry digital map. Upon posting these, his fans theorized that he may be coming back home to Chicago, but then thought it is impossible to travel due to the pandemic.
wait i thought we were just speculating but johnny is legit flying home?? that's chicago, right??? pic.twitter.com/3czfbBjlHW

— 엠미 (@lumarkbot) March 31, 2021
Later that day, the NCT Youtube channel posted the JCC episode confirming that it was a prank. However, he did "go home" to Chicago with his best friend Ten with the help of a green screen. The two continued their prank throughout the episode as they switched the background of different tourist spots in Johnny's hometown and even in Ten's home country, Thailand! At the end of the episode, Johnny told fans that he hopes this video brightened their day amidst being stuck at home during the pandemic.
Back in 2019, Johnny also pulled a prank using the NCT Twitter account where he tweeted about his excitement on playing a character in a new Netflix series called "Heartfelt Homestyle". Turns out, the show was non-existent and it's just a name that he got from a sandwich!
Everyone!! I am excited to tell you guys that I will be playing 'Jake' in the new Netflix series 'Heartfelt Homestyle'. I want to thank Director Michael Beach for giving me this opportunity, and of course our NCTzens for your support. Thank you! -Johnny

— NCT (@NCTsmtown) April 1, 2019
❤️💚 pic.twitter.com/fDJutGCCIt

— NCT (@NCTsmtown) April 1, 2019
If you liked this JCC episode, check out this cool keychain created by Dailylouisbella inspired by it! The 5×6 cm keychain made with acrylic resin is available to purchase for Indonesian fans on Shopee for only $3.51 USD. You may communicate with the artist about the availability of worldwide shipping.
Building a Fish Tank with Taeyong
The idea of building a fish tank started when Taeyong asked Johnny to raise an animal in their dorm. With so many pet choices ranging from dangerous centipedes to beloved slow turtles, they settled with raising different kinds of sea creatures instead.
With no knowledge of building a fish tank, the two relied on their own research while setting up their jungle-themed tank which they said is inspired by the forest in the Avatar (2009) movie. Teaming up, Johnny handled the physical work, given his flexed muscles, while Taeyong was in-charge of decorating the tank. They named the tank after their 2nd full album, Neo Zone. The video also showed the tank's progress a few months after they built it, which turned into a beautiful tank filled with different living organisms like moss, slugs, and shrimps. This project is deemed the longest JCC project so far.
🌿🐠😮🙂🦐🌿#JCC #NCT127#JOHNNY #TAEYONG pic.twitter.com/6DwDyKcxPE

— NCT 127 (@NCTsmtown_127) September 27, 2020
Wrynosaur, an artist, was inspired by this episode and created a Johnny Taeyong JCC Charm! This layered acrylic charm can be bought for only $8.00, perfect if you own a tank too!
IKEA Shopping with Jaehyun & Assembling a Shelf
The main mission of this episode is for Johnny to buy a lamp. But just like the others, it seems like he got carried away with his shopping in IKEA. At the end of their shopping, he bought other stuff, one of which is a shelf that he assembled by himself at the later part of the episode.
This episode gave us many funny moments with Jaehyun as the two roamed around the store while playing with the different furniture on display. One of their memorable scenes in this episode is when they goof around with the snake plushies which they named Fred and Jason.
Fun episodes like this make the fans get drawn into JCC. Nashe, a Johfam fan artist, shared that she found comfort in watching this series when she faced a difficult time in her life. She told EnVi that she particularly gravitates to Johnny, "Initially, I liked him because he was fluent in English, so his jokes and experiences from growing up in the states made sense to me as it's something I could relate to. From his personality in videos to his parts in songs (which isn't always a lot), I enjoyed seeing him in the activities he partook in!" Because of this, she was inspired to create this JCC Keyring which is available worldwide for only USD 8-9!
Nashe added, "Watching JCC, in particular, made me happy and I was always excited waiting for the new videos. Partly, because it was his own show so he had more control over his content. His charismatic/hilarious personality was on full display and we got a closer glimpse at the friendly interactions between him and other members. I generally like more relaxed/chill content, so the style of the JCC videos was just up my alley." Creating the keyring is a way for her to give back to the Johfam community, the JCC series, and Johnny for helping her get through rough times.
A Walk in New York Central Park with Mark
Given their age gap and sharing the same experience of growing in a foreign country, Johnny and Mark's dynamics are more like siblings. In this episode, they took us down memory lane in New York Central Park, as they talked about the things they have achieved so far and what they would like to achieve in the next years to come. Aside from the serious talks, of course, they also joked around with each other while enjoying the lake view and cold air breeze. After the walk, they had spontaneous dinner at the Plaza Food Hall as they celebrated the first year of JCC and Thanksgiving. NCT 127 performed on Macy's Thanksgiving parade back then which takes them to New York in filming this episode. 
Can't believe it's already been a year Johfam! Thank you guys always for loving! Johnny's Communication Center, JCC, let's have another great year👍https://t.co/W4WD0foHsM#NCT #NCT127#JOHNNY #MARK #JCC pic.twitter.com/Vb6gL7ak2k

— NCT 127 (@NCTsmtown_127) December 20, 2019
Welcome to My Hometown Chicago with Doyoung and Mark
Comforting and precious would be the best words to describe this episode as it remains the fan-favorite among all the JCC episodes garnering over 8 million views as of writing. The day before their NEO CITY: The Origin Chicago show, they visited Johnny's home where they had a feast. Along with the excitement of the members in this visit, we also get to see Johnny's parents welcoming him home. In this episode, we get to see heart-warming parent-and-child moments, as his mother welcomed him home with a hug while he talked to his father while grilling some barbecue. While looking at Johnny's childhood photos, his mother shared a story on how he was when he was a child, "He's my only son. So we always go on a trip every Friday up until Sunday. He was so pretty when he was young! And when we went to the grocery store, everyone just looked at him." proving Johnny's charisma.
View this post on Instagram
View this post on Instagram
Doyoung and Mark stayed over at Johnny's home for the rest of the day to sleep over. They drove through the neighborhood with Target as their first stop, as Doyoung hasn't been to that store before. They bought food and some sleepover essentials. Johnny and Mark also had a little fun as they played hide-and-seek in the store, pranking the lost Doyoung. Johnny ended up paying for all their stuff as he lost to a rock-paper-scissors game. Then, the trio visited Johnny's elementary school and they played on its playground. Johnny pulled one last prank as he left Mark and Doyoung. He had them catch up with him to get in the car. This episode indeed felt like home.
Is your favorite JCC episode on our list? If you're loving this series, you might wanna check out these JCC Logo Stickers printed by Nakashaki! They're available for only USD 2!
Happy 3rd anniversary, JCC! May you bring more joy to your viewers in the upcoming episodes! Thank you Johnny for creating this series!
If you liked the items featured in this article, read our latest feature here! Peace out, Johfam!
Thumbnail courtesy of Jenessa.