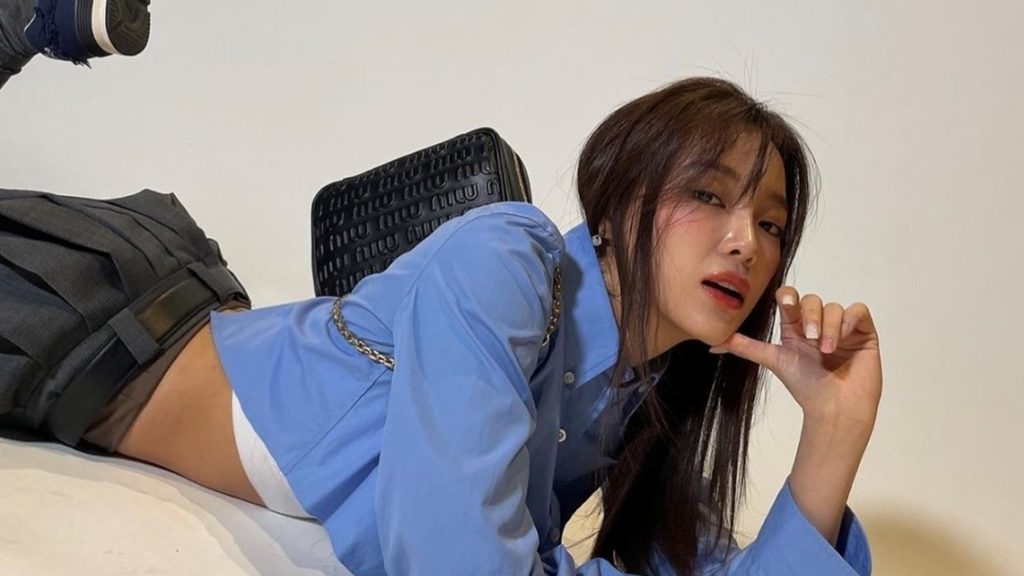 Actress and singer Kim Sejeong has been in the public eye since her appearance on Mnet's groundbreaking survival show Produce 101 (2016). Since 2016, she has debuted as a musician four times and appeared in numerous dramas and variety shows. Throughout the past six years of her career, Sejeong's participation in public events and experimentation with an expansive range of concepts has resulted in an enviable outfit portfolio. To celebrate the star's 26th birthday, EnVi revisited six of Sejeong's best outfits, from her days as a member of I.O.I to her leading role in Netflix's Business Proposal (2022). 
Sporty and Cute I.O.I
I.O.I debuted in 2016, following Mnet's successful trainee survival show Produce 101. For their second mini album, Miss Me? the group dressed in cute, casual outfits. Notable pieces included color-blocked crop tops, tennis wristbands, and striped crew socks pulled up with sneakers. The sporty look was on brand for I.O.I, with songs like "Dream Girls" featuring outfits of a similar theme. For "Very Very Very," the comeback's title track, and the accompanying promotional photos, Sejeong wore a striped long sleeve crop top with denim shorts.
gugudan's New Looks
Eight-member group gugudan debuted in 2016 and dabbled in a number of concepts in their two-year run. ACT. Five: New Action, the group's third and final mini album, explored the ever-popular girl crush concept. In the individual teaser photos, Sejeong wears an off-shoulder black crop top, tan cargo pants, and black boots. Though simple, her outfit contained the elements of an outfit that would be trendy even today. The neon green belt she wears adds a pop of color perfect for 2022, as neon green rivals hot pink as this year's it color. Plus, according to a StyleSeat survey, cargo pants are one of the most popular trends among Americans this year — people love the sporty and functional look.
A SEMINA Summer
In 2018, gugudan debuted its SEMINA sub-unit, comprised of members Nayoung, Sejeong, and Mina. The concept was light-hearted and entirely based on summertime. One of the outfits Sejeong wore was a cherry-printed navy mini dress paired with plaid wedges and a baby pink cap. To make a casual look more interesting, stylists accessorized with statement earrings, a choker, and layered bracelets, all in bright colors. The choker, with its combination of pearls and beads, is a popular jewelry item in 2022.
Sejeong's Solo Style
Sejeong debuted for the third time in 2016 as a soloist with the song "Flower Way." Since then, the performer has participated in a myriad of solo activities and has even dipped her toes into the fashion world. Though she can pull off everything from elegant to tomboy, Sejeong's personal style tends to lean towards comfortable and cozy. Sejeong often wears loose-fitting pieces and, in the winter, opts for styling layers for her outfits. Her Instagram features a lot of knitwear, baggy denim, and bold-colored Crocs.
Classic Collaborations
In 2017, SM Entertainment tapped Sejeong for one of its STATION releases. The collaboration, titled "Star Blossom," featured Doyoung of NCT as the resident SM artist. A soft, melodic love song, the duet is worthy of any K-drama. The accompanying video relied on both Sejeong and Doyoung's acting experiences, taking both artists to an aesthetically pleasant world. Throughout the music video, Sejeong wears multiple outfits, adhering to a girl-next-door vibe. As we see her go from working at a coffee shop to spending time with Doyoung, Sejeong taps on the charm of wardrobe basics. In one scene, she wears a rich blue sweater and white skirt on a date, while in another she dresses in an off-shoulder, ruffled white blouse and denim mini skirt. It goes to prove that closet essentials are stylish too.
High-Class Shin Geum-hui
In early 2022, Sejeong starred as the main character in Netflix's Business Proposal, a romantic comedy about an atypical office romance. In the show, Sejeong's character, Shin Ha-ri, occasionally disguises herself as Shin Geum-hee, a company heiress with expensive taste. Fans loved the two-sided character, constantly expressing their support for the series on social media. In one of her most memorable looks from the series, Sejeong wore a black and white houndstooth-patterned mini dress, thigh-high suede boots, and a charming tan trench coat. As sophisticated as ever, she accessorized with pearl earrings, a subtle barrette, and a small purse.
And It's Not Over Yet
In her six years as an idol, Sejeong has established herself as a force to be reckoned with. Her powerful vocals, acting chops, and cheerful personality give her an undeniable charisma, making her a well-rounded talent. From modeling for South Korean brand Roem to making sponsored posts for Miu Miu's Fall Winter 2022 collection, Sejeong's sense of style and presence in the fashion world continues to wow fans as it grows. As Sejeong pursues different opportunities in the entertainment industry, we can't wait to see what looks and outfits she tries out next!
Want more fashion content? Check out our recap of Girls Generation's YoonA's Road to Fashion Fame here.