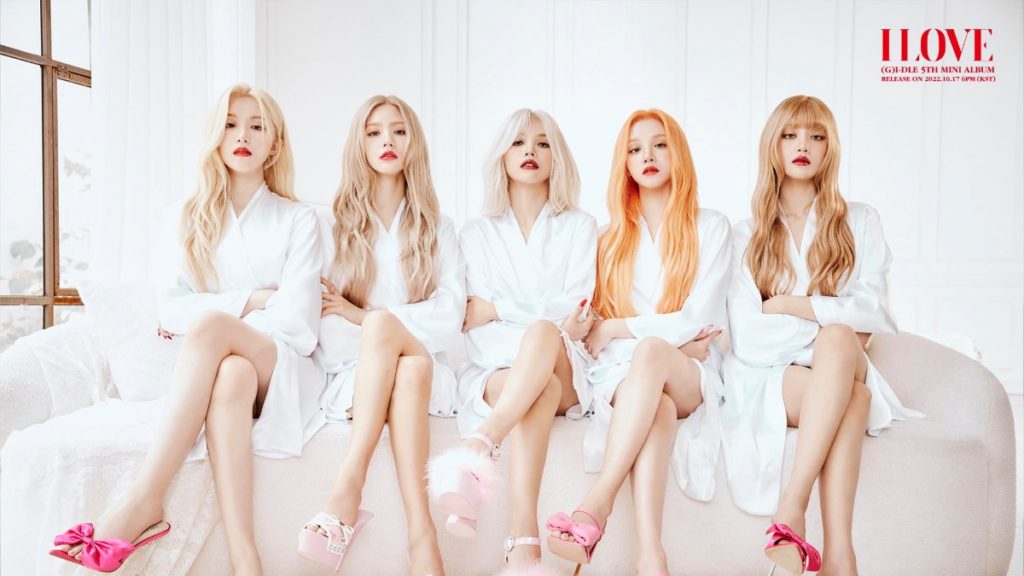 After seven months since their last release, girl group (G)I-DLE returned with the highly anticipated EP, I love. Released on October 17, the album features six tracks that explore love, identity, and power. Soyeon, Miyeon, Minnie, Yuqi, and Shuhua displayed their thoughts on complex relationships and what it is like to be a "self-made woman."
With a release that seems more than just music, (G)I-DLE make I love and its title track, "Nxde," a statement of girl power. I love takes inspiration from the icon Marilyn Monroe, who was reduced by the entertainment industry to nothing more than a sex symbol. Further, the album offers the group's perspective on working hard towards your goals and being more than just a pretty face.
Why You Think That 'Bout "Nxde?"
The album opens up with "Nxde," a female empowerment anthem. Soyeon co-wrote and composed the song with Poptime and KAKO. The track has a clear message about female power within the deep lyrics and joyful rhythm. The (G)I-DLE members, who are well-known for not shying away from unconventional, complex concepts, took "Nxde" to talk about identity. They expressed themselves as they truly are, without caring what others may think.
The "Nxde" concept may have drawn the attention of some people who were expecting something R-rated from (G)I-DLE. In fact, it was exactly their intention from the start. The girl group deliberately uses a suggestive concept to criticize the sexualization of female artists in the industry.
The first verse of "Nxde" explores this idea while exhibiting a difference between the first and second half of the verse. "Hello my name is Yeppi Yeppi / Slightly dumb the way I talk, but I've got a sexy, sexy figure / Well, for a tiara with a diamond," sings Minnie. These lines are quickly followed by Yuqi's "Did you think I'd just laugh as if, laugh as if." And as the song progresses, Soyeon's rap changes the story: "Twisted Lorelei that don't need no man / A bookworm obsessed with philosophy, a self-made woman / Very flabbergasted by this sassy story / The audience booed and shouted, 'You tricked me, you're a liar.'"
"Nxde" captures (G)I-DLE's irreverent and tenacious demeanor to perfection. The bold lyrics aim to call out those who objectify women and see them as nothing more than pretty accessories. The "Lorelei" part of Soyeon's rap alludes to a siren from German mythology who drew men to their doom. Marilyn Monroe, who was frequently compared to a siren due to her attractiveness and status as a sex symbol, was also brilliant. This fact is frequently overlooked, but it is consistent with the record's message of empowerment.
A Wild, Wicked, and Wonderful Show
"Nxde's" music video features burlesque, animation, and even black and white cinema. Directed by Samson, the film by Highqualityfish show the quintet performing a musical number. The girls, who have shades of blond hair like Marilyn Monroe, show the audience a colorful performance as well as what's behind-the-scenes.
Art also plays an important role in the video. The members stand in museums with people staring at them as if they were part of an exhibition. Near the end, a "Nude" painting is shredded and instantly increases in value. This scene is a reference to Banksy, whose work is mostly intended to criticize society and the status quo. It alludes to the idea of the members not being afraid of showing themselves "Nxde," even if it means destroying the image people have of them. They are valuable as their true selves.
Diving Into (G)I-DLE's World
Following the title track is "LOVE," a rock song by Soyeon and Bicksancho. "LOVE" talks about getting over a breakup with someone who cheated and realizing that true love comes from within themselves. With lyrics such as "You'll never make me cry like that day again/I think I also have a wonderful lover/Thank you for helping me find real love/My love is (guess who?)/That's me, she's my love," the track is a perfect example of leaving a toxic relationship and learning to recognize your own worth.
Immediately after "LOVE," comes "Change," which has an R&B sound and exhibits (G)I-DLE's wide musical range. Composed by Minnie and BreadBeat, the track talks about the struggle of being a celebrity and putting on a perfect facade while holding a lot of hurt behind it. "One day, if I fall, would you smile and say you'll be there for me," they sing. The lyrics, mostly in English, share the thoughts and insecurities they feel through their journey of being artists.
From Power to Love
In the first half of I love, (G)-IDLE break down the prejudice in today's society and misogyny in the entertainment industry. The second half, however, takes a turn, as it shows their vision on love and intense relationships.
This discussion of love in the album begins with "Reset," written by Soyeon and Yuqi alongside Blatinum's BOYTOY, Disko, and PLZ. The soft pop ballad is an anthem of moving forward, exploring (G)-IDLE's introspective and honest side. It dives into moving past an unhealthy relationship and learning to be yourself again. "I think to be alone is better than I thought / I try to say this in the mirror," they sing. In "Reset," the group addresses the complex emotions of loneliness and heartbreak while encouraging the listeners and themselves. Even if it's difficult, it's okay to reset, to be alone, find yourself, and enjoy the precious moments with others. "I can meet friends I haven't met / I can buy a present for myself."
Taking another turn into relationships, (G)I-DLE reflected on giving all you have to offer to your significant other with "Sculpture." With a steady rap and retro pop tones, the lyrics written by Soyeon, Minnie, and Houdini are straightforward. The quintet expresses their vision of a consuming love. They open up about wanting to be loved like crazy, even if it hurts. As the track progresses, they compare that love to a sculpture. They need to shape themselves in order to become whatever their lover wants. Like in "Nxde," "Sculpture" uses art as metaphor to portray the message behind the album. While the first one is all about female empowerment, "Sculpture" focuses on exhibiting the intense side of love through art.
Ending the group's journey of self-discovery and love, the album closes with "DARK (X-file)." In true (G)I-DLE fashion, the track is raw and explosive, mixing medium tempo elements with bass and drum sounds. However, true to its title, the lyrics are dark and melancholic. It alludes to the idea of a deep and mysterious love that must remain a secret: "Kill the truth / You have to / A time when we shouldn't leave a trace (A time when you shouldn't)."
Wickedly Clever (G)I-DLE
With the release of I love, (G)I-DLE have proved to be a group that isn't afraid of what people have to say. The album's clear message is none other than learning to love oneself in a society that brings people down. It criticizes stereotypes and boldly calls out toxic behavior, a strong perspective present in each track. I love continues to exhibit what the group has been advocating since their debut in 2018: strong and independent women exploring their identity and showcasing their excellence.
Want to read more about K-pop's latest news? Read all about NCT's Chenle and Jisung cover of "YOUTH" by Troye Sivan here!