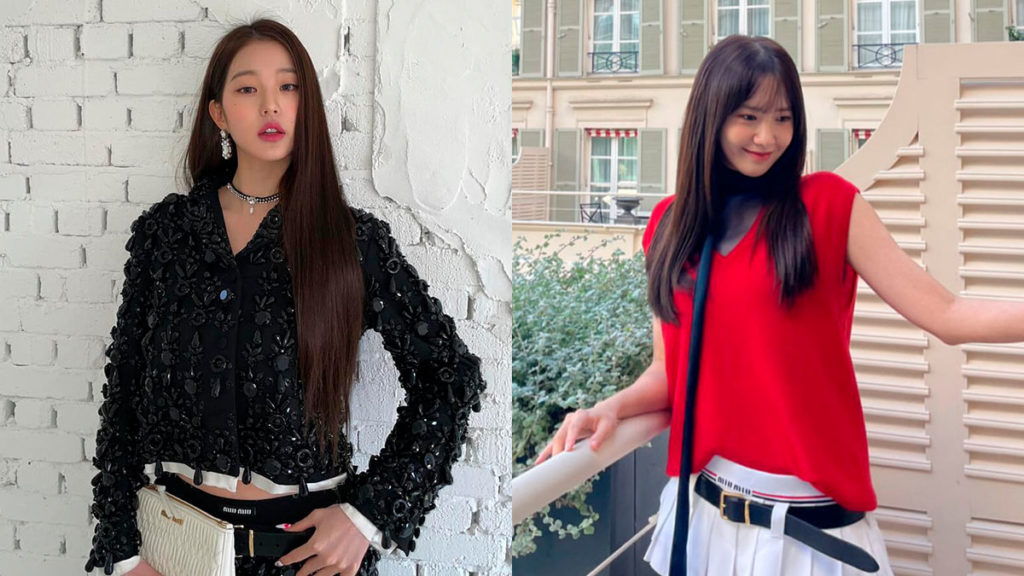 Miu Miu showed their Spring-Summer 2023 collection at the Palais d'Iéna in Paris on October 4 as one of Paris Fashion Week's last shows. Conceptualized by Miuccia Prada, Miu Miu's newest collection exists at the intersection of simple and risqué. An artistic collaboration with installation artist Shuang Li created an immersive backdrop for the show. What made major waves online, however, was the attendance of South Korean stars YoonA and Wonyoung at the show.
Miu Miu SS23
After an uber-successful Spring Summer 2022 collection that viralized a Y2K-inspired micro-skirt and crop top set, Miu Miu brought another collection infused with nostalgia. And, of course, we're getting more micro sets. 
Miu Miu's SS23 collection, with its mostly-neutral color palette, stood out amongst other Fashion Week runways. Aside from a few neon footwear accents, most of the collection focused on a return to basics, highlighting black, ivory, grey, and tan shades. When colors were used, they were subtle and calming, like salmon pink and olive green. 
Unexpectedly, one of the collection's most notable motifs were pockets, boldly incorporated into midi and mini-skirts, nylon tops, and coats. The looks were undeniably Y2K-inspired, paired with tiny bandeau cropped tops and a hint of the utilitarian aesthetic becoming increasingly popular.
Familiar fabrics, like leather and denim, were featured in the collection, blending seamlessly with the youthful-yet-elevated image that Miu Miu has been leaning into recently. Mesh, pleats, and the aforementioned nylon fabrics all contributed to a fresh, modern take on nostalgic classics. 
The audience that Miu Miu attracts is always guaranteed to be star-studded, and the SS23 show was no exception. Not only was the guest list popping with international cameos, including Thai stars PP and Milli, but the runway show itself was closed by singer-songwriter FKA twigs. Two of Miu Miu's South Korean ambassadors, Yoona and Wonyoung, stood out when they united generations of K-pop together through fashion.
The Original Visual
Lim Yoona, more commonly known by the mononym YoonA, is one of South Korea's most influential stars, with more than a decade of experience in the entertainment industry. Given her success as both a K-pop idol and actress, it's no surprise that numerous brands have tapped into her popularity, appointing her as an ambassador, campaign model, and so on. Miu Miu joined the ranks in October 2021, making Yoona the brand's first global ambassador. 
At Miu Miu's show, Yoona embodied Y2K energy with her outfit, channeling the fashion of her debut days in a white micro-skirt. A bright red vest added a pop of color to an otherwise monochromatic outfit, with a season-appropriate grey turtleneck peeking through. With thigh-high stockings and brown Mary Janes, Yoona was the epitome of early 2000s chic. A grey overcoat and the Miu Wander hobo bag completed the look.
Rising Fashion Royalty
IVE's Jang Wonyoung, Miu Miu ambassador and blooming fashion icon was also invited to attend the show. The starlet, who officially joined the Miu Miu family in December 2021, has been one of South Korea's most sought-after brand ambassadors this year, racking up one sponsorship deal after another (scroll through her Instagram feed for proof). As one of the leading trendsetters from K-pop's new generation, Wonyoung's elegant, yet youthful image is the perfect complement for Miu Miu.
The singer wore a casual, yet sophisticated outfit for the show, effortlessly combining classic Miu Miu elements. Wonyoung layered a navy cardigan over a cropped button-up shirt, paired with black loafers and crew socks for a preppy look. Denim shorts contrasted with bold gold earrings and the Matelassé Top-handle Bag to bring both elements of high-fashion and effortless, casual style to the event.
More Y2K To Come
Miu Miu helped bring Paris Fashion Week with a bold collection, contributing to another iconic season for the fashion industry. Though fashion month is coming to an end, the Y2K revolution shows no signs of stopping — especially as celebrities like Yoona and Wonyoung continue to renovate and inspire it.

Want more Paris Fashion Week content? Read about Wonyoung's outfit at the FRED high jewelry gala dinner here.