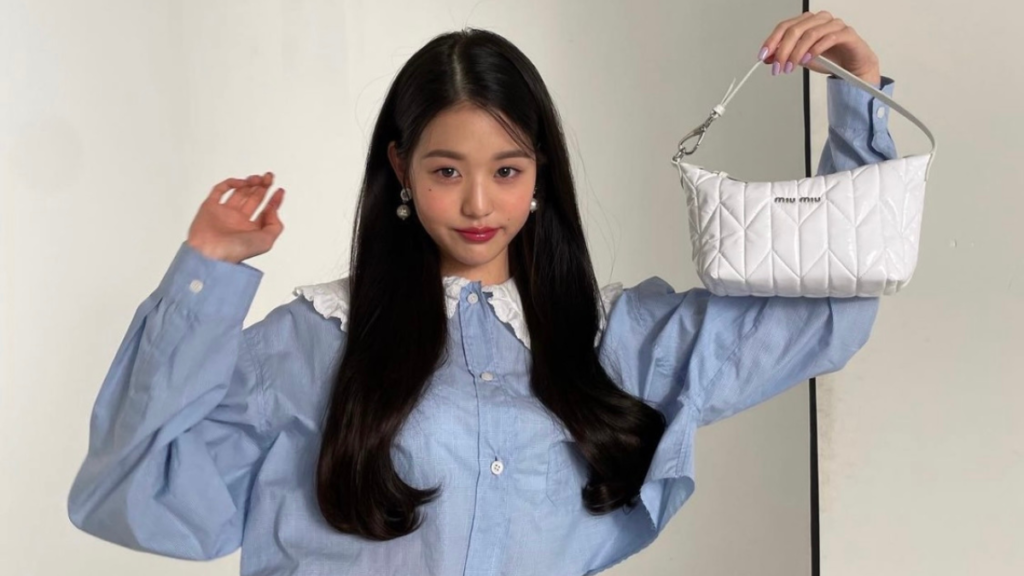 IVE's Jang Wonyoung is currently one of K-pop's most influential figures. After rising to fame on Mnet's Produce 48 (2018), she continued to gain attention while promoting with IZ*ONE and, more recently, IVE. Despite her relatively short career, she has established herself as one of South Korea's It girls through numerous endorsements, doll-like visuals, captivating stage presence, and bubbly personality. To celebrate the star's 18th birthday, EnVi explores how Wonyoung is building her fashion empire.
Nation's Pick: IZ*ONE
Produce 48 was the third installment of Mnet's Produce 101 survival show series. In it, South Korean and Japanese trainees competed for a chance to debut in a group based on audience votes. IZ*ONE, the twelve-member group formed on the show, debuted in October 2018 with Korean single "La Vie En Rose," off their COLOR*IZ mini album. Wonyoung, at only 14 years old, was selected as the group's center. She gained popularity during Produce 48 because of the contrast between her baby face and her impressive height, as well as her facial expressions on stage.
IZ*ONE promoted in both South Korea and Japan, and in just two years, experienced incredible commercial success. During her time with IZ*ONE, Wonyoung first explored the world of big-name endorsements and high fashion. In 2019, she walked the runway at the Tokyo Girls Collection Autumn Winter show with fellow IZ*ONE member Sakura. She also participated in a solo shoot with Dior Beauty, showcasing some items from their Dior Addict Lip Glow collection. It wasn't until after IZ*ONE's disbandment, however, that Wonyoung started receiving major attention from brands.
The Miu Miu Moment
In 2021, Wonyoung modeled for a Vogue Korea shoot promoting Miu Miu's sailor-inspired Maritime collection. Though Wonyoung was a trainee under Starship Entertainment at the time, the collaboration was well-received amassing over 500,000 likes on Instagram. Wonyoung's playful relationship with the Italian brand continued throughout the year, with the singer frequently sporting Miu Miu items both in public and on her personal Instagram posts.
At the end of the year, Wonyoung was finally appointed one of Miu Miu's brand ambassadors. The official announcement was revealed in the December issue of Harper's Bazaar Korea, where Wonyoung also made history as the youngest model to grace the front cover. The official magazine shoot was preceded by a promotional video released in October, in which Wonyoung reveals the date and time (in KST) for the Miu Miu Spring Summer 2022 Show.
At 17 years old, Wonyoung joined the likes of Squid Game's Lee Yoo Mi and Girls' Generation's YoonA as one of the brand's Korean ambassadors. Wonyoung's collaboration with Miu Miu was only one of the activities marking the start of her ongoing fashion domination.
An Impressive Portfolio
Wonyoung's work as part of IVE matches the group's chaebol crush concept. The outfits tend to be classy, trendy, and heavily accessorized. Her solo activities with brands, however, boast an impressive range. From jewelry to activewear, Wonyoung is constantly expanding her portfolio.
In 2021 Wonyoung became the global ambassador for both innisfree and KIRSH, two popular South Korean brands. KIRSH is a casual streetwear brand with a dandy and preppy image. Their style caters towards a younger demographic, making Wonyoung the perfect partner. Her campaigns with KIRSH allow her to showcase her youthful, colorful side. Meanwhile, innisfree is one of South Korea's biggest skincare brands. K-pop idols are known for their "glass skin," and Wonyoung's youthful and healthy complexion is enviable. It's no surprise, then, that innisfree turned to Wonyoung as their newest global muse.
The year 2022 has been no less fruitful for the After LIKE singer. Just eight months into the year, she has landed double the number of endorsements, with an even more impressive and varied range than those of last year. Wonyoung has teased a budding relationship with Italian jeweler BVLGARI after modeling their pieces for Y Magazine. 
Even more impressive are the five permanent positions Wonyoung has claimed as part of both South Korean and international brands. Not only is she the official model for SK Telecom and the global model for HapaKristin, but she is also EIDER's newest model as of this month. On top of all that, she is also an ambassador for GOSPHERES, a golf clothing brand, and the first-ever Korean ambassador for French jewelry house FRED. 
Wonyoung's diverse collaborations prove that her charm is limitless, and so is her star power; the girl group member's collaborations with brands tend to sell out quickly. Wonyoung's collaboration lenses with HapaKristin sold out during a three-day presale, faster than the brand expected, on its Japanese, Korean, and Southeast Asian websites. In another example, a KIRSH pajama set worn by Wonyoung proceeded to sell out online on the same day she wore it.
What's After Like?
From her athletic demeanor in her shoots for GOSPHERES to her clean, natural look for innisfree, Wonyoung is able to embody any concept. Winning first place in Produce 48, temporarily promoting as IZ*ONE's center, and debuting in IVE has made Wonyoung one of South Korea's most watched celebrities. One of the most awe-inspiring parts of the phenomenon that is Jang Wonyoung's rise to fashion fame is her young age — at only 18 years old, she has shown that she shares both the work ethic and popularity of her senior idols. With a charisma that can adapt to any given setting, Wonyoung's potential is limitless, and we are excitedly waiting for her next fashion ventures.
Liked reading about Wonyoung's blooming fashion empire? Check out our piece about fellow Miu Miu ambassasdor YoonA's road to fashion fame here.