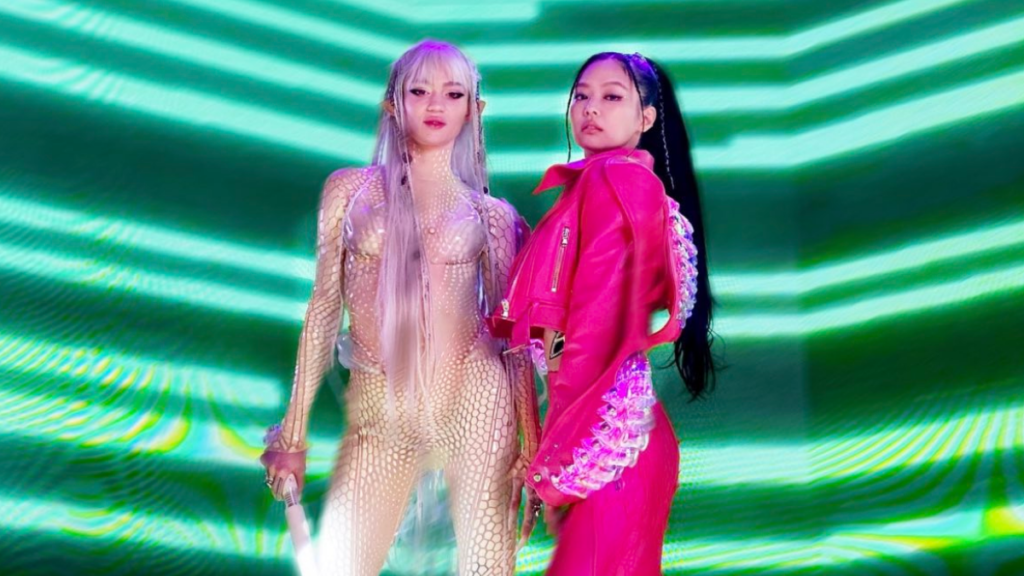 On January 26, Grimes released an artistic new music video for her long-awaited track "Shinigami Eyes". The video is a highly-saturated, glitchy, artificial-reality world that suits Grimes' electronic music perfectly. Grimes features her friends to join her in a virtual world, including one-fourth of K-pop group BLACKPINK, Jennie Kim.
"Shinigami Eyes"
Grimes first teased fans with a one-minute snippet of the song on her Discord in June 2021, and two months later, she uploaded a 30-second video titled "Shinigami Eyes" to her YouTube channel. Fans expected the song to be released that year and were left waiting until January 20, when Grimes finally tweeted "Shinigami Eyes Jan 26" in binary code. 
On January 25, the singer-producer posted a 24-second teaser video for "Shinigami Eyes" on various platforms, which left fans shocked to see a snippet of Jennie. The music video is directed by BRTHR, a direction and production company that is known to expertly integrate cinematic moments with visual effects, 3D, and incredibly distinctive editing.
Short but Sweet
In the three minute and 19-second video, Jennie appears for less than 20-seconds. However, her short appearance does not diminish its impact. Jennie is featured next to Grimes on top of a futuristic car in an intergalactic tunnel space with her David Koma Crystal Petal Bra. Her otherworldly look is completed with a set of magenta-colored jacket,tights,shoes, and an additional XR (eXtended Reality) technology effect that made her crystal petal bra glow. The magical looks in the music video are credited to the stylist, Brett Alan Nelson, who regularly works with Doja Cat and also previously worked with Grimes for the prestigious Pirelli Calendar.
After the release of the music video, Grimes posted a photo on her Instagram featuring Jennie and called her "favorite popstar" and said that Jennie fixed her hair on set. 
Grimes also replied to a fan comment on the "Shinigami Eyes" teaser post praising Jennie's talent, stating that she'd never seen such pure talent on set, referring to Jennie's talent at performing. 
An Unexpected Relationship
The first public sighting of the artists together was in July 2021, when Jennie and Grimes posted photos of themselves posing in front of a SpaceX rocket.
This led the public to speculate there would be some sort of collaboration in the future. It is speculated that the music video was filmed around the time of this encounter.
One month later, Grimes replied to a fan question asking about the release of "Shinigami Eyes," stating that they filmed a very ambitious video with a new untested technology that no ones ever done before and therefore they went through an utmost stressful editing process with a lot of trial and error. The technology possibly included in this music video are brought by Xite Labs, to work on the XR technology; and artist-designer, Nusi Quero, to work on the 3D art. 
Love from Jensetters
Jennie's fans, or Jensetters, are loving the cameo and saying she is the main character. Fans are also gushing over how amazing she looks in the video and trended the hashtag  #JENNIEonShinigamiEyes.
Interested in reading more Jennie? Check out Jennies Standout Fashion Moments here!