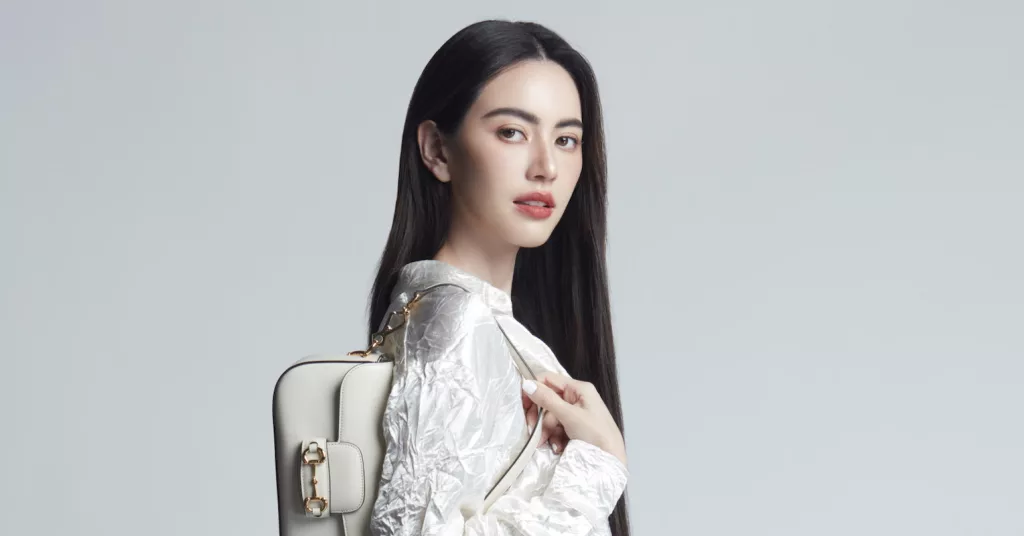 As the Italian luxury powerhouse embarks on a new chapter, Gucci introduces Thai-Belgian actress Davika Hoorne as its newest brand ambassador. Over the past few years, Davika has steadily risen to become one of the most prominent names in the Thai entertainment industry while also earning the reputation of a sought-after fashion it girl. With this new partnership, Davika makes history as Gucci's first global ambassador hailing from Thailand.
A Longstanding Connection
On October 9, Gucci announced Astrophile star Davika Hoorne as its newest ambassador for fashion and beauty. Prior to this appointment, the actress was already a prominent friend of the house and a regular at Gucci events across the globe.
Davika has sported the brand several times over the years. Back in 2019, she was spotted wearing head-to-toe Gucci to a pop-up showcasing Gucci's Fall Winter 2019 collection. The following year, Davika also made an appearance at the brand's Fall Winter 2020 show during Milan Fashion Week. In this appearance, the actress turned heads dressed in a red bralette paired off with a gold satin skirt and a snake-skin print Dionysus bag (a Gucci signature). 
Another iconic Gucci look sported by the Thai star was the all-black ensemble she took to the brand's High Jewellery presentation in October 2022 — an outfit that made waves online among fashion enthusiasts. Most recently, the star was in attendance at the Gucci Cruise presentation in Seoul and the Spring Summer 2024 Women's show, where she appeared edgy yet casual in a cropped black top and skort matched with an oversized bomber jacket.
Embodying the Many Sides of Gucci
In addition to her event appearances, Davika has also repped Gucci in various editorial photoshoots. Back in 2020, Davika went full-on whimsy (á la Michele's Gucci) on the October cover of L'Officiel Thailand. Then, in 2021, she joined the logo mania for a cover of Vogue Thailand. Channeling the more sensual side of Gucci, the actress wore a sultry look from Alessandro Michele's "Love Parade" collection for a 2022 cover in L'Officiel Thailand and also posed candidly with fellow Thai star Bright, in a fun cover shoot for Elle. In one of her more recent modeling exploits, the Thai fashion icon embodied contemporary opulence on the front of Perfect Magazine. 
Davika has championed Gucci in plenty of other instances, from red carpets to daily life, making this ambassadorship announcement feel like a natural one.
Gucci's New Era and Davika's Undeniable Influence
This season, Gucci debuted its first collection under its new Creative Director, Sabato De Sarno. Instead of continuing the Gucci dramatics and theatrics that the world has become familiar with in recent years, De Sarno went back to basics. With an emphasis on cutting and tailoring, the new collection featured his elevated take on basics with touches of glamour here and there. The Italian fashion house also underwent a social media revamping and debuted a new luggage campaign featuring Kendall Jenner and Latin icon Bad Bunny. 
Meanwhile, amid the rise of Thai stars in the world of fashion, Davika has asserted her place as a trailblazer in the industry. Throughout her career, the model-turned-actress has graced several runways and represented various brands — last year she was named Bulgari's House Friend for the South Asia Pacific region. More recently, her influential status was recognized by the publication Business of Fashion, which included Davika in "The BoF 500 Class of 2023," a list that compiles the names of people "shaping the global fashion industry." 
With her fresh new title at Gucci, Davika continues to solidify her presence in the luxury sphere and further prove the undeniable power of Thai entertainment in fashion. 
Want to read more of the latest news? Check out what's trending street style at Paris Fashion Week here!