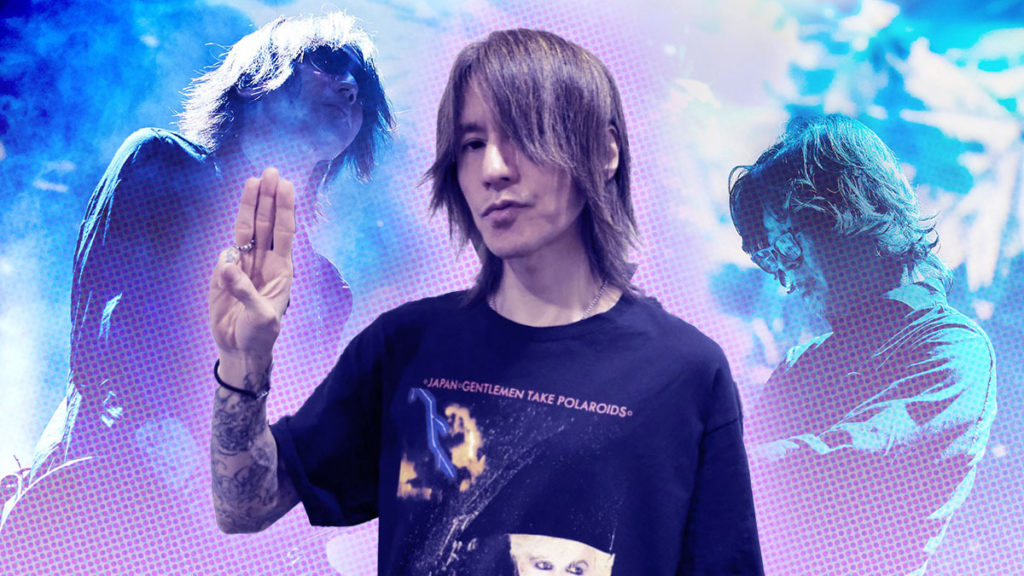 "I hope this music will give your tired mind a rest, and put light and nourishment into your soul. I hope it will bring relief and peace to everyone's heart," says Japanese rock legend, SUGIZO, as we wrap up this interview. It is mid-February and the musician has just released The Voyage to The Higher Self, a duo album with HATAKEN. A few weeks later, his words are eerily evocative of the current global situation. Particularly, when they come from a respected musician, whose work extends far beyond music. Environmentalist, anti-war activist, visiting researcher, rock idol, music producer; SUGIZO juggles such a variety of métiers and titles that suddenly the dictionary seems to be lacking words to accurately describe him.
Thankfully, SUGIZO's music speaks for itself. Thankfully, I say, because talking about his impressive discography would take more than a few pages. Prominently known as the lead guitarist and violinist of the band LUNA SEA, throughout his career the Japanese legend has joined several music groups and projects. Among the most recent ones count a collaboration with Mioko Yamaguchi and the duo album that prompted this exclusive interview.
The Music for The Higher Self
On February 16, SUGIZO and modular synth producer, HATAKEN, released The Voyage to The Higher Self. The ambient music album, inspired by chakras, is SUGIZO's latest collaborative effort, and one of many in his long resumé. With a career that spans over three decades, it is toexpect that the Japanese musician has built a vast discography. After all, he is a seasoned solo artist, member of various groups—to name a few LUNA SEA, X JAPAN, and SHAG—music producer, and composer. What is impressive, however, is that despite his endeavors, he has crafted an unmistakable, signature sound. I would describe it as experimental, heavily influenced by psychedelic and shamanic music, but the Center for Rule-making Strategies at Tama University—where SUGIZO serves as visiting researcher—introduces it as "beautiful, deep, and cosmically spiritual." I prefer that.
SUGIZO is much more concise. "I have been involved in all types of music and projects, and I feel that the essence of all of them has flowed into my solo work, creating a sound and expression full of diversity," he states. The Voyage to The Higher Self reflects this mélange of influences. The album contains seven tracks created to match each of the seven colors of the chakras, and it's the kind of music SUGIZO believes "is most needed in these confusing times." With all songs based on existing tracks of his, the album production is compared to the sampling technique DJs used in the '90s. Meanwhile, the team-up with HATAKEN follows previous collaborations with the artist and is described on SUGIZO's website as the 2020s version of Fripp & Eno.
SUGIZO's Way
The reference to Brian Eno and Robert Fripp's side project undoubtedly sparks curiosity about SUGIZO's musical influences, which is the question that originally opened up this interview. As someone who comes from a family of musicians, the guitarist admits that music was not something he necessarily enjoyed as a child. "The fact that music has been around and a part of my life since I can remember has naturally had a great impact on my innate abilities and outlook on life," he says. SUGIZO then explains his complex relationship with his parents, both former musicians of the Tokyo Metropolitan Symphony Orchestra. "I hated music as a child because it was something I was forced to do and it was an object of fear," he adds. Fortunately, later in life, SUGIZO veered toward music at a pivotal moment. "The complicated relationship with my parents remains as a trauma in the back of my mind. That is why I am proud to say that when I was in my first year of high school, I was so impressed by Yellow Magic Orchestra (YMO) and Japan that I decided to pursue a career in music."
SUGIZO went on to release his first album as a member of LUNA SEA in 1991. Since then, he has taken into a variety of roles and genres. In 1997, the musician made his solo debut with the single "Lucifer," and the tour "Abstract Day" followed. In the late '90s, the star also got a taste of acting and now is recognized as a prominent producer and composer. Thinking that I am posing a difficult question, I ask SUGIZO what is the role he has enjoyed the most. He, however, has it very clear. "I think I'm most suited to composing music and other studio work. In fact, even though I look like this, I'm not very good at public appearances."
Memories and Collaborations
SUGIZO's long-lasting career suggests otherwise. As one of Japan's most famous guitarists, he has amassed such an impressive list of feats that summing them up is nearly impossible. The musician has worked with some of the biggest Japanese names, performed side by side with Wes Borland (Limp Bizkit) and Richard Fortus (Guns N'Roses), and toured around the world. There are so many memorable moments that he's unable to pick just one when asked about his most interesting shows. "It's totally hard to choose one! Every show is engraved in my memory," he states.
In contrast, when asked about potential collaborations, SUGIZO knows exactly what he would like to try next. "Collaborations are about freeing my consciousness at all times. Categories, careers, and borders have nothing to do with music. If there's a chance in the future, I would like to collaborate with jazz musicians whom I respect. For example, I love Armenian pianist Tigran Hamasyan and Japanese jazz composer Miho Hazama, and I would be happy to collaborate with them someday." In the meantime, in addition to his album with HATAKEN, SUGIZO recently collaborated with Japanese singer, writer, and composer, Mioko Yamaguchi. The song, "Dr. Kaligari" (Dr.カリガリ) is a mythical sounding track, suitable for Yamaguchi's folklore-infused Fairythm. SUGIZO explains his participation. "Mister Hideki Matsutake, a master synthesizer artist whom I deeply respect, is the producer of Mioko Yamaguchi, and he asked me to be a part of this project. It was a great honor to be involved."
Human Rights Advocacy and Environmental Activism
SUGIZO's collaborative mindset, though, is not limited to music. A man of convictions, the artist is acknowledged for his human rights, environment, and peace advocacy. SUGIZO is also a cause-oriented individual who supports people affected by natural disasters and personally visits refugee camps. In regards to environmental activism, the musician has led important efforts to spread awareness within his field. For instance, at LUNA SEA's 27th-anniversary concert in 2017, SUGIZO premiered a never-used before alternative energy system for his guitar. It involved hydrogen technology that he still uses to this day. "All of LUNA SEA's music gear is currently powered by green hydrogen fuel cells derived from renewable energy. For the next step, I would like to use hydrogen to power our FOH system," SUGIZO says. He further elaborates, "This is not something special for LUNA SEA only. It is something that can be used by all artists and bands, and I want to make it commonplace. Power generation using hydrogen fuel cells is much more environmentally friendly than conventional methods, and the quality of the sound is higher. I am feeling nothing but benefits at the moment."
As a public figure that uses his big platform to talk about topics that matter to him, SUGIZO wants to deliver a clear message about the environment. "If Earth was dying, we humans would, naturally, not survive here. The Earth is at the perfect distance from the sun, and it is the right size. We have oceans, air that we can breathe, and an atmosphere that gives us only the amount of light we need. It's an incredible accumulation of miracles. It is so obvious that many people have neglected to notice this miracle. And now, as we all know, the condition of this planet is deteriorating. We can't wait any longer. We should stop polluting our environment. We need to heal the planet. It is a responsibility of all of us, as human beings, and with our descendants."
What The Future Holds Ahead
In between his musical genius and humanitarian work, it is hard not to become a fan of this Japanese legend. Among the perks of supporting him comes the fact he's recognizant of those who follow his career. "Thank you for supporting me as always. As mentioned above, there are no categories and borders in music," SUGIZO says. "I would like to connect more with everyone in all countries around the world and walk hand in hand through these particular times." As a treat for fans, SUGIZO also teases more music to come soon. "I'm currently working on an album for my jam band SHAG. It's going to be really powerful!" he anticipates. "And I'm working on a new project which everyone will be excited about. Please look forward to it."
For the time being, SUGIZO will be holding the online concert "LIVE STREAMING FROM TOKYO EPISODE IV ~The Eternity Voyage with SUGIZO × HATAKEN~" on March 31 at 7pm (JTS). The show will feature one of the pioneers of the synth world, Hideki Matsutake, as a special guest. You can book your tickets here.
Want more music? Check out our artist spotlight on Doctor Yizzle here.