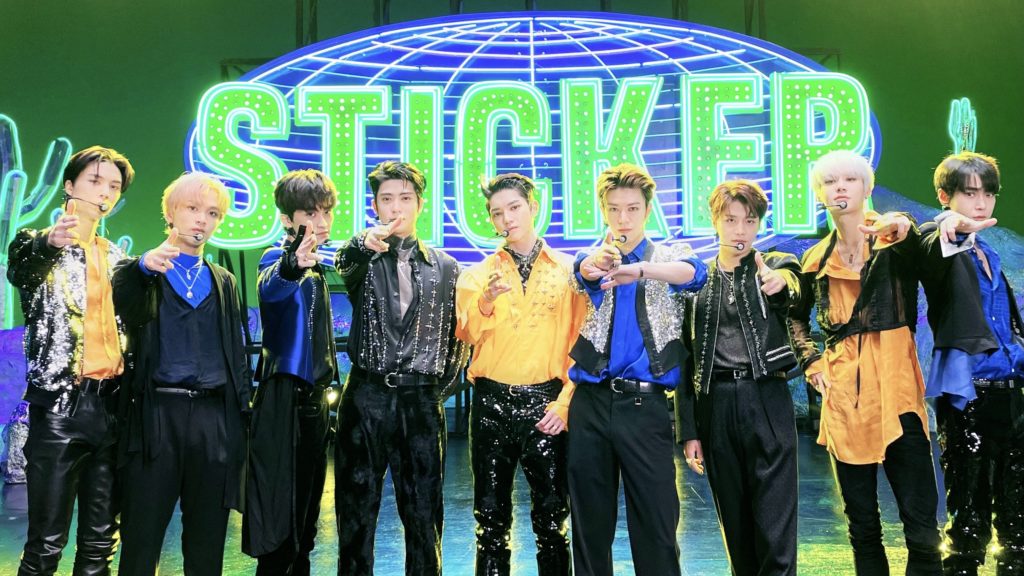 NCT 127 released their third full-length album, Sticker, on September 17— over 400 days after their last comeback. It was one of the most anticipated comebacks of the year— and the numbers prove it. NCT 127 have surpassed many of their own records and hit new milestones in their career. NCT 127 have topped a number of charts with their album, which has sold over 2 million copies in its first week.
Kicking off the Sticker era with a bang!🤠💚#NCT127 #Sticker #NCT127_Sticker#NCT127xLLS @latelateshow @JKCorden#오후1시_NCT127_컴백 pic.twitter.com/7ZjQIfwPUH

— NCT 127 (@NCTsmtown_127) September 17, 2021
A Top Selling Album 
Excitement was at an all-time high when the release of the album was first announced. Within 24 hours of opening pre-orders on August 23, NCT 127's album has exceeded 1.32 million pre-orders. In just one day, the nine member group increased pre-orders by 150% compared to their last album, which lasted a period that was a few weeks long. By September 15, pre-orders surpassed 2.12 million albums, marking an increase of 300% from their previous 530,000 record of pre-orders during Neo Zone promotions. 
In NCT 127's press conference, Taeyong, the leader of the group, responded to the overwhelming support, saying, "This is all possible because our fans have been constantly showing us support. We were really nervous as said in the beginning, but we're excited and we're going to work hard to continue becoming even better. So thank you!"
According to the Hanteo Chart, NCT 127 sold over 760,000 copies of the album in Korea on the first day. This milestone ranked Sticker at number one on Hanteo's real time chart, and third overall for first day sales in 2021. NCT 127 also topped the album sales charts for Aladdin, YES24, and Hot Tracks.
On September 24 at 12 PM KST, NCT 127 recorded 2,152,399 sales, beating NCT 127's personal record and making them double million sellers with this album alone. Their first album to surpass the one million album milestone was Neo Zone. 
Data on United States' sales have yet to be released. The tracking week for Billboard closes on Thursday, and the numbers will officially come out on Monday, September 27.
Sticking to the Top of the Charts
In addition to having high album sales, NCT 127 have been dominating streaming platforms. Upon its release on September 17, lead single "Sticker" debuted as number 9 on MelOn's chart. The track eventually flew up the charts, peaking at number one on Korea's MelOn, FLO, and VIBE real time song charts on the first day. 
On September 18 at 1 KST, NCT 127 got their first "all kill" on Melon's chart. All 11 songs of the album occupied the top 11 spots of the Top100 chart. NCT 127's title track is currently ranked 11 on MelOn's Top 100, 13 on Genie's Top 200, 1 on FLO's Top 100. 
NCT 127's title song has also been a hit on global charts. On iTunes's Worldwide Album Chart, Sticker debuted at number two, and also topped the iTunes chart in 14 countries. NCT 127's album also debuted at number two on Spotify's Global Album Debut chart. NCT 127 also ranked at number 10 on UK's Official Physical Album Sales Chart and earned a spot on UK's Top 40 Albums Chart— their first entry on the chart.  
A New YouTube Record for NCT 127
With the release of the "Sticker" music video, the group broke their own record. NCT 127 hit a million views in 21 minutes. Within the first 12 hours, "Sticker" reached 15 million views. After 24 hours, the views exceeded 27 million, making it the second most viewed NCT video in the first 24 hours, and the most viewed for the unit. 
The music video is still trending on YouTube's trending feed after five days, currently ranking at 21. With "Sticker" reaching new heights, NCT 127 will have to overcome that with their future projects.
Stick with NCT 127 in the Coming Weeks
While NCT 127 have had incredible accomplishments with their third full-length album, what is most important is the music. NCT 127 member Doyoung dedicated Sticker to fans. "We hope this moment and this album becomes a gift to fans," Doyoung said in their press conference.
The release of Sticker marks a new era for the nine member boy group. NCT 127 has a busy promotional period ahead of them. The group appeared on SBS Inkigayo the 19th and attended SMing on Melon Station on September 21. NCT 127 performed on Music Bank on the 24th and Music Core on the 25th— the group's first time joining the program since the member Jungwoo joined the show as MC. This week marks the first of many music show performances for the group. 
This article has been updated to reflect the new sales information released on September 24. 
Want more news on NCT 127's Sticker album? Check out our exclusive interview with the producer of "Sticker," Dem Jointz, here. 
Thumbnail courtesy of SM Entertainment.