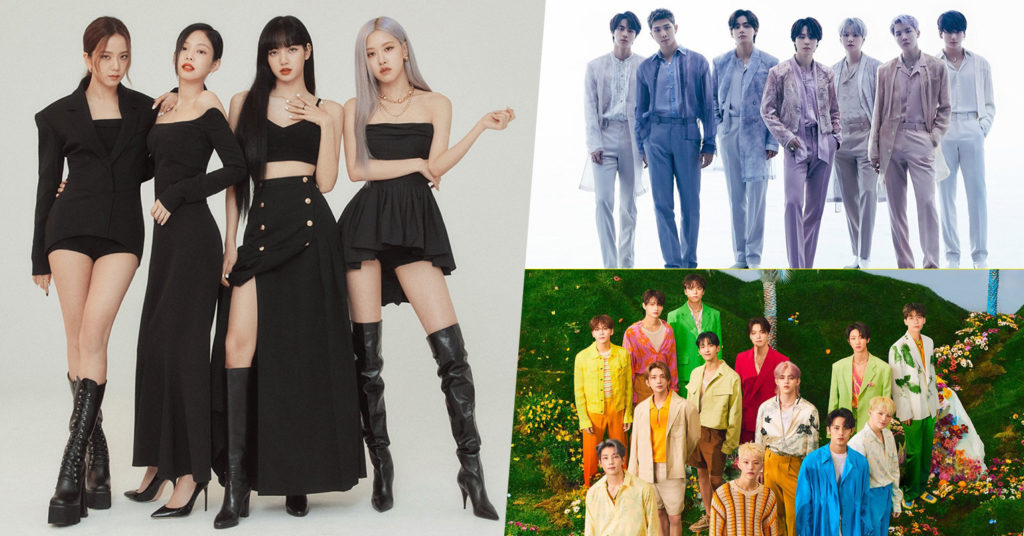 MTV's Video Music Awards is an annual cultural event known for some of pop culture's biggest moments and career defining performances, and 2022's award show was just as thrilling. After years of MTV slowly integrating K-pop into the ceremony, a few of the genre's most prominent artists took over the show, won big, and even made history. Here are all the iconic K-pop moments from the star-studded evening you won't want to forget.
BLACKPINK's Brilliance
The biggest girl group in the world, BLACKPINK, made their American award show debut with a performance of their latest single, "Pink Venom." The first K-pop girl group and only the fifth girl group overall to perform in the ceremony's nearly 40-year history (after iconic predecessors TLC, Spice Girls, Pussycat Dolls, and Fifth Harmony), all eyes were on them from the moment they hit the red carpet.
Even before entering the building, the group nabbed a VMA 'moonperson' for "Best Metaverse Performance." Upon winning their second ever VMA for their metaverse collaboration with PUBG entitled "The Virtual," member Rosé told MTV, "We just really had fun on this project and we're very grateful that everybody enjoyed it."
Additionally, BLACKPINK member Lisa took home the "Best K-pop" award for her solo debut track, "LALISA." This makes her the first female Thai artist and first K-pop soloist to win a VMA. Accepting the award onstage, with her group members in the crowd hyping her up, she thanked YG Entertainment and BLACKPINK producer Teddy. She ended her speech dedicating the award to BLINKS and endearingly thanking Jisoo, Rosé, and Jennie in Korean.
Superb Serve by SEVENTEEN
Thirteen-member boy group SEVENTEEN won their first ever award at the VMAs, taking home "Push Performance of the Year" for their performance of "Rock With You." The group was MTV's first K-pop Push Artist for the month of December 2021. According to MTV, the Push initiative aims to highlight up-and-coming musicians "through candid interviews and intimate performances."
Since the group is in the middle of the North American leg of their Be the Sun World Tour, and performed in Washington D.C. as the VMAs were happening, they weren't able to make the ceremony. However, they did send along their thanks in a video for fans. Member Mingyu concluded the speech by shouting out CARATs. "Thank you to our fans, CARATs, for all your love and support," he said.
Best of BTS
BTS are no strangers to MTV's Video Music Awards, with over 20 nominations and seven wins within the past three years. The group is the most decorated K-pop artist in VMA history, previous wins include the inaugural "Best K-pop" award in 2019, "Best Pop" in 2020, and "Song of the Year" for "Dynamite" last year in 2021. BTS were also the first K-pop artists to attend and perform at the VMAs, although they have only done so virtually.
While the septet couldn't attend this year's ceremony, as they are currently on hiatus for solo activities, they still walked away with the award for "Group of the Year." This marks the fourth consecutive year that BTS has received the title, a notable feat for the beloved boy group.
A Night To Remember
This year's MTV Video Music Awards was a night worth remembering. This year's ceremony welcomed more K-pop artists to the awards, and anyone who received a nomination or win deserves to be recognized for the incredible hard work it takes to be nominated for a VMA. With an array of committee-decided and fan-voted categories, nominations and wins are worthy of celebrating.
Congratulations to all the K-pop artists who were nominated for a VMA this year, and a special shoutout to this year's winners: BLACKPINK, BTS, and SEVENTEEN. 2022 has already seen some record-breaking releases from K-pop groups and artists, and there will surely be more as the year comes to an end. Hopefully, the 2023 VMA's will feature even K-pop acts and continue to do so for years to come.
Want to know more about iconic moments from the 2022 VMA's? Check out our recap about BLACKPINK's VMA red carpet looks here!