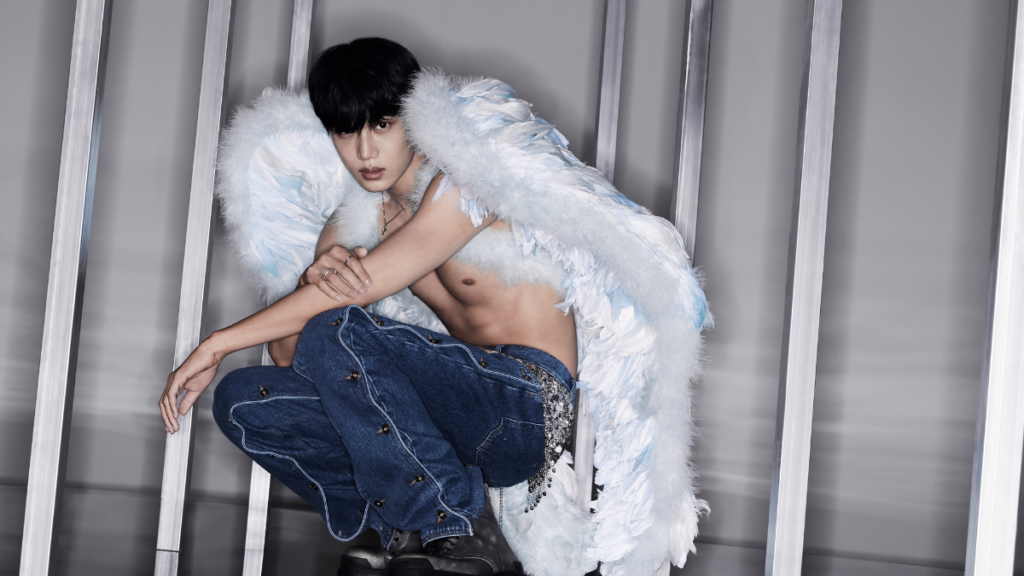 SM Entertainment's KAI of EXO and supergroup SuperM continues to introduce new sides of himself as a soloist. The "world-class performer" released his third mini-album Rover on March 13. The EP comes over a year after his November 2021 release, Peaches. Compared to the self-titled KAI, a sensual R&B debut, and Peaches, an EP with a sweeter R&B vibe, Rover includes a variety of genres and sounds. KAI showcases dance, hip-hop, R&B, reggaeton, and rhythmic pop throughout the six-track EP.
Rover charted No. 1 on the iTunes Top Album Chart in over 40 countries and on Korea's Hanteo and Circle Retail Album Charts.
Before the release of the album, Spotify released Code Name: Rover to share special messages from KAI to fans. In "Message from Kai," he said that the album contains better music, compared to his previous releases, as well as all his efforts and love. KAI added, during comeback preparations, he was more excited than worried.
Wandering with New Identities
The album begins with the same-named title track, "Rover." The rhythmic dance song is a remake of Bulgarian artist DARA's "Mr. Rover," earning her composition credits. While DARA's song expresses her desire to pursue a man named Mr. Rover, KAI sings about his dream of living life as a rover. The fast-tempo track includes a heavy 808 bass with marimba and strong percussions. KAI shows off various vocal tones throughout the song by switching between ice-cool spoken word verses and melodic harmonies.
The music video's storyline embodies inspiration from the movie Catch Me If You Can (2002) as both KAI and the main character switch among a variety of fake identities. The film is also referenced in the lyrics, which tell the story of a man breaking free from the expectations of others and starting a new life as a wanderer. KAI takes on 24 identities while singing "Stop, I'm throwing away my name. Mr. Rover, rover, rover, I'm coming over."
In the music video, KAI picks up a fake ID with the name "Mr. Elliot Billy," a reference to the movie Billy Elliot (2000). In the film, 11-year-old Elliot stumbles upon a ballet class and discovers a newly formed love for dance. KAI previously said that the movie inspired him to become a dancer and helped him overcome hardships he faced when he was younger. The concept also plays into KAI's teleportation superpower from the EXO universe by showing KAI jumping from identity to identity. During the Rover Countdown Live, KAI likened teleportation to his versatility; "It fits the word rover and it fits my job as well. I can always transform and bring you new sides. So I am very free and like a rover."
Living Freely
In Rover, KAI also reminds listeners to enjoy life to the fullest. In the hip-hop R&B track "Black Mirror," he comments on modern-day society's obsession with phones and social media content: "The pictures in the timeline are overflowing too much […] I just scroll with no thoughts." The title refers to the blank screen when a phone is turned off or locked: "Look at you now / reflected in the black screen." In an interview with the GRAMMYs, KAI revealed, "when the display screen is black, it tells you to see yourself reflected there and to love yourself more."
However, during the Rover Countdown Live, KAI said, "Don't put too much meaning when you hear it, I know we all look at our phones as we wake up and till we sleep. And I love bringing you stimulating content as well."
KAI keeps the message going with "Bomba" by encouraging listeners to forget all that is complicated and to freely enjoy the moment. The lyrics "No regrets, no lingering feelings. Not leaving anything behind, I freely burn it up," reveal KAI's wish to live in the present, no longer worrying about the past. He also added that the track was in the running to be the title track for his Peaches album.
A Complex Love
KAI — who is no stranger to love songs — dedicates half the album to telling complex love stories, starting with the third track, "Slidin'." With an arpeggio synth and seductive sound, the R&B song illustrates the sudden and overwhelming feeling of falling in love. The lyrics compare love at first sight to a sudden downpour drenching one's clothes. In the pre-chorus, KAI asks his love interest to "endlessly rain on me, soak me up, stay with me." He then portrays his longing for his new love with the lyrics "In the eyes that I met you, I wanna groove all night long."
KAI then moves on to a hip-hop R&B track with strong drums and an 808 bass. "Say You Love Me" starts with KAI's plea, "Just say you love me, don't make me jealous tonight." The lyrics convey a desire to hear candid, direct words of affirmation from one's lover. In the Rover Countdown Live, KAI said that "when we share love, nothing is better. So I express that as well."
The album takes a final turn with the pop song "Sinner." KAI sings about his desire to remain trapped in an exhausting love where both joy and pain coexist. The refreshing hook, imposing synthesizer, and deep piano paired with doleful lyrics end the album on a solemn note.
KAI's plea to be forgiven by his lover overtakes his repetitive confession as a sinner deserving of punishment. He calls his lover his "salvation" and sings that his fate is up to them. The song closes with the promise that even if the relationship ends, he will always be there for his lover.
What's Next?
Commemorating the release of Rover, FILM: KAI will make a return on EXO's YouTube Channel on March 20. The video will include video snippets showcasing the various concepts of the album's tracks.
As part of upcoming group activities, KAI will be joining fellow EXO members at their 11th anniversary fanmeeting on April 8 and 9 in Seoul, South Korea. He will also be partaking in both EXO and SuperM's comebacks later this year.
Want to know more about KAI? Read about his album Peaches here!