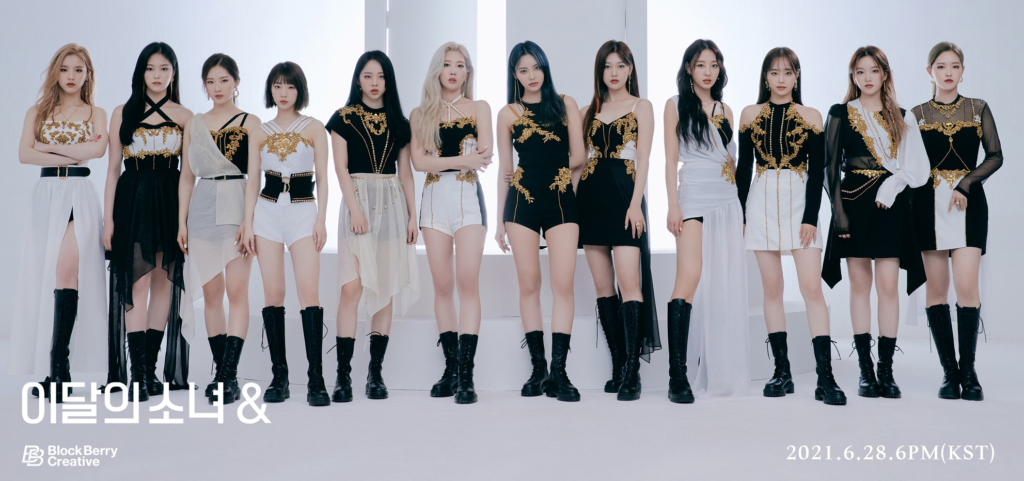 Long-awaited by fans, Loona is back with [&], their 4th mini-album for their fans, Orbits. Following her hiatus, leader Haseul returned with members Vivi, Yves, JinSoul, Kim Lip, Chuu, Heejin, Hyunjin, Go Won, Choerry, Olivia Hye, and Yeojin. For their comeback with all 12 members, the K-pop girl group released a Bollywood-inspired single "PTT (Paint the Town)." 
Colliding traditional Indian instruments with trap beats, the song was created by seasoned producers. K-pop veteran Ryan S. Jhun has previously worked on tracks including classics like Shinee's "Lucifer" and another cultural fusion, VAV's "Give me More." The team also included Hanif Hitmanic Sabzevari, Dennis DeKo Kordenejad, and Youha, who each have credits on several hit songs. 
Beyond Aesthetics
With Kim Lip's warning to "get ready," the music video begins as Loona performs rhythmic choreography to the beat of a drum. Matching the high-energy song, the music video flashes between different scenery with intricate imagery. While the members perform, they kick the ash-covered floor as fire blazes behind them. With every move, the group further paints the captivating alternate universe they have designed.
For theorizing Orbits, every moment is another clue to better understand the mysterious world depicted by Loona known as the "Loonaverse."
everyone's noticed in loona's &3, yves has some kind of water power, rite? In fact, I believe yyxy all have their own powers which relate to the theory of four elements.
actually, we alrd saw chuu & gowon w their earth & air powers earlier. loonaverse is getting more interesting! pic.twitter.com/hrMtR11Kta

— kaz (@randompersonxzy) June 24, 2021
Fiery Reception
Though fans were busy finding hints about the Loonaverse, they still made time to celebrate the comeback, sharing their favorite moments and joys. Paying attention to every detail, Orbits appreciated the visuals, choreography, vocals, rap, and the members' dedication. 
let's appreciate the visuals in the mv pic.twitter.com/byppBDEsDv

— loona loops (@ot12loop) June 28, 2021
ABSOLUTELY OBSESSED WITH THE HEAVY BEATS, THE PRECHORUS BUILD UP, THE STRONG CHOREO, THE AESTHETICS OF ALL 12 GIRLS, PAINT THE TOWN SOTY #LOONA_AND_COMEBACK pic.twitter.com/zZgpSlhNv2

— t r a c y ¹² (@tracetheworId) June 28, 2021
PTT sounds soo good I can hear the Bollywood elements like the tabla omg the vocals in just that 25 seconds Ryan delivered he really did

— aki¹² ot12 LOONA PAINT THE TOWN? (@SeeLoona) June 25, 2021
THEY RAP, THEYRE RAPPERS pic.twitter.com/kDeQhr7f8s

— loona files (@Ioonafiles) June 28, 2021
istg, if loona could rent the moon for an MV, they probably will https://t.co/vi7vbXflaA

— 토끼 & 늑대 (@TokkiNeukdae) June 28, 2021
In addition to their enthusiastic comments, Orbits gave their love in numerous other ways. The music video reached 8 million views just a day after release, surpassing the original goal of 3 million views. Loona also reached over 18,000 albums for first-day sales, setting a new record for the group.
Though COVID-19 prevents Loona and their passionate fans from seeing each other, they continue to show each other support. To celebrate the comeback, the group will be answering Orbits' questions in a Q&A session on theQoos app. 
Onwards and Upwards
With this comeback, Loona further establishes themselves as a wild card in K-pop. Often straying from expectations, the group continues to deliver new sounds and concepts, catching the attention of many. As they continue to progress with their musical careers, they will surely be one to watch.
Looking for more comeback news? Check out A.C.E's latest!
Thumbnail Courtesy of BlockBerry Creative.