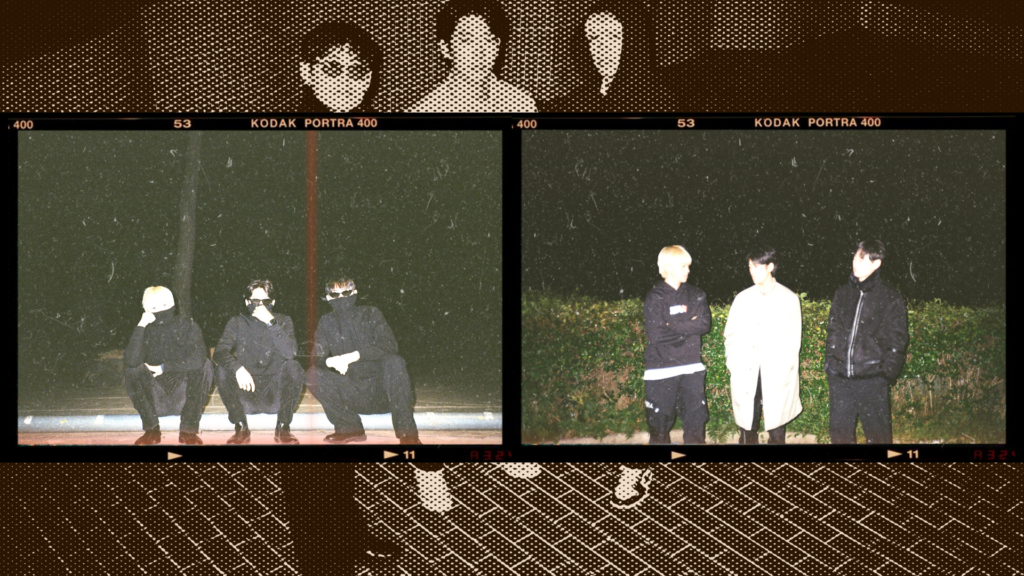 For years now, R&B has been a beloved cornerstone of the Korean music industry in both K-pop and underground scenes. From iconic groups such as EXO and SHINee to acclaimed soloists like Jay Park, Crush, and Zion.T, the R&B influences are endless.
However, sometimes you've to dig a little deeper to find the lesser-known gems you didn't even know you needed. And that's where The Good Days Boys come in—your new fave R&B trio. In this two-part interview, EnVi took some time to chat with the indie artists over Zoom about their music, their brotherhood, and why they chose R&B.
Roll Call: Get To Know The Artists
After releasing a string of singles together in 2021, members Jimmy Brown, Sweet The Kid, and Rovv ended the year with their first self-titled studio album, The Good Days Boys Playlist 1. According to Jimmy, who sat in the middle, their group name was inspired by one of his favorite songs, "Good Days," by SZA. And in a nutshell, their music ranges from hip-hop-inspired bangers to seductive (and bedroom-appropriate) numbers.
For Korean indie connoisseurs, you may know Jimmy from a few of his hit singles, including "Irene," "Let Me Know," and "2 Things."
"We met three years ago when we started a crew called Room8," Jimmy said. "There were six people, including us, and after making music together for a year or two, we went our separate ways, except for Sweet The Kid, Rovv, and I."
While each member plays a specific role, all three are equally involved in writing and composing their music. As the guys huddled together in Sweet The Kid's room (who politely introduced himself while the other two giggled), it's apparent just how much of a close friendship this is.
"Making music is just easy with them," Jimmy said. "We learn from each other every day; I think that's the best part." From the way he discusses life, love, and music, it's clear the singer wears his heart on his sleeve. Shortly after, Rovv, sporting blonde hair, added his thoughts on what it's like working with friends.
"From Sweet The Kid, I've learned a lot more about melodies and simplicity, and from Jimmy, I learn a lot about his lifestyle," the rapper stated. Out of the three, Rovv is, without a doubt, the cheeky one of the group, like a little brother. When asked if they frequently give out advice to one another, Jimmy stated he refrains out of respect for his friends' artistry. Rovv, on the other hand, is quick to deny those claims. "No, he's lying," he said and let out a hearty laugh.
Balancing Group & Solo Projects
While The Good Days Boys often make music together, they're all just as actively releasing solo music as they are group projects. Among the three of them, at least one person releases a new single every other week—it's a constant joy for hungry fans waiting on new music. But does it ever get tiresome or stressful for the guys?
"I don't get stressed," Sweet The Kid stated. "But if I do, I just sleep or work out." While the other two laughed at his straightforward answer, Rovv humorously said, "He's not the type to overthink, he's a very simple man." Honestly, that's the best way to describe Sweet The Kid: simple, quiet, and unintentionally funny when he needs to be. Despite having a lean build and four tattoos, the singer is surprisingly a lot softer than he looks.
Although he and Rovv don't worry about stress, Jimmy recognizes when he needs a break. "That's how it works for me, I love working on weekdays, but I also love other things outside of work (like watching the NBA)." When I asked where they would go on vacation if they could, the "heaven" singer grinned and answered: Chicago—knowing this interview was being conducted from the Windy City.
Thankfully, however, the trio evenly splits the work just as much as they split the income, resulting in a stress-free process either way. And when any of them drop a solo track, the others are busy being each other's biggest fans across social media. "We won't let each other [become selfish or greedy] because we all try to be nice and supportive of each other," Jimmy explained. "We're like brothers."
Why R&B?
As a genre created and developed by Black Americans, R&B was and is heavily celebrated across the U.S. From 1940s blues to '60s jazz and eventually, contemporary R&B of the '90s, the genre is a staple to the Black community and appreciated across all ethnic backgrounds. Although many of today's Korean artists are known to incorporate R&B in their music, The Good Days Boys revealed the genre is still not as popular in South Korea as K-pop or ballads.
"Ever since Jay Park came on the R&B and K-pop scene, I thought R&B was going to be more popular," Sweet The Kid said. "But it isn't mainstream in Korea." So, why pursue it?
That's when Jimmy chimed in. "It's because R&B sings about love, and it can't bring your feelings down even if it's a heartbreak song," he admitted. "Once you start to feel, you'd be amazed how delicate it is when the sounds and lyrics stand out in harmony, there's nothing like it."
It's how you know an artist is dedicated and in love with their craft—when they'd do it even without the applause. And although the group's domestic notoriety isn't quite there yet, they're certainly feeling the love internationally. "We don't get recognized in Korea, so it feels good coming online to see the support," Rovv said.
Within the first two weeks of its release, their album was streamed over two million times on Spotify alone. And fans couldn't wait to post their physical copies of The Good Days Boys Playlist 1 all over Instagram, which the guys happily reposted.
"It's just nothing but gratefulness for all the love and support from the fans," Jimmy added. "That's what makes us keep going."
For more on The Good Days Boys, check out part 2 of our interview here and listen to their album now on Spotify and Apple Music.
In case you missed it, read up on our review and breakdown of Sweet The Kid's single, "Fix Me," here!