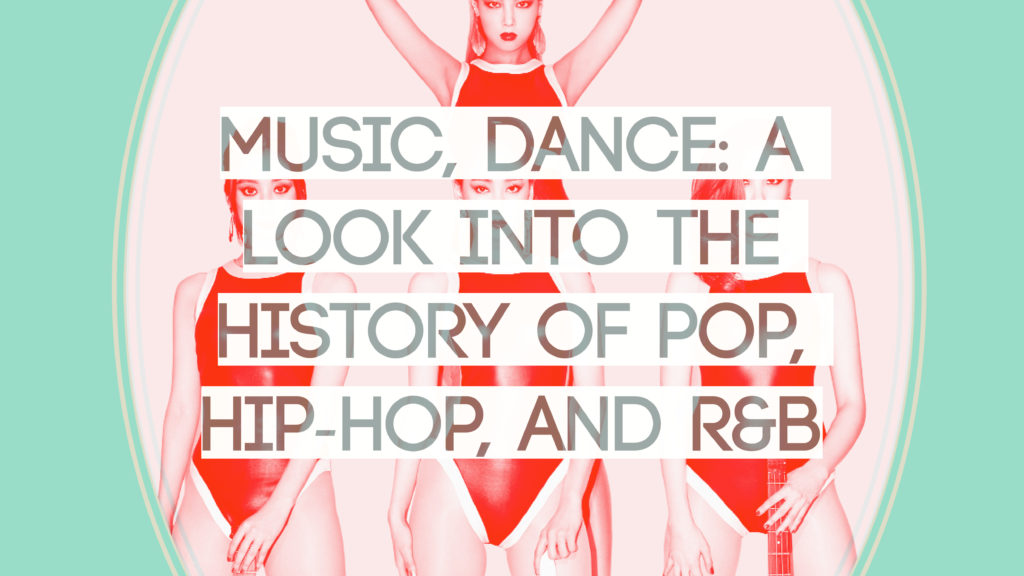 For most fans, the word "K-pop" is unanimously recognized as an umbrella term for popular music made in South Korea. But for many non-fans or newcomers, there's a preconceived notion of what K-pop is and sounds like.
"Bubblegum Pop" might first come to mind, with songs like "Gee" by Girls' Generation or "TT" by Twice. Or maybe the strong EDM and trap-laced "God's Menu" by Stray Kids. Even within K-pop fandoms, there has been a growing interest in learning the different subgenres that come into play with some of our favorite songs.
EnVi's "Music, Dance" series will discuss these intricate nuances and the history behind some of the most popular subgenres in K-pop, as a recurring column to expand on fandom conversations. But first, let's start with the basics by breaking down pop, hip-hop, and R&B.
Pop
Pop, which originated in the 1950s era of the United States and the United Kingdom, is one of the most popular genres to date. Pop music was mostly synonymous with the rock and roll scene of that time and encompassed the "youth-oriented" styles that were emerging. The typical pop song will feature a catchy, repetitive hook, a danceable rhythm, and written with a basic verse-chorus (sometimes bridge) structure. But even with these signature qualities, pop music is arguably the most diverse of the bunch, with dozens of subgenres under it. 
While most music listeners would categorize pop genres by their upbeat sound qualities, music researcher David Boyle stated pop music can be "any type of music that a person has been exposed to by the mass media." Hence, why pop music is also simply referred to as "popular music." The origins of the genre trace back to the 1920s with the popular jazz, ragtime, and big band eras of the decade. As the decades progressed, pop music quickly became the world's personal playground to tinker and experiment with as the times saw fit. And these changes brought extraordinary inspirations that are still used today.
Bubblegum Pop
A decade after pop had taken off, bubblegum music introduced an upbeat style marketed to children and preteens. Described as lightweight and simplistic, producers Jerry Kasenetz and Jeffry Katz coined the term "bubblegum" in the late 60s while contemplating its target audience. After getting wind of the creative analogy, Buddha Records executive Neil Bogart popularized the term, and eventually, it caught on. Most bubblegum acts in the early 70s (apart from the Partridge Family and Tommy Roe) were considered one-hit wonders, and the popular craze swiftly died down by the end of the decade.
One of its first resurgences occurred on kids' TV networks throughout the late 90s and early 2000s, most notably on the Disney network. Today, bubblegum pop is a staple in creating iconic K-pop hits that are beloved in Korea and beyond. These hits include:
"Lion Heart" by Girls' Generation
Synth-pop
Short for 'synthetic pop,' synth-pop is a subgenre that was picked up in the late 70s and uses electronic sounds, drum machines, and synthesizers to replace all other instruments. It was most popular during the post-punk "New Wave" era in the U.K. and Japan, with many bands embracing its artificiality and strong melodies. In Japan, however, the term "techno-pop" is preferred — as coined by late music critic Yuzuru Agi — but can be used interchangeably with synth-pop. One of the criticisms of synth-pop at the time was that it was "soulless" and limited the creativity of musicians. However, many prominent artists defended the genre, and it progressed with the likes of Donna Summer and the Beach Boys at the forefront.
Today, synth-pop is practically synonymous with the 80s, where it dominated the pop music scene in both the UK and the US. By 1991, synth-pop lost its popularity in the U.S. but returned in the late 2000s and 2010s with the help of Calvin Harris, Lady Gaga, Kesha, and many more. Simultaneously, the genre was revived in Japan and Korea with groups Perfume, f(x), Wonder Girls, and Girls' Generation. The latest "retro phase" saw international success in 2020 from both Korean and Western acts alike, from The Weeknd, Dua Lipa, and Everglow. 
Dance-pop
During the same synth-pop era of the 70s and 80s, dance-pop formed from a combination of disco, post-disco, and synth influences. Dance-pop is the home of the world's most popular acts, such as Madonna, Michael and Janet Jackson, Christina Aguilera, Spice Girls, and *NSYNC. The subgenre lives in between dance and pop music—it's more uptempo than regular pop music, but more structured than dance music and is producer-driven.
According to Allmusic critic Stephen Thomas Erlewine, Madonna launched and led the dance-pop movement in the 80s. Because of her widespread charisma, sex appeal, and infectious dance music, she set the standard for other dance-pop artists for years to come. With technology becoming more accessible and experimented with, dance music continued to thrive in various forms from the 90s to the 2010s.
As hip-hop and R&B rose in the early 2000s, dance-pop artists infused more modern elements into the songs to keep up with the times. Similarly, the electronic wave of the 2010s influenced modern dance-pop from artists like David Guetta, Rihanna, and Katy Perry. Seeing as the K-pop industry borrows from American and Western trends, it wasn't a surprise to see dance music thrive there, as well. Most of the songs on this list are mixed with other electropop, bubblegum, and R&B elements.
"Chu" by f(x) (a mix of bubblegum, dance-pop, and electro influences) 
"The Boys" by Girls' Generation (dance mixed with electropop and R&B)
"No More Perfume On You" by Teen Top (dance & synth) 
"Breathe" by miss A (dance, electro, synth) 
"Heart Attack" by AOA (dance & electropop) 
Hip-Hop & Rap
Along with pop music, hip-hop has become the one of most popular genres internationally. With artists and fans from different ethnic backgrounds, the trend has embedded itself deep within the music industry to where almost everything is influenced by it. But before it caught fire worldwide, the genre started in the Bronx of New York City. It consists of a certain rhythmic flow in the speech pattern and lyrics that can be delivered slowly through spoken word or lightning speed.
With its earliest roots in Blues and gospel, hip-hop was formed by the inner-city Black, Latinx, and Caribbean youth, and was largely popular at block parties. While early hip-hop was influenced by the party aspects of disco, it was also used to evoke social commentary and change.
Musically, hip-hop is accompanied by many different elements, such as beatboxing, turntables, instrumental tracks. While there are many pioneers in hip-hop, DJ Kool Herc, Grandmaster Flash, and DJ Disco Wiz helped establish the culture throughout the 70s and 80s. As seen in the K-pop Evolution series on YouTube, hip-hop did not affect the Korean music industry until the early 90s with Seo Taiji and Boys. Since then, hip-hop and rap culture has grown exponentially in Korea through the idol group scene, and underground. Because this category is so vast, here are a few hip-hop tracks that are not fused with the upcoming subgenre below.
"I Know" by Seo Taiji and Boys
"90's Love" by NCT U (Old-school hip-hop and R&B)
"Boy in Luv" by BTS (hip-hop mixed with rock)
Trap
In the early 90s, trap music was created as a subgenre to hip-hop in the Southern United States. Historically, trap music is known to be more aggressive than the average hip-hop style, thus its lyrical content often refers to drugs and violence. Compared to hip-hop, the signature sound of trap music consists of snare drums and hi-hats to create a hard-hitting atmosphere. Through the 90s and early aughts, artists and producers making trap music included Lil Jon, T.I., and Master P. Eventually, trap grew even more throughout the 2010s with Lil Wayne, Young Jeezy, and Rick Ross.
Today, trap music is arguably the most influential subgenre of hip-hop and can be found all over the charts, social media, and radio. Many K-pop and K-hip-hop acts are now utilizing trap mechanisms just as much as they are hip-hop, and it's taken the industry (particularly boy groups) by storm. The rhythmic subgenre is also very commonly fused with EDM, as heard in some of the examples below.
R&B
Dating back to 1916, rhythm and blues originated in rural Black communities in the south and largely consisted of many jazz instruments, such as the piano, saxophone, bass, and guitars. The "blues" aspect of rhythm and blues was born out of the oppression and struggle that came with the Black American experience. Its lyrics were both sorrowful to express the pain and joyful to uplift their spirits during dark times. According to the Folklife & Cultural Heritage Magazine of the Smithsonian Center, "The emergence of R&B as a music category reflects its simultaneous marginalization as a form of African American music and its centrality to the development of a wide repertoire of American popular music genres, most notably rock 'n' roll."
Before "rhythm and blues" was deemed the appropriate term for the genre, the Black community simply referred to it as "race music." In the postwar world, however, it became an offensive term and was thus changed to "rhythm and blues" by Billboard as early as 1943.
As the country shifted into the 50s and 60s, the evolution of R&B began to change. Instead of using jazz as a focal point for the genre, rock and roll, gospel, and soul music seeped their way into R&B. What started as a mostly Black dominated market, slowly grew in popularity with white teenagers of the 1950s, and jumpstarted the rock n' roll phenomenon. Out of that phenomenon came Little Richard, an innovator of early rock n' roll, funk, and R&B in the United States. Meanwhile, the birth of "British rhythm and blues" developed in the UK with rock bands like Rolling Stones and the Who adopting the sound, as well.
Contemporary R&B
During the late 80s, the sound changed again as contemporary R&B became popular, combining funk, disco, hip-hop, and electronic music with it. Writer and producer Robert Palmer described rhythm and blues as, "a catchall term referring to any music that was made by and for Black Americans." Similar to hip-hop, R&B has influenced artists of all races and remains a mainstream genre in music. Notable pioneers throughout the decades include Sam Cooke, Aretha Franklin, Marvin Gaye, Whitney Houston, Boyz II Men, and Aaliyah. According to Circulation Mag, the nearest precursor to contemporary R&B came at the tail end of the disco era in the late 70s when artists like Michael Jackson would create more "dancefloor-friendly" songs. Stephen Thomas Erlewine described MJ's Off the Wall (1979) album as a "visionary album that combined the colorful elements of disco with smooth soul, pop, and soft rock."
Throughout the 90s and 2000s, contemporary R&B flourished with Mary G. Blige, Alicia Keys, Usher, TLC, just to name a few. Today, some of the best-selling musicians of all time have come from R&B, including Janet Jackson and Mariah Carey.
As far as Korean notoriety, R&B did not make an impact until the group Solid introduced the genre in the early 90s. Today, contemporary (and even traditional) R&B is deeply embedded in the modern Korean music industry, with groups and soloists carving out their signature sounds.
"Attention" by eSna (traditional R&B and jazz sound) 
"Mmmh" by Kai (with pop influences)
"Back 2 U (AM 01:27)" by NCT 127 
The Beat Goes On
As music evolves, the industry is quick on its feet, always adapting to the next sonic wave of trends. Regardless, pop, hip-hop, R&B continue to lay the groundwork and serve as the foundation for dozens of fusion genres throughout history. K-pop was never "fully" Korean; it's always borrowed from popular music in the West and has now built an empire by tweaking and expanding on it. That's the beauty of creativity and limitless ideas. Each of these niche genres has a story, and EnVi's "Music, Dance" series is dedicated to uncovering them one by one.
The members of NCT have come a long way. Be sure to read about Mark's and Jisung's journeys to becoming the artists they are today.
Thumbnail by Nevi